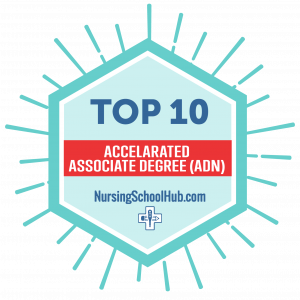 One of the best accelerated ADN programs will get you through nursing school and into a job more quickly than a traditional path. Nationwide there are nursing shortages and encouragement from nursing organizations to earn higher credentials. So, it's never been more critical for LPNs or nursing assistants to get their ADN – quick. There are multiple advantages to participating in an accelerated associate degree nursing program. The most crucial advantage is entry into the workforce sooner than students who take two years of study for their associate degree.
Earning your degree as fast as possible lets you take advantage of the fact that there is a shortage of qualified nurses, and employers are paying higher wages as a result. Employers in the medical field are competing against each other to hire nurses at all levels of qualification, but nurses who earn a more advanced degree, such as an ADN, can earn more than someone with an LPN. When it comes to making more money at the beginning of a nursing career, an accelerated associate degree in nursing is vital.
---
How We Ranked the Best Accelerated ADN Programs
Featured Programs
To rank the best-accelerated associate degree nursing programs, Nursing School Hub editors researched ADN programs. First, we found programs that students can complete in 12-18 months. Next, only accredited schools and colleges were considered. Then, programs are ranked according to their cost, reputation, and salary potential.
---
1. Durham Tech

Durham Tech offers accelerated ADN programs for nursing students who want to complete their degrees quickly. An accelerated Associate in nursing program can be completed in as little as 18 months, whereas traditional ADN programs can take up to two years to complete. Enrolling in an 18- month ADN program allows you to start your career much sooner than later.
Durham Tech's accelerated ADN programs speed up the learning process by reducing the number of lessons. Because there are fewer lessons, more information is packed into each one. Students rely on the school's faculty members to assist them during the learning process. Additionally, students can count on each faculty member and advisor to provide them with the best possible career advice. Finally, graduates can rely on the skills they learned to help them build the career of their dreams.
Program: ADN – 18 months
---
2. Excelsior College

Excelsior College gives students a chance to complete their nursing degrees with accelerated ADN programs. So, students can shave up to six months off of their traditional class time. Students are still taught the same skills and abilities during accelerated associate's nursing programs but at a much faster pace. Fewer lessons mean more information is provided at one time. With an AAS or AS in 18 months, graduates can complete their ADN program and quickly enter the workforce.
Excelsior College provides students with the highest quality accelerated Associates nursing programs for students trying to get a jump start on their careers. Students have full access to both faculty members and resources they can rely on to help them if they have any problems with the lessons they are given. With accelerated ADN programs, graduates have the skills to find work and begin to get the experience they need to be considered for promotions in the future.
Program: AAS or AS – 18 months
---
3. Essex County College

Essex County College provides students with accelerated ADN programs that teach the skills they need to become a nurses. They are taught the basics of direct patient care, the benefits of documentation, and many other skills that are required. Students who sign for an accelerated ADN program can expect to graduate in approximately 16 months. This gives them an opportunity to look for work or return to school to work on a higher degree program.
Essex County College is a popular choice for nursing students who live in New Jersey and other nearby states. The college provides students with every advantage that will help them build a successful nursing career. Additionally, classes are taught by nurses and other medical professionals who have earned the respect of their peers. Accelerated associates nursing programs allow students the opportunity to speed up their education so they can get down to business. They are able to apply for their nursing exam much sooner than if they had enrolled in a traditional nursing program.
Program: ADN – 16 months
---
4. Herzing University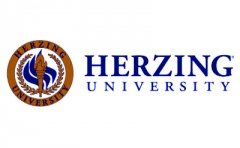 Herzing University gives students an opportunity to enroll in an accelerated ADN program so that they can take their nursing exams much sooner. An accelerated program provides more information in each lesson so that fewer lessons are needed to complete the degree program. At the university, an ADN program can be completed in as little as 20 months. Students are able to continue on with their education or take the state exam and go directly to work.
Herzing University is one of Wisconsin's primary nursing schools. It offers many different degree options including the accelerated associate's nursing programs that are designed to teach more in less time. Students work with faculty members to create a positive learning environment where every resource is made available. Students can count on faculty members for both encouragement and support as they make their way along their journey to becoming a nurse.
Program: ADN – 20 months
---
5. Midway University

At Midway University, students have access to accelerated ADN programs that can be completed in as little as 18 months. Students receive a variety of skills they can use throughout their nursing careers. By choosing an accelerated associate's nursing program, students can learn more at a faster pace. This opens the door to more opportunities and more responsibilities. The earning potential will also continue to increase as the graduate gains more experience by working in the field.
Midway University has earned a reputation for being one of the most advanced nursing schools in the area. Faculty members are trained professionals with many years of experience. Students can take advantage of the faster pace and learn more in less time. By working with the faculty members, students are able to push their own boundaries, set new goals, and forego ahead on a long-term career path. With an accelerated ADN program, graduates are given every advantage that comes with early graduation.
Program: ADN – 18 months
---
6. Moberly Area Community College

Moberly Area Community College gives students an opportunity to enroll in an accelerated ADN program that can be completed in as few as 12 months. Students gain all of the same skills they would learn if they were enrolled in a traditional ADN program. The only difference is the length of time it takes to complete the degree. Graduates who enroll in an accelerated ADN program for 12 months will graduate in just over a year after they first sign up. This is a great stepping stone for students who are eager to continue their education.
Moberly Area Community College is popular with students in the state of Missouri because of its advanced technology and accelerated degree programs. Many of their degree programs can be completed in less than 18 months, giving students an advantage when it comes to being able to take their state boards and get their nursing license. Graduates will have what they need to become a nurse and enter the workforce confident in their ability to be successful.
Program: ADN – 12 months
---
7. Rasmussen College

Rasmussen College offers accelerated ADN programs to students who are wanting to advance through their nursing programs at a much faster rate than if they had chosen to enroll in a traditional degree program. Accelerated associates nursing programs provide all of the necessary skills that a traditional program only in much less time. Students can complete their accelerated ADN program in as little as 12 to 18 months, giving them additional time to pursue another degree program or go straight to work.
Rasmussen College is well-respected in the state of Minnesota for the accelerated ADN programs it offers to students who want to speed up the education process. By enrolling in an accelerated program students spend less time in school and more time trying to establish their careers. Faculty members are able to work with students and create a learning environment that is conducive to increased productivity. Students are able to reap the rewards of an intense college education in a much shorter period of time.
Program: ADN – 12-18 months
---
8. Denver College of Nursing

Denver College of Nursing provides students with an accelerated ADN program that can be completed in as little as 18 months. Skills and protocols are taught that nurses will need during the day-to-day performance of their duties. Earning an accelerated ADN program can be completed in 18 months Students who enjoy this type of program will thrive in the fast-paced environment that nurses often work in. An accelerated ADN program also makes it possible for them to move directly on to their next educational goal.
Denver College of Nursing is one of the most advanced and well-respected nursing schools in the Denver area. The college provides many resources that students can use throughout their program. Along with the valuable resources, students can also rely on the faculty members to answer their questions when they have them. Graduates who successfully complete the program are able to pass their licensing exam and move forward on their career paths.
Program: ADN – 18 months
---
9. Eastern Virginia Career College

Eastern Virginia Career College provides students with the accelerated ADN programs they need to build a solid nursing career. The skills and protocols they learn will allow them to become more efficient over time as well as lay the groundwork for any future education they may receive. Students can expect to complete their accelerated ADN degree in as little as 12 months. This quick turnaround makes it possible for students to move forward with their careers or to re-enroll in another degree program.
Eastern Virginia Career College has a solid reputation for offering some of the best accelerated ADN programs. Students are able to access valuable resources that will help them find employment and gain experience while they are still in school. Faculty members are also available to assist students in making wise career choices. With an advanced ADN program, students are able to move forward and take advantage of many new opportunities.
Program: ADN – 12 months
---
10. ECPI

ECPI is able to provide accelerated ADN programs to students who are interested in trying to complete their education in a much shorter period of time. Every skill that is taught in an advanced associate's nursing program lays the groundwork for future job opportunities and degree programs. It only takes 18 months to complete an advanced associate's nursing program allowing them to apply for their license and start their nursing career. An accelerated program is ideal for people who are in a hurry to move forward with their careers.
ECPI offers accelerated degree programs that are of the highest quality, providing students with both skills and resources they will need when starting their careers. Accelerated degree programs offer an abundance of material in a very short period of time. Faculty members are always ready to help students who need assistance with an assignment or encouragement when preparing for a big test. Graduates are ready to move forward with either their next degree program or their career.
Program: ADN – 18 months
---
What are the Advantages of an Accelerated ADN Program?
Someone who has already earned their LPN and wants to earn their ADN can benefit from an accelerated associate's degree in the nursing program. Most of the time, an accelerated associate's degree nursing program is designed to enable LPNs to earn their ADN and become licensed as an RN while they're employed.
In the event an LPN can quit working altogether to focus on getting their ADN, the accelerated program enables them to earn their degree in less time and return to the workforce more quickly. The increased earning potential for an RN can quickly make up for the financial gap in employment as well.
---
How Do I Find an Accelerated ADN Program?
One way to find a program is to search for "accelerated ADN programs near me" and go through the results. The search results are guaranteed to deliver a lot of information about the accelerated ADN programs in your area, but that's all they do. What the search results don't do is give you insight into the school, the quality of the program, and the overall results.
Schools do have a responsibility to post the truth about their programs on their websites in terms of graduation and the passing rate for the NCLEX-RN and you can rely on the information as being accurate. However, you need more information than what the school's website provides.
---
Narrowing Down Your Choices
Ask yourself if the program provides the type of education you're looking for. The core curriculum of an associate's degree in nursing involves teaching students the technical skills they need to succeed as a nurse, but electives also play a role in shaping the outcome of the degree.
Look for a program that offers electives that can aid you in getting a bachelor's of science in nursing (BSN) if you decide to return to school in order to advance your education. You may decide that you want to focus on a specific area of healthcare and the electives can help you achieve that goal.
---
Is the Curriculum in an Accelerated ADN the Same as a Traditional Program?
Accelerated ADN programs all offer similar curriculums, and a majority of them have accreditation from Accreditation Commission for Nursing (ACEN) and the Commission on Collegiate Nursing Education (CCNE). Due to the proliferation of for-profit schools offering accelerated associate's degrees in nursing programs, it's important to check for accreditation before you decide to apply.
That's not to say that a for-profit school is a bad choice so much as you need to make sure that the education you receive is held to accepted professional and community standards. Accreditation of accelerated nursing programs makes sure you get the education you need, even in a shorter amount of time, and that your education is recognized by employers.
---
How Long Does a Traditional ADN Program Take?
A traditional associate's degree in a nursing program takes two years to complete. In order to earn the degree, a student has to earn 60 credit hours. That requires attending school 15 hours a semester or taking classes during the summer semester to keep up with the pace.
An education in nursing also requires spending time in clinical trials for the purposes of testing the education that's been learned in the classroom. All of this is true of fast-track ADN programs due to the fact that these requirements are a required part of earning the degree.
---
How Long is an Accelerated ADN Program?
The fastest ADN program is as little as nine months in length, but these programs are usually intended for LPN-to-RN students. An ADN fast track program takes anywhere from 12 to 15 months to complete. The coursework that's normally completed over four semesters is compressed into a shorter length of time with no break periods. A student who's attending an ADN fast track program can expect to be in school continuously from 12 to 15 months and start employment upon graduation and passing of the NCLEX-RN.
---
Are Accelerated Programs Harder?
It's worth taking into consideration the fact that the accelerated associate's in nursing degree program asks a lot of time sacrifice for a student and that the coursework load is heavy. They are only harder for some because they are faster. The curriculum is the same as a traditional program.
However, an accelerated ADN program can work well for someone who wants to get their career started quickly and is willing to put in the effort. Additionally, the current nursing shortage is another reason for you to earn your degree quickly. When you are in demand you can negotiate a better salary.
---
Related: