The guide to bilingual nursing jobs has information on salary and outlook for bilingual LPN, RN, and Nurse Practitioner jobs. The United States has always been a melting pot: a place where people of many nationalities merge into one people. As such, there are millions of residents whose native language is not English. According to the New York Post, there were 41 million native speakers of Spanish who called the US home in 2015. That number is likely higher by now. Diversity in healthcare, as in all fields, is incredibly important in the 21st century if Americans are to get the healthcare they need.
Chinese, French, Tagalog, Vietnamese, Korean, German, Arabic, Russian, and many other languages are also spoken in the US. In fact, according to the US Census Bureau, American citizens and residents speak more than 350 different languages in their homes. Why is this important? Because healthcare is a basic human right, and regardless of their language, non-native speakers in the US deserve to be able to communicate details about the problems they are experiencing to their doctors and nurses.
---
Why Should I Learn a Second Language as a Nurse?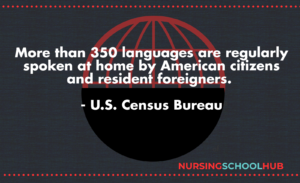 Featured Programs
Miscommunication in a healthcare setting can be life-threatening. Hearing and understanding a patient's complaint is essential to reaching the correct diagnosis and providing the proper treatment. For this reason, in the 21st century, it's no longer acceptable just to have a translator on staff or on call in a medical facility. Hospitals and clinics across the country are actively seeking and hiring bilingual nurses and other staff members.
Since nurses are often involved in taking patient histories and entering the information into the computer system (especially in nursing informatics), it makes sense for healthcare organizations to employ bilingual nurses to perform this duty in areas where there is a significant population of non-English-speaking people.
---
What are the Benefits of Being a Bilingual Nurse?
One of the benefits of being a bilingual nurse is that it enables the healthcare team to get the patient's story. Another is the potential for higher pay. In addition, being able to help patients who might not have gotten the right treatment if they were not understood can increase job satisfaction.
Having a foreign language degree or certification in addition to your nursing degree can also open up the possibility of travel nursing. If you'd like to volunteer as a nurse with a nonprofit organization, being fluent in the language spoken in the area where help is needed will make you a valuable resource to the organization.
Being able to speak to a patient in their own language encourages them to open up about things that they might not have felt comfortable sharing otherwise. For example, there may be cultural beliefs getting in the way of compliance. Being able to discuss these situations can enable the staff to find a solution or treatment that doesn't violate the patient's religious or cultural beliefs.
---
What are Certifications for Bilingual Nurses?
If you need to brush up on your language skills—or buff up your resume—earning a certification such as Medical Spanish for Nurses might be a good idea. Although you can get a job as a bilingual nurse without any additional certification, having Medical Spanish for Nurses on your resume could give you a leg up over other applicants.
---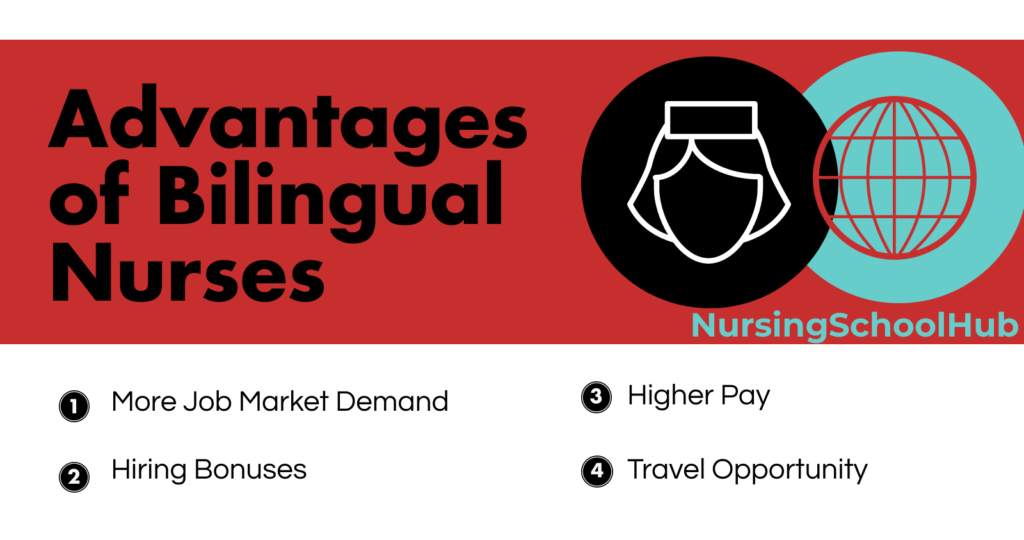 ---
Are There a Lot of Jobs for Bilingual Nurses?
According to experts, there is a shortage of bilingual nurses—and a shortage of nurses in general. As baby boomers reach retirement age, many nurses from that generation are leaving the workforce. Those nurses need to be replaced. Additionally, with a higher population of aging baby boomers, we need more nurses to keep up with the increased demand on the healthcare system.
The Bureau of Labor Statistics Occupational Outlook Handbook projects a 10-year growth rate of 12% for LPNs and 15% for RNs. The average growth rate for all occupations is 7%. The increased demand for nurses, in general, translates to more bilingual nurse jobs and bilingual healthcare jobs as well.
Most demand in the US is for Spanish-speaking nurses since is the second most-spoken language in the US after English. The language needed depends on the region, however. For example, knowing Arabic could come in handy if you're looking for bilingual nurse jobs in Dearborn, Michigan; likewise, the Russian language fluency is in demand in some parts of New York City. The demographics of the area determine the needed language speakers.
---
What are the Legal Requirements for Bilingual Nurse?
The law now requires healthcare facilities to provide an interpreter to patients who do not speak English. As a result of the interpreter law, bilingual healthcare jobs are available in every possible healthcare setting, from hospital to clinic to home health care or long-term care facilities. For more details search for a summary of state law requirements addressing language needs in health care in your state.
There are phone and video services available that fulfill the requirements of the law. However, it is convenient to have an interpreter on-site to speak to the patient face to face. It also builds rapport between the staff and the patient. Having a nurse who can speak directly to the patient without waiting for an interpreter also saves time so the patient can be treated more quickly.
In a hospice setting, language barriers are even more prevalent because of the emotional issues surrounding death. Many people have trouble talking about death even to their closest friends and family members, who speak the same language. The charged emotions surrounding the issue make it even more difficult to ensure that patients understand all of their options.
---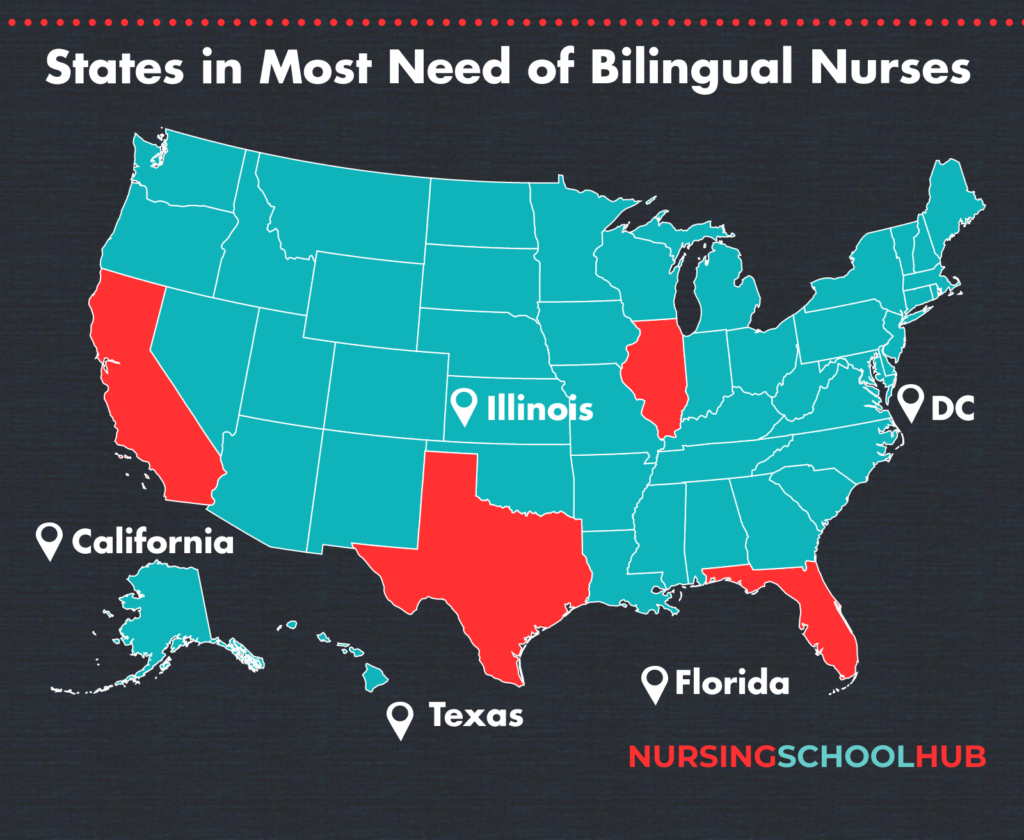 ---
Do Bilingual Nurses Make More?
Do nurses get paid more for being bilingual? Whether a bilingual nurse's salary is higher depends on the value the employer places on bilingual nurses. If your skills aren't valuable to an employer, you are unlikely to see a higher salary as a bilingual nurse.
However, because of the benefits associated with having bilingual nurses on staff, many employers do recognize their value. Furthermore, employers also pay a higher salary to reward employees for their language skills. As a rule, though, a bilingual nurse's salary will be based mostly on the person's nursing education and experience.
---
Bilingual Experience for Salary is a 5-20% Differential
If you negotiate a raise based on your language experience, a 5-20% differential is standard. This amount calculates the time you spend speaking to patients in another language. For example, if your base salary is $70,000 and you spend 20% of your time with Spanish-speaking patients, the language differential would come to $700-2800 per year.
Bilingual Licensed Practical Nurse Salary:
The Bureau of Labor Statistics lists the median salary for Licensed Practical and Licensed Vocational Nurses as $48,820. The lowest 10% earned $35,570 or less and the highest 10% earned at least $65,520. It would be realistic to expect a bilingual Licensed Practical Nurse's salary to be slightly higher.
Bilingual Registered Nurse Salary:
The median pay for a Registered Nurse is $75,330, with the highest-paid RNs earning in excess of $116,230. A bilingual registered nurse's salary will typically be around the same range or a little higher.
Bilingual Nurse Practitioner Salary:
Nurse practitioners earn a median salary of $117,670, and the top 10% can make $190,900 or more. However, the pay varies considerably based on the setting. Nurse practitioners who work in hospitals tend to make more than those who work in physicians' offices, for example, and those who work in education make the least. You should expect a bilingual nurse practitioner's salary to be close to the range for nurse practitioners in general, perhaps with a pay differential for your language skills.
---
Related: