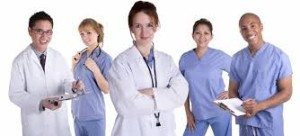 The top blogs for nursing students provide encouraging stories, the latest news, and nursing tips that you won't find anywhere else! There are a lot of struggles and challenges to overcome when trying to become a nurse. Oftentimes, these are struggles that can only truly be understood by fellow nurses.
Thankfully, there is an active community out there from which you can gain support. Most of these communities are built around the best nursing blogs on the Internet. Each site has been ranked on how active it is, the information it provides, and the community behind it.
---
1. Nursing Power
Featured Programs
When talking about the best nursing blogs, Nursing Power has to be ranked No. 1. This is a blog written by Donna Cardillo, who is known as the inspirational nurse. This blog is connected to her website, where she posts news, and has a store where you can buy her books. Here, Donna writes about what most nursing students need the most: inspiration.
Her topics address both students and people who are already in the nursing field. The information that is given in this blog is truly inspiring for soon-to-be nurses. You can even find out times when she will be giving a keynote speech in an area near you. With such a large social media following and so many well-received books, it's no wonder why her blog is No. 1 for nursing students.
---
2. Off the Charts
Off the Charts is a blog put together in association with the American Journal of Nursing. Unlike many of the other blogs on this list that are written from the point of view of a single nurse, this blog looks at the industry in general.
It covers the hottest trending topics in the field of nursing and concerns that need to be addressed. Every once in a while, it provides readers with editorial pieces that aren't related to news, such as nurse ethics. Either way, it's a great read for any person attending nursing school.
---
3. Travel Nursing Blogs
In terms of personal content, it doesn't get much better than Travel Nursing Blogs. The only reason why this blog isn't ranked at the top is that most of the questions answered on the site are related to traveling nurses.
Beyond that, this is an engaging site that actually answers the questions that readers ask. The blog is written by a registered nurse that does a lot of traveling. The blog offers the perfect balance between addressing real issues and providing a bit of humor.
---
4. Nurse Practitioner Business Owner
This is a fantastic blog that would be ranked higher if it was more directed toward nurses than clinics. That being said, it offers a fascinating look into the business side of the clinical world. The information provided here is more for nurses going into private ad independent sectors.
The overall goal of the site is to help provide nurses with insight into every aspect of business in the nursing industry. While not all the information might directly relate to all nurses, the blog still provides engaging posts that should be digested.
---
5. Nurse Zone
At first glance, it is easy to pass off Nurse Zone as just another nursing blog. However, there is more to this one than meets the eye. The blog is not only full of useful information for both nursing students and new nurses, but it has a large community that offers support to its members. It is linked to other blogs and has its own social media following, so it gives you access to even more information than what's provided on this one site.
---
6. Dear Nurses
This is a blog put together by nurses for nurses. It makes no such claim to be a nursing program or even to be linked to any nursing program. That being said, it does provide nursing students with great information and is updated pretty regularly.
It should also be pointed out that this is a blog that has been around for a long time; its posts date all the way back to May 2006. There have been a lot of good tips given and questions answered during the life of this blog, so it's definitely worth checking out.
---
7. The Nurse Practitioner's Place
This is a site that covers a lot of great information for nurses, and it does it all from a nurse's point of view. While this is more of a personal blog than anything else, it does provide the reader with great information on hot topics and has a pretty big following.
---
8. Code Happy Blog (Scrubs)
The Code Happy Blog is found on the popular online nursing magazine Scrubs. This is a great blog for many reasons but mostly because it keeps you up to date on all of the latest trends in the nursing industry.
From stories about new nursing schools that are being built to the best states in which to become a nurse, this is a helpful blog that is backed by a top online magazine. The site would be ranked higher if it wasn't for it not having been updated in a while. Despite this, it still has an active user base and great information.
---
9. Mom, Wife, Student, Nurse, Ahhh!
This nursing blog has become a fan favorite among nurses who have a lot on their plate. It is written by a woman who was attending nursing school at a University during the time of the writing. However, as most nursing students know, there is more to studying to become a nurse than just attending school.
Here she talks about juggling school between her job, husband, and three kids. While this blog doesn't provide much new information on getting a nursing education, it's refreshing to read how a person copes with the problems they might be facing on a regular basis. This is a down-to-earth blog that is perfect for anyone who wants to know that they aren't alone in their struggle!
---
10. MedScape Blogs
This is a great medical blog in general that provides reliable information about allergies from the perspective of a doctor. Nursing students have a lot to learn from this blog, and it's updated regularly. The only reason why this blog does not rank higher on the list is that, while it does provide good information for nurses, it's not exclusively for nurses.
---
Related: