Medical Tourism Explained: Finding the Antidote Abroad infographic discusses the growing industry, with many participating Americans receiving quality, personalized care in other countries.
---

Share this infographic on your site!
---
Finding the Antidote Abroad: Medical Tourism Explained
Going overseas for medical or cosmetic surgeries is much more common than most people think. Medical tourism is a constantly growing industry, with many participating Americans receiving quality, personalized care in other countries.
---
What Is Medical Tourism?
Featured Programs
Medical tourism is traveling to another country for lower-cost medical care, medical technology needs, foreign doctor specialization or healthcare infrastructure.
Most popular destinations
Location: Potential patient savings
Costa Rica: 65%
India: 90%
Malaysia: 80%
Mexico: 65%
Singapore: 40%
South Korea: 45%
Taiwan: 55%
Thailand: 75%
Turkey: 65%
Top procedures for medical travelers
Cosmetic surgery
Dentistry
Cardiovascular surgery
Orthopedic medicine
Cancer care
Reproductive, women's health
Weight loss
Scans, tests, health screenings, second opinions
---
The Typical Medical Tourist
A 2013 survey conducted by MTA in the U.S. revealed some interesting findings regarding medical tourism.
27% – Percentage of patients who had traveled internationally for medical care
Of these patients:
Most were female.
All were between the ages of 45 and 64.
All were college-educated.
Most were Caucasian.
About 50% had health insurance.
80% – Percentage of medical travel driven by cost savings
$7,475-$15,833 – Amount medical tourists spend per medical travel trip
Better care?
70% of survey participants rated their foreign care as excellent.
85% agreed that they received more personalized care overseas.
86% said they would travel again for medical care.
---
Why Consider Medical Tourism?
Here are seven reasons you might consider going overseas for your next surgery or cancer screening.
1. Savings, savings, savings. As you've seen, some countries only charge a small fraction of what U.S. hospitals and doctors do.
2. Wait list? What waitlist? Many countries offer access to immediate services and physicians.
3. Quality. Before you go, do some research on the doctor you're going to see. You'll find that lots of countries have very high standards for their doctors.
4. New technology. The U.S. is certainly leading the way in some areas of medical tech, but not all. A few countries are researching new methods that may be right for you.
5. Personalized service. Staff-to-patient ratios are a lot lower in some countries, making your experience much more personalized and welcoming.
6. Longer hospital stays. A lot of foreign hospitals allow patients to stay in their rooms for longer without incurring massive daily fees.
7. Travel opportunities. If you're well enough to travel for medical needs but enjoy yourself, too, then why not make a vacation out of it?
---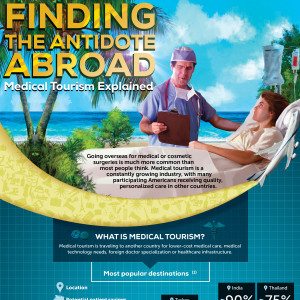 ---
Related: