Counterfeit medication and prescription drugs have boomed as an industry over the last twenty years, with an estimated market worth $75 billion a year worldwide. The prescription drug market is an $800-$900 billion worldwide industry. In the United States alone, 4 billion legitimate prescriptions are filled annually. If only 1% of those drugs were counterfeit, there would be 40 million compromised prescriptions. The potential for catastrophe is enormous.
---
What Is Counterfeit Medication?
The first step in understanding the effects of counterfeit drugs on the consumer and the industry is to define exactly what is meant by a "counterfeit" drug. The United States Federal Food, Drug, and Cosmetic Act define а counterfeit drugs as:
Featured Programs

"…а drug which, or the containers or labeling of which, without authorization, bears the trademark, trade name, or other identifying mark, imprint, or device or any likeness thereof, of а drug manufacturer, processor, packer, or distributor other than the person or persons who in fact manufactured, processed, packed, or distributed such drug and which thereby falsely purports or is represented to be the product of, or to have been packed or distributed by, such other drug manufacturer, processor, packer, or distributor."
This can apply in a variety of ways, from mislabeling medication with the intent to replicate an authentic approved product to the far more dangerous practice of selling medication without the active ingredient or adding either an insufficient or excessive amount of the active ingredient or medication containing extraneous or harmful chemicals.
---
Counterfeit Medication and Prescription Drug Boom
Counterfeit prescription drugs have boomed as an industry over the last twenty years, with an estimated market worth $75 billion a year worldwide. The World Health Organization (WHO) estimates that between 1% and 10% of drugs sold around the world are counterfeits, with as many as 50% in Asia and Africa. The International Criminal Policing Association (Interpol) however, estimates up to 30 percent of drugs sold worldwide are counterfeit. In the U.S. 80% of counterfeit drugs come from overseas, primarily from China and India.
The WHO believes 60% of the counterfeited drugs reported are antibiotics, hormones, analgesics, steroids, and antihistamines. Of those reported, the counterfeits can be broken into these six categories, as follows: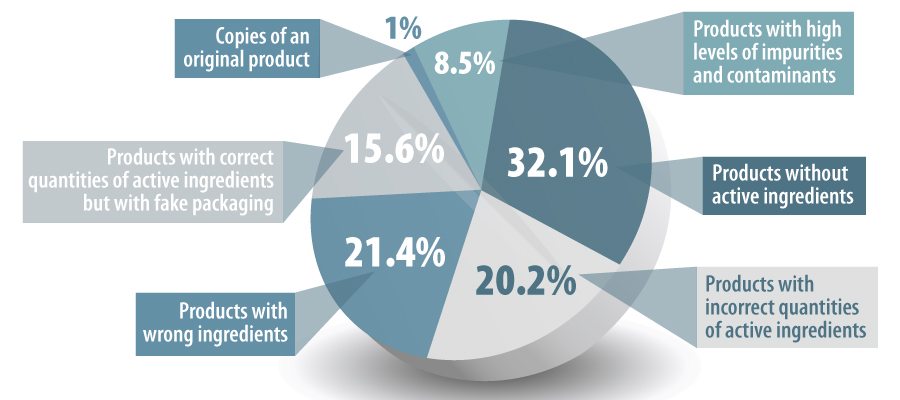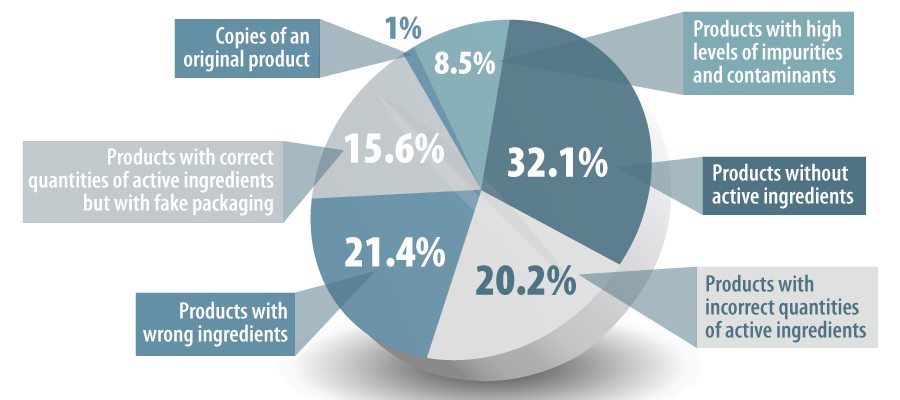 ---
Why The Proliferation Of Counterfeits?
It's all about money. According to the Agency for Healthcare Research and Quality, 9-out-of-10 senior citizens in the United States and more than half (58 percent) of all non-seniors regularly rely on a prescribed drug.
And when it comes to drug classifications, increases are across the board, as evidenced by research presented by the IMS Institute for Healthcare Informatics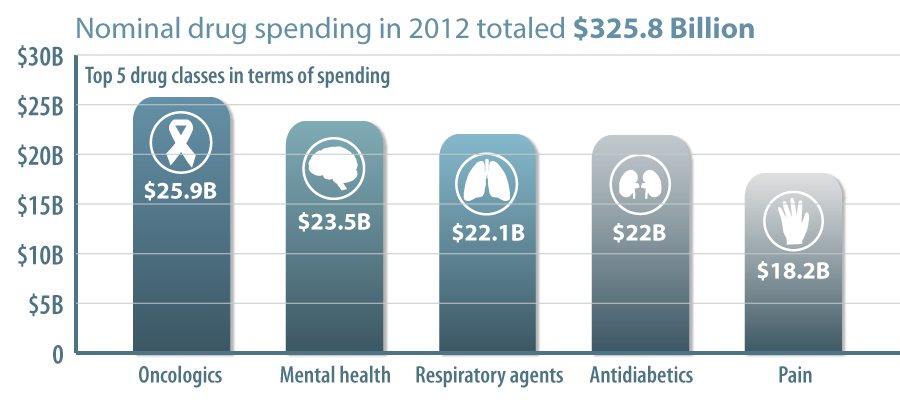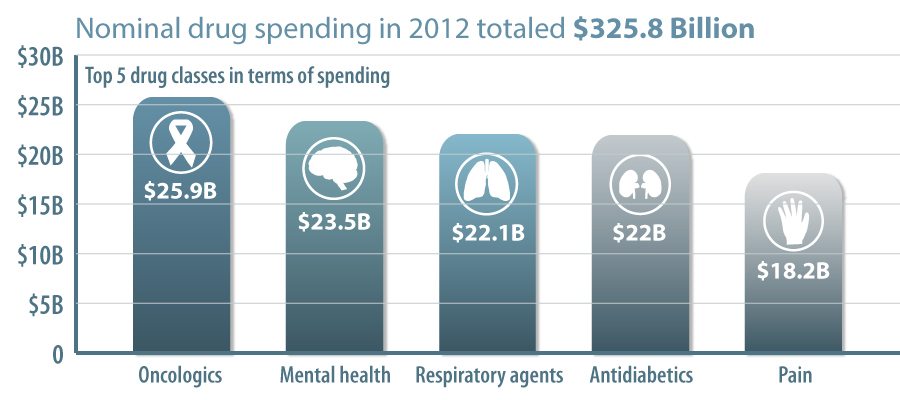 The IMS report further notes that all classes of drugs have seen an increase in prescriptions filled over the last 5 years except diuretics, penicillin, and hormonal contraceptives. IMS's analysis was pretty thorough and included all prescription medications dispensed through retail pharmacies, food store pharmacies, mail orders, and long-term care facilities.
---
Best Selling Drugs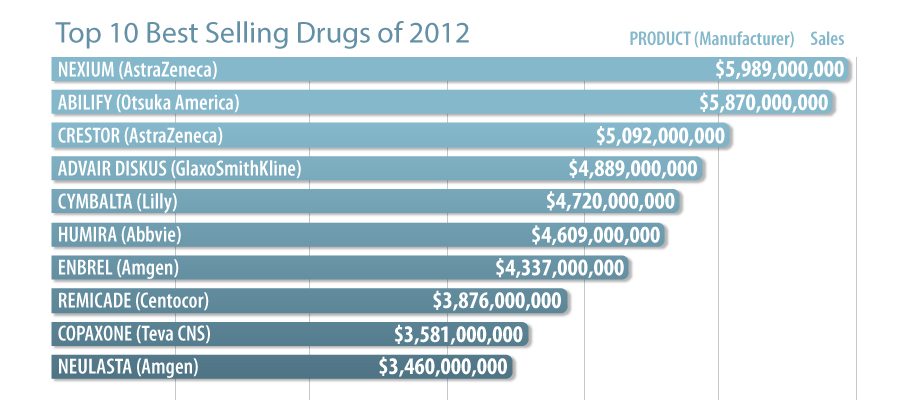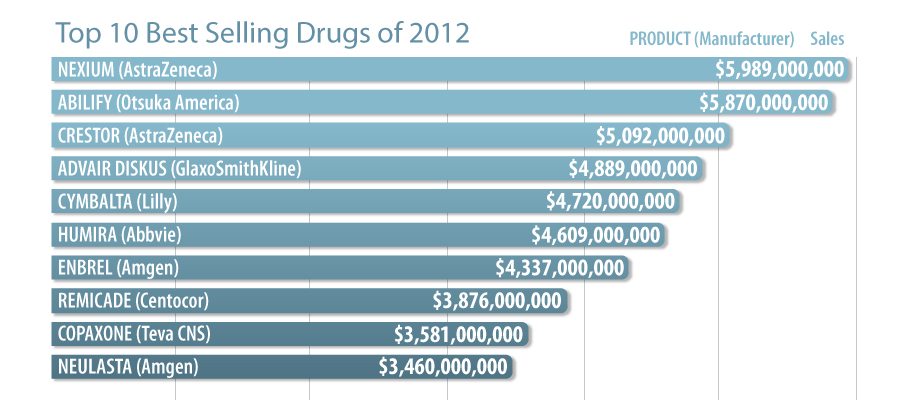 The economics of counterfeit drugs is mind-boggling as well. According to Interpol, counterfeit drugs are one of the fastest-growing and most lucrative income sources for global organized crime networks, and are responsible for up to one million deaths annually worldwide, 200,000 of which are from counterfeit anti-allergy drugs alone. Clearly, it is an international problem.
---
Why Has There Been An Increase In The Prevalence Of Counterfeit Drugs?
There are many reasons for the increased prevalence of counterfeit drugs. Among them are:
• In many cases, pharmaceuticals made for export are not regulated nearly to the degree that those produced for domestic use are.
• It is also increasingly common for trade-in pharmaceuticals to be done between a number of intermediaries or trading houses before ever reaching their country of destination, this time period is ripe for enterprising criminals to make their move.
A study in South-East Asia in 2003 revealed that 53% of packets of the anti-malarial drug Artesunate bought randomly from pharmacies in Cambodia, Myanmar, Laos, Thailand, and Vietnam were revealed to be counterfeit, a 15% increase from 2009. The WHO estimates that counterfeit drugs are associated with up to 20% of the one million malaria deaths worldwide each year.
---
What Are The Most Common Counterfeit Drugs?
Unlike developing countries where counterfeits of life-saving drugs are far more prevalent, in North America, the problem of counterfeit drugs is mostly limited to "lifestyle" drugs. One of the most common is Pfizer's Viagra. In 2009, officials seized a shipment of 21,600 counterfeit Viagra pills at the Miami International Airport, counterfeits that were determined to have originated in India.
Situations and figures like the ones mentioned above leave their mark on both the consumer and the manufacturer of the original product. Consumers may lose confidence in the healthcare system and the healthcare professionals to whom they entrust their care.
Manufacturers deal with a variety of consequences as well, the wrong situation involving counterfeit drugs could lead to anything from a public relations nightmare, to investigations, or multi-million dollar lawsuits. To combat counterfeit drugs, companies within the pharmaceuticals industry are attempting to work more closely with Drug Regulatory Authorities and Law Enforcement Agencies.
---
Related: