Continuing education guide for nurses includes annual continuing education requirements for licensed nurses. This CE for nurses supports the growth and development of medical professionals at all levels and areas of expertise. Nurses already have a bachelor's or advanced degree, but continuing education in nursing ensures that the learning doesn't end. That level of continuing education for nurse practitioners is important because nurses have the specific task and responsibility of saving lives every day.
Nurses learned how to save lives in their nursing program, and they've proven their knowledge daily. However, nursing is never one of those jobs where the learning ends. Nurses need continuing knowledge and understanding of how to recognize and treat patients. It's essential when they take those skills and increase understanding with them into the "real world." They can turn it into an ability to improve the quality of care and outcomes.
---
Why Do Nurses Need Continuing Education?
Featured Programs
In most states, continuing education requirements include the number of unit hours. Still, there may also be specific required courses or topics like pain management or infection control, as well as domestic violence or child abuse identification. An organized learning experience can change attitudes, raise awareness, and improve patients' quality of health care.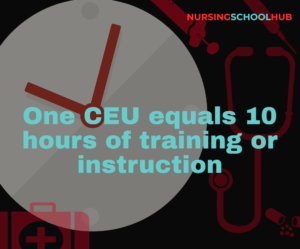 Continuing education requirements encourage nurses to continue their education and deepen their understanding in areas of specialization. Specialized knowledge helps to prepare nurses for whatever they may face in day-to-day patient care, but it can also help them achieve career goals for advancement or better rotations.
Continuing education for nurses also allows them to dig deeper into areas of particular importance to the patient, including mental health concerns, care options, and disease prevention. CE nurse training and learning is earned and count toward a specific renewal period. So, nurses pursue ongoing education throughout the years. Some coursework may be part of a peer review process as well.
---
What are CEUs?
CEUs are Continuing Education Units. Certain professionals take educational courses or training to fulfill credit units that count toward continuing education credits for nursing. Nurses can take courses at colleges or universities that count toward CEU requirements, but most institutions will not count CEU coursework toward college credit hours.
In cases where the nursing or advanced training program reviews work experience as part of the assessed body of work that "counts," the CEU coursework might then be considered as part of the complete body of evidence to demonstrate competency for waiving the requirement.
---
What is a CEU Credit?
One CEU equals 10 hours of instructions, training, activities, or other approved continuing education credits for nurses. Those hours are sometimes referred to as "contact hours," which are represented by the standard 50-60 minute class period in most states. While teachers and nurses are often most commonly associated with CEU requirements, lawyers, architects, financial planners, and other professionals are often required to earn CEUs for accreditation. The continued goal is to make sure that learning, growth, and skills-based training are still taking place. Across professions, CEUs allow networking and personal development opportunities.
So, then, what are CEUs for nurses? The key to finding continuing education units for nurses is to find accredited and approved programs. While other coursework might be educational, helpful, or even enlightening, they do not meet the standards required to be a continuing education unit for nurses. The coursework or activity must relate to nursing, but it also must be from an accredited source to be viable as a fulfillment of the CEU requirement.
---
Where Can I Get CEUs?
Finding continuing education units (CEUs) for nursing may not be as difficult as it first appeared. To count as continuing education (CE), an approved CE provider must administer the course or activity, which can be commonplace in specific settings. Colleges or universities are often the best and easiest examples of sources for CEUs, particularly if the school has a nursing program.
---
What are Alternative CE Formats?
Nurses can also earn continuing education for nursing from courses outside normal college coursework. They might be called camps, conferences, or certificate programs. Nurses can earn credit for planned and supervised experiences in a clinical setting as well. CEU-accredited conference or lecture series experiences are sometimes part of retreats where a nurse can get away for a brief period of intensive training. There are hundreds of options to chose from.
In order for the continuing education units for nurses to count toward the required hours of participation, the coursework or activity must be in some way related to nursing. So, it can't just be any course. For example, a Liberal Arts course would probably not count unless it had some connection directly to nursing and health care.
---
How Do You Find Out if Alternative CE Counts?
Even with a connection to nursing, it's still important to double-check that the course counts toward the CEU requirement. It's always better to be safe than sorry when it comes down to getting the right number of credits fulfilled. It's easy to check the veracity of CEU hours by contacting the state board of nursing, which is accessible via the National Council of State Boards of Nursing. That's another way to find out whether there's specific coursework you're required to include as part of your hours.
---
Free Continuing Education for Nurses
There are a number of free continuing education credits for registered nurses available, though. Hence, it's not impossible or even really difficult to find options that will fulfill the credentialing requirements. With the online options, nursing professionals can tap into the latest technological innovations to learn more about their specialized field of study without the stress, travel expense, or even the coursework cost. Nurses can also take the classes from the comfort of home.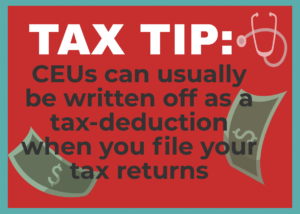 The free continuing education for nurses offers a quick and easy way to achieve professional development goals and CE requirements. Still, not all online continuing education for nurses is the same. It's essential to verify that the "free" courses do count toward the appropriate CEUs for the requisite period. Track the contact hours for each course and the topics, level, population, and role. Not all courses will offer something that will be useful to a nurse's continuing education and career development goals, even if the course does technically fulfill a tangential requirement.
---
Continuing Education Conferences for Nurses
Continuing education conferences for nurses are an excellent solution for nurses who want to quickly earn continuing education units (CEUs) without the hassle. The conference option can also expose nurses to the latest research, case studies, protocols, and medical knowledge from some of the most brilliant minds in medicine. A conference can be an immersive, inspiring, even utterly eye-opening experience.
It can help to reinvigorate any medical professional who attends. The primary goal of CEUs is to educate nurses with the very latest evidence-based medical knowledge and research, so a conference offers a depth of all-in-one immersive experience that would be difficult to access in any other way. Beyond fulfilling the CEU requirements for nurses, education also improves outcomes and patient care.
With that level of continuing education for nurses free and available, there's no excuse not to take advantage of it. It's easy for medical professionals and nurses to get busy with work, patients, and the demands of everyday patient care. So, they are not tempted or inspired to dig deeper and stay current on all the advancements in nursing, particularly in their specialization. That's why continuing education units for nursing have become such an essential requirement. It guarantees that nurses stay informed and learn the required coursework.
---
Why is Nursing Continuing Education Important?
Some probably just take the minimal continuing education courses nurses need to fulfill the CEUs for the period. However, other medical professionals use the opportunity to expand their knowledge, deepen and broaden their specialized understanding, and better prepare themselves for the care and treatment of their patients.
The continuing education units for nursing are essential tools for those who want to develop and advance themselves. CEU coursework and conferences expose nurses to studies, research, unpublished reports, and localized intel. This information is not available in any other way. Whether the learning is in the classroom, online, or at a conference, these are still significant opportunities for networking and one-on-one knowledge sharing and connection. For nurses, it is a chance to learn about job opportunities, practical insights into patient issues, and coping tips and tricks.
The fact that there is so much free continuing education for registered nurses makes it much easier and more cost-effective for medical professionals to dig into these programs and make them a part of their evolving learning experience. The fulfillment of the CEUs for nursing requirements does not have to break the bank. It can be affordable, fun, and valuable from a career perspective and as a way to engage and grow. It's an opportunity to step outside of those comfort zones and discover a wealth of knowledge and resources.
---
Related: