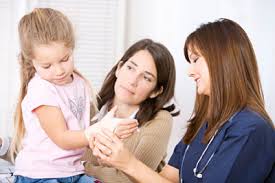 A nurse practitioner has completed additional education and training beyond that of a registered nurse. This training allows them to independently perform some medical functions and procedures that otherwise would need to be done under the supervision of a doctor. Nurse practitioners can work in tandem with physicians at a health care facility, but also have the option of establishing their own private practice and becoming a primary care provider.
The path to becoming a nurse practitioner generally starts with registered nurse or licensed vocational nurse training. The minimum education required to become a registered nurse is an associates degree in nursing (ADN) from an accredited school, which generally takes two to three years to complete. Physicians assistants who already are employed at a hospital may be able to enroll in a similar training program through their employer that provides an equivalent certification. However, candidates planning to become a nurse practitioner will at some point need to obtain a bachelors of science degree in nursing (BSN), a program which generally takes four years to complete. A BSN program covers all the material that an ADN does, but with the addition of a broader range of academic coursework in the physical and social sciences as well as leadership and management training. As nurse practitioners must often work independently and direct patient treatment, a BSN puts candidates at a major advantage. It will also be needed as a prerequisite to obtain the masters degree required of a nurse practitioner later. Since a BSN program is conducted by a traditional university and incorporates the general requirements of all college degree programs, if a candidate already holds a bachelors degree in another field they may be able to take an accelerated BSN program that takes only two years or less.
Whatever route they choose to take, once a nurse candidate's education is complete they must also get licensed. Nurse candidates will have need to have completed their education and received their diploma as well as have completed their clinical rotations. A license is then acquired by taking and successfully passing the NCLEX. This is a standardized national test for nursing, but will grant a license to practice only in the state in which it is taken. There are two variants of the NCLEX – the NCLEX-RN designed for registered nurses, and the NCLEX-PN designed for licensed vocational nurses. In both cases, the exam is taken on a computer at a testing center and is a mix of multiple choice questions and mathematical problems, as well as correctly ordering steps in a medical procedure.
Working as a registered nurse is not an absolute requirement for becoming a nurse practitioner, but it is the path most commonly taken as continuing education from that point will require another two to four years and a registered nurse can obtain employment at a good salary (the national median is currently well over $60,000 per year) while finishing the remainder of their education and training. Some advanced degree programs do also require candidates to have spent several years working as a registered nurse, however – be sure to check with programs in the area in which you are considering doing your training.
After completing their initial degree, it's time to start thinking about the next step – obtaining a masters degree. Candidates that have already obtained a BSN are already set to enroll in a masters program, but will need to take the Graduate Record Exam as part of their application to graduate school. Licensed vocational nurses and those that took the ADN route may be required to take some additional courses prior to being eligible. Health care facilities that they are employed at sometimes offer bridge programs to help accelerate this process.
The advanced degree is called a nurse practitioner's degree or a master's degree in nursing. These programs can take from two to four years to complete. The program is lengthy due to a heavy emphasis on clinical work; much of the course material overlaps with physician training. Students will also branch out into an area of specialty during this training such as pediatrics, oncology, acute care or family practice. A residency program for a year is also an option at the end of this training, but is generally not mandatory to obtain the degree or licensing.
As with working as a registered nurse, licensing is mandatory to become a nurse practitioner after formal education is completed. Nurse practitioners do not have a national standardized test, however. The testing requirements vary by state. Candidates for nurse practitioner licensing will have to check with the State Board of Nursing in their state of residence to find out what the test consists of and what the exact prerequisites are.
Becoming a nurse practitioner can be a grueling process as the length of time spent on mandatory education is nearly as long as that of physicians. It requires long-term commitment and a genuine love of the work, another reason why testing the waters in employment as a vocational or registered nurse is a wise idea before committing to long-term education plans. The rewards are great for those who are suited for it and can stick out all of the classroom time, however; nurse practitioners currently average a salary of $91,450 per year in the United States, and those that train in specialties that are in high demand average over $100,000 annually. Job prospects for nurses in general are also some of the best of any career field, with demand expected to rise up to 26% in the next eight years.

Back to How do I become…?
Home
FAQ
Rankings
Features
Resources
Contact Us