The Military Nurses: A Look in their Toolkit infographic discusses the education, training, and skills needed to be a military nurse. Military nurses face the worst of hardships in terms of observing other cultures in chaos, wounded and dead servicemen, high-stress work, and physical threats from enemies.
---


Share this infographic on your site!
---
What's Inside a Military Nurse's Toolkit?
Education
Required formal education:
Air Force: RN/BSN
Navy:RN/BSN
Coast Guard:RN/BSN
Marine Corps:RN/BSN
Army:LPN
Featured Programs
Sidenote: only the Army currently employs active duty LPN's, though they serve as soldiers as well.
On-the-job training:
New Nurses: begin at large medical complexes called MEDCENs for an expansive learning experience called the CNTP (Clinical Nurse Transition Program)
Experienced nurses: sent to smaller high-need community-based hospitals called MEDDACs.
Army, Air Force, and Navy Medical Training is now all located under one command: the Medical Education and Training Campus
[2 parts]
1.) A Basic Medical Training Course Similar to a Civilian EMT
2.) Tactical Combat Casualty Training
[3 stages of TCCT]
1.)Care Under Fire focuses on quick assessment and the stopping of major bleeding.
2.)Tactical Field Care involves making triage and evacuation decisions. Can often utilize advanced airway treatment as well as IVs.
3.)Tactical Evaluation Care involves treatment during evacuation to higher levels of care, often with greater resources away from the front.
90% of combat deaths occur before casualties reach military hospitals.
More than 90% of those who make it to military hospitals survive.
Skills
Military nurses are more than nurses, they're also
Soldiers
Airmen
Sailors
Marines
Leaders
Annual medical nurse examinations are on leadership in the military, not clinical work
Patients
Military Nurses care for:
Reserve
Active
And Retired
Members of the armed forces
Salary
Military nursing salary depends on rank:
With every year of civilian nursing counting as 6 months prior military duty
[average monthly salary by rank 2015][4]
Enlisted:
E-1:$1,547
E-2:$1,734
E-3:$2,035.9
E-4:$2,391.9
E-5: $2,933.43
E-6: $3,387.1
E-7: $4,082.86
E-8: $4,950.3
E-9: $5,991.39
Warrant Officers:
W-1:$4,298.8
W-2:$4,680.93
W-3:$5,278.82
W-4:$8,228.27
Officers:
O-1:$3,614.56
O-2:$4,541.56
O-3:$5,853.11
O-4:$6,436.46
O-5:$7,553.73
O-6:$8,787.78
O-7:$10,676.43
O-8:$12,249.46
O-9:$15,398.7
O-10:$14,909.22
With some commissioned nurses receiving large signing bonuses:
Nurse Accession Officer Bonus: $30,0000
Nurse Anesthetists Officer Bonus: $50,000
History
Pre-History: For as long as men have fought each other, others have tended to the wounded. Though there was likely no distinction between civilian and military medical practitioners for some time.
The Crusades(1090-):
Monastic orders of monks and nuns often accompanied soldiers to the holy land, providing care for the wounded, sick, and destitute.
1850: Florence Nightingale– known as the mother of modern nursing– was a nurse in the Crimean War and helped reduce the death rate in British military hospitals by 2/3rds.
1859: Jean Henry Dunant helps to form the International Red Cross as well as the Geneva Convention, eventually winning the first Nobel Peace Prize.
1898: The Daughters of the American Revolution recruit nurses and doctors for the Spanish American War.
Founding of Modern Military Nursing Institutions:
Army Nurse Corps: 1901
Navy Nurse Corps: 1908
Air Force Nurse Corps: 1949
Rapid Rise:
[number of military nurses]
Start of World War I: 563
End of World War II: 22,000
Casualties:
Spanish American War: 13[5]
All but two of the nurse casualties in the Spanish American War were the result of the harsh conditions of war and Typhoid.
World War I: 400+
Though some nurses did see action closer to the front, nearly all American nursing deaths in WWI occurred due to the Spanish Flu.
World War II: 201[6]
The first American war to regularly see female nurses near the front line. 16 died as the direct result of enemy action.
Korean War: 17[7]
Most military nursing deaths in Korea occurred due to plane crashes.
Vietnam War: 8
Most nurses died in helicopter crashes.
Sidenote: New medivac capabilities resulted in less than 2% of the injured dying as a result to their wounds.
Military nurses face the worst of hardships in terms of observing other cultures in chaos, wounded and dead servicemen, high-stress work, and actual physical threats from enemy combatants. Nursing is critical to modern war. And requires unique bravery that only some can provide. We salute military nurses!
---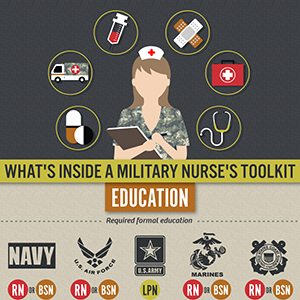 ---
Related: