Medical Tourism: Crossing Borders for Healthcare infographic discusses why 8 million people cross borders for healthcare every year.
---

Share this infographic on your site!
---
Medical Tourism
Why Would 8 million people cross borders for healthcare?
Including 1/300 in the U.S.?
Featured Programs
20% of Americans struggle to pay medical bills
3 out of 5 bankruptcies are due to medical bills.
That's 1.7 million Americans
Or 248,002 in California
113,524 in Illinois
and 99,780 in Florida alone.
Who could save…
India: 65-90%
Malaysia: 65-80%
Thailand: 50-70%
Turkey: 50-65%
Mexico: 40-65%
Costa Rica: 40-65%
Taiwan: 40-55%
Singapore: 30-45%
Korea: 30-45%
Brazil: 25-40%
Over U.S. prices for the same medical procedures.
---
Things to Balance
High Wait Times
High Costs
High Quality Care in Many Nations
Low Cost of International Travel
But what about…
Airfare:
1980: $1029
2012: $926
…And it's set to fall farther
Recovery:
Often it goes like this:
Flight -> Pre-procedure care nursing -> Procedure ->Post-procedure care nursing -> Flight home.
And there are so many options:
Argentina, Brunei, Cuba, Colombia, Costa Rica, Honk Kong, Hungary, India, Jordan, Lithuania, Malaysia, The Philippines, Singapore, South Africa, Thailand, Saudi Arabia, UAE, South Korea, Tunisia, Ukraine
And specialties
1.) Cosmetic Surgery
Most cosmetic surgery is not covered by insurance.
Most popular destinations:
Worldwide:
Rio de Janeiro, Brazil
Chang-Gung Memrial Hospital in Taoyuan, Taiwan
For Americans:
Costa Rica
Mexico
2.) Dentistry
Nearly half of Americans have no dental coverage.
Most popular locations:
Right across borders:
Americans –> Mexico, Costa Rica
Europeans –> Hungary
Asians –> Thailand
Top Hospitals:
Bumrungrad in Bangkok, Thailand
and Hospital San Jose Tec de Monterrey in Mexico.
3.) Cardiovascular
Cardiovascular disease is the number one killer in Europe, and 16.7 million die yearly worldwide from CVD. This leaves experienced CVD doctors worldwide to cater to medical tourists.
Most popular locations:
Mexico, India, Malaysia, Taiwan, Singapore, Turkey, Thailand, Korea.
Top Destinations:
Wockhardt Heart Hospitals in Bangalore, Mumbai, and Nagpur India.
4.) Orthopedics
More than 20% of Americans have arthritis, with 2/3 under 65. With better prostheses, and prices up to 80% lower than in the states, orthopedic surgery is a good reason to be a medical tourist.
Most Popular Destinations:
Bangkok, Thailand
San Jose, Costa Rica
Bangelore and New Delhi, India
Seoul, South Korea
Mayo Clinic, Minnesota
Malaysia
Monterrey, Mexico
Singapore
Taiwan
Dubai, UAE
5.) Cancer
Cancer is the second leading killer in the developed world, and treatment is often prohibitively expensive.
Top Destinations:
Turkey, Singapore
Other Destinations:
Seoul, South Korea
Sao Paulo, Brazil
San Jose, Costa Rica
Delhi, Bangalore, Mumbai, India
Petah Tikva, Israel
Malaysia
Singapore
Monterrey, Mexico
Taiwan
6.) Reproductive
One in six couples fall under the "infertile" designation, but reproductive healthcare can be prohibitively expensive.
Top Destinations:
Barbados, Israel
Other Destinations:
Mumbai, New Delhi, India
Malaysia
Bangkok, Thailand
Dubai, UAE
7.) Weight Loss
2.5 million people die of obesity associated deaths yearly, and the annual healthcare bill is massive. Bariatric surgeries cost $20-$25,000 in the U.S., but half that abroad.
Top Destinations:
Malaysia
Sao Paulo, Brazil
San Jose, Costa Rica
Mumbai, New Delhi, Bangalore, India
Taiwan
Monterrey, Mexico
Bangkok, Thailand
---
Accreditation for Hospitals
Joint Commission International (JCI) accreditation for hospitals and individual doctors is a good indicator of developed world quality healthcare, wherever it is.
---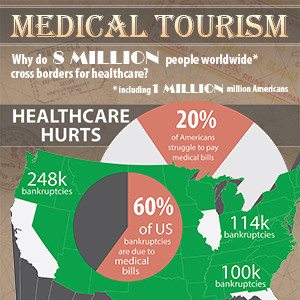 ---
Related: