The most taxing fields of nursing are these specialties that are decidedly more physically and emotionally draining than others. The Drawing Blood: The Most Taxing Fields of Nursing infographic summarises these areas of nursing that are especially difficult.
---
Share this infographic on your site!
---
Drawing Blood: The Most Taxing Fields of Nursing
There are more than 100 specialties in nursing, but some are decidedly more physically and emotionally draining than others. Let's take a close look at these fields and what they offer for soon-to-be nurses or current nurses looking for further specialization.
The Nursing Hierarchy: A Quick Guide
Featured Programs
Not all nursing degrees are created equal. The longer you are in school and the more specialization you seek, the longer your list of career possibilities becomes. Here is a short reference for all nursing designations. Most of the tough fields mentioned require RN licensure or higher.
UAP (unlicensed assistive personnel)
CNA (certified nursing assistant)
LPN, LVN (licensed practical nurse, licensed vocational nurse)
RN (registered nurse)
ADN (associate degree, 2 years)
BSN (bachelor's degree, 4 years)
APRN (advanced practice registered nurse)
MSN (master's degree, 2 years)
CNS (clinical nurse specialist)
NP (nurse practitioner)
CRNA (certified nurse anesthetist)
CNM (certified nurse midwife)
DNP (doctor of nursing practice degree, 3 years)
Ph.D. in nursing
---
The Toughest Tracks
Of course, all fields of nursing are demanding. But here are some that test the patience, strength, and overall dedication of nurses everywhere. Some are, understandably, the highest-paid positions for specialized nurses.
---
1. Oncology Nursing (cancer care)
Dealing with patients young and old suffering from both curable and incurable forms of cancer is incredibly difficult.
Duties:
Care before and after treatments
Education and support to patients and family members
Medication administration
Managing side effects of treatments
Ongoing care for relapsed or terminal patients
Median salary: $64,072
---
2. Hospice Nursing (end-of-life care)
This is one of the fastest-growing fields of nursing, due to the aging baby boomer population. In 2012 alone, an estimated 1.5 million patients received hospice care. But caring for people in their final stages of life takes a certain kind of personality.
Duties:
Medication administration
Assessment and care planning
Day-to-day care of immobile or unresponsive patients
Educating family members regarding end-of-life processes
Emotional support
Crisis care
Median salary: $63,458
---
3. Surgical Nursing
Surgical, or medical-surgical, nurses are one of the largest groups of working nurses. Especially for those who work during high-risk surgeries, this job carries with it a lot of tension and stress.
Duties:
Pre-operative patient care
Maintaining and monitoring vital signs during surgery
Assisting surgeons
Providing proper surgical supplies during surgery
Post-operative care
Median salary: $83,960
---
4. Geriatric Nursing
The average age of nursing students' patients across the country is 65+. Geriatric nursing is one of the most in-demand nursing jobs out there; it's also one of the most demanding.
Duties:
Preparing progress reports on patient health
Drug and treatment administration
Researching drug interactions
Daily care of immobile patients
Performing diagnostic testing
Relocating patients to long-term care facilities
Median salary: $62,223
---
5. Emergency Department (ER) Nursing
It doesn't need explaining why nurses who work in the emergency room need to be able to handle hectic and stressful situations. There are only an estimated 90,000 emergency department nurses in the U.S., and there has been a shortage of them for quite some time.
Duties:
Quickly assessing incoming patients
Maintaining knowledge of a wide variety of health issues
Assisting in diagnostic testing
Assisting physicians
Educating patients
Creating follow-up plans
Administering medication and treatments
Median salary: $67,411
---
6. Psychiatric and Mental Health Nursing
Mental health nursing requires a special kind of patience, as well as specialized knowledge of psychiatric disorders. Working in a hospital or inpatient facility is especially taxing.
Duties:
Monitoring the physical well-being of patients
Medication administration
Monitoring results and side effects of administered meds
Aid in the socialization of patients
Assist in therapy
Provide resources for patients in and out of the facility
Median salary: $68,433
---
7. Correctional Facility Nursing
Nurses who work in prisons deal with unique difficulties on a day-to-day basis. Their patients aren't all willing to cooperate. Many refuse treatment, while some complain of faked ailments every week.
Duties:
Medication administration
Emergency care
Care of chronically or terminally ill inmates
Education and follow-up planning
Maintaining composure while working with possibly hostile or dangerous patients
Diagnostic testing
Psychiatric evaluations
Median salary: $64,690
---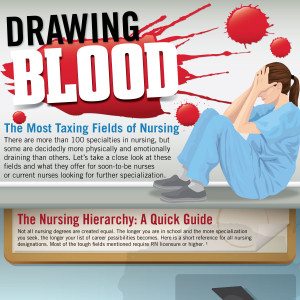 ---
Related: