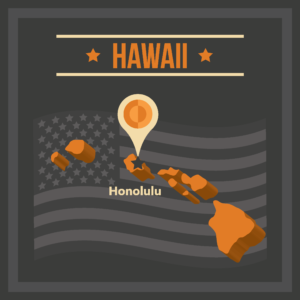 Hawaii Nursing outlines the educational, licensing, and career prospects for nurses. This island paradise is located in the Pacific Ocean, has a population of 1.4 million residents, and is the 13th most densely populated state. While Hawaii's cost of living is very high compared to the rest of the country, Honolulu's cost of living is lower than New York City and San Francisco.
Hawaii is well-known for its numerous beaches, majestic volcanoes, and diverse wildlife. Tourists flock here all year long to bask in the sun and visit the state's numerous volcanoes and national parks. Surfing is widely popular, as well as snorkeling, scuba diving, and hiking.
---
How Do You Become A Nurse In Hawaii
Featured Programs
The Hawaii Board of Nursing issues Nursing License for Licensed Practical Nurses (LPN), Registered Nurses (RNs), and Advanced Practice Registered Nurses (APRNs). You can apply for a license with the Hawaii Board of Nursing. The applications for the Hawaii BON are through the Hawaii Department of Commerce and Consumer Affairs Professional & Vocational Licensing Division website. A nursing license in Hawaii is obtained by exam or by reciprocity (Endorsement). Information on how to apply for a nursing license is available on the Hawaii Board of Nursing website.
Hawaii Nursing License by Exam
How do I become a nurse in Hawaii? After graduating from an approved nursing program in Hawaii, candidates can become licensed nurses in Hawaii by Exam. An application by examination must include the following documentation.
Hawaii Nursing License by Endorsement
To apply for a Hawaii nursing license by Endorsement or reciprocity, you need to provide all of the items listed above and verify licensure from the original state obtained. In addition, you may also need to verify you graduated from an accredited school or provide copies of your NCLEX test passing results.
Hawaii Is NOT Part Of The Nurse Licensure Compact (NLC)
Hawaii has NOT joined the Nurse Licensure Compact. However, nurses can gain a license in Hawaii by reciprocity. The details for the process are on the Hawaii Board of Nursing website.
Helpful Links for Nurses in Hawaii:
---
Choosing The Right Nursing School In Hawaii
What should you look for in a nursing school in Hawaii? Choosing between nursing schools can be challenging. First, we suggest you make a list of nursing schools in Hawaii that interest you. So, we compiled the best nursing programs in Hawaii that you can use to start your search. Next, narrow down your list of schools. Keep only the schools you think you can afford and where you think you will be accepted. Most colleges require a high school transcript or proof of graduation. In addition, some schools will ask for SAT or ACT scores, a personal statement, and possibly letters of recommendation.
Schools receive accreditation to demonstrate their academic quality. When applying to schools in Hawaii, make sure the school has accreditation from the Western Association of Schools and Colleges. If a nursing school is not accredited, you may have trouble receiving financial aid and finding a job after graduation.
---
Choosing The Right Nursing Program In Hawaii
The nursing program you attend in Hawaii should also be accredited. The two nursing program accreditation organizations to look for are below.
In addition, you can check a nursing program's annual pass rate for the NCLEX. The Hawaii Board of Nursing maintains this information, and it is usually on its website.
They also maintain a list of Out-Of-State, Online, Distance Learning Nursing Programs that may qualify for a Hawaii nursing license. Make sure you check it before signing up for an online nursing program. Additionally, graduates of an online nursing program not based in Hawaii can qualify for a Hawaii nurse license. However, the nursing program must be nationally accredited and meet the requirements of Hawaii Statues.
---
Hawaii Nursing Jobs Outlook
What is the current employment outlook in Hawaii for Nurses? Currently, there is an extreme shortage of nurses in the state of Hawaii. In addition, an estimated eighty percent of the nurses currently employed in Hawaii will retire by 2026. This mass aging-out will leave a massive gap the healthcare industry must fill.
The BLS May 2020 report indicates there are 11,260 RN's employed in Hawaii. So, the state employs 19.62 nurses for every 1,000 workers, with a ratio of 0.91, which indicates a nursing shortage. Because of the nursing shortage, healthcare institutions in Hawaii will continue to recruit nurses from all over the nation. Therefore, individuals who plan to obtain a four-year degree in nursing would do well to seek a job in Hawaii after they graduate.
---
Hawaii Nursing Salary Outlook
How much can you make as a nurse in Hawaii? The US Bureau of Labor Statistics (BLS) information published in May 2020 reports that nurses in Hawaii earn an annual mean wage of $104,830. Hawaii nurse pay is well above the national mean of $80,010. However, Hawaii's cost of living is also above the national average. In addition, Hawaii nurses can earn a higher salary if they have an advanced degree or hold a nursing specialization.
---
State-Based Financial Aid In Hawaii For Nursing Programs
There are many opportunities for nursing students to apply for financial aid in Hawaii. For example, the Hawaii B+ is for high school students. Applicants must earn at least a 3.0-grade point average, meet specific income requirements, and demonstrate a willingness to attend college. Another popular program for nursing students in Hawaii is the Second Century Scholars Program. Students with ancestral ties to the islands can take advantage of grant money when they attend college. The UH Opportunity Grant is a University of Hawaii grant for students enrolled at Hawaii Community College and also with financial needs.
Native Hawaiian Tuition Waiver is a Hawaii Community College tuition waiver based on financial need and Hawaiian ancestry. Another need-based award for qualified community college students is the Hawai'i Promise Scholarship.
Students who have demonstrated achievement or service to the college can apply for the Hawaii Community College Achievement Grant.
---
Hawaii Scholarships
In addition to financial aid, numerous scholarship opportunities are available for Hawaii nursing students. Below are a few of the scholarships.
---
Related: