Nursing Resources from the Nursing School Hub include articles on careers, nursing school, and resources for current nurses.
What Are the Highest-Paying Locations for Nurses?
When you're looking for the highest-paid nurses in the world, it helps to start with looking at the average salary based on the state and then move into the details about the specialized careers.
Featured Programs
The highest paid nurses in the world are in California. The average income for a nurse is around $102,000 per year in the state. Nurses who live in San Francisco make an average of roughly $136,000 per year while nurses in the San Jose area make around $120,000 per year. The highest paying nurse jobs depend on the city and their specific needs, but nurse practitioners and specialized nurses can expect to make more when compared to the average.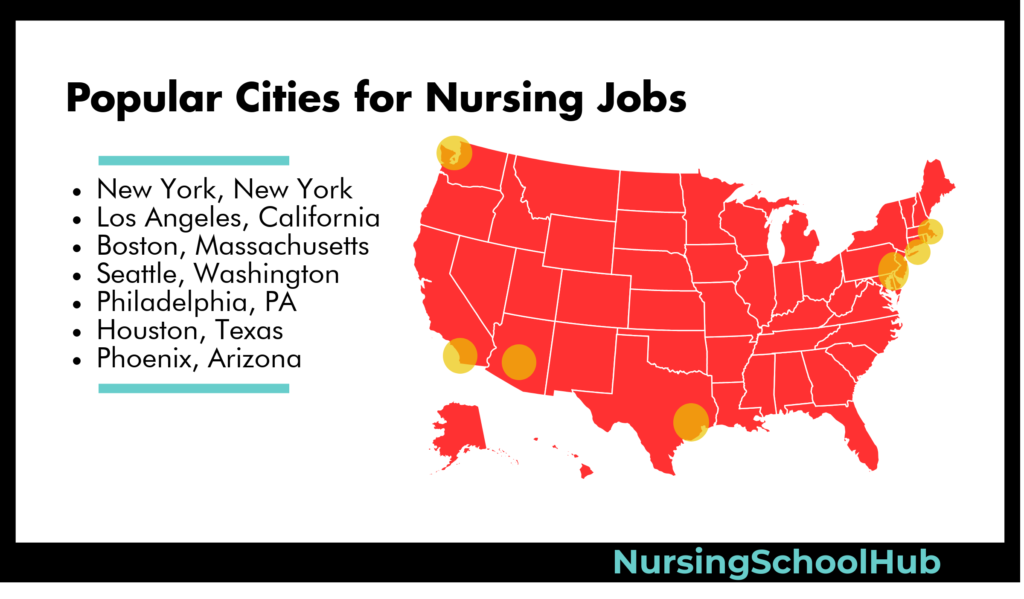 When you're looking for the best states for nurse practitioners, you may want to consider working in Hawaii. The average income for a nurse in Hawaii is around $97,000 per year. Despite high retention rates within the state, the average nurse in Honolulu makes around $89,000 per year. Nurses with years of experience or a specialized skill can expect a higher salary when compared to the average within the industry.
When it comes to the types of nursing jobs and salaries available in different states, you do want to consider the options in Massachusetts. Boston nurses make an average of $98,000 per year and the city is considered one of the highest pay scale locations for registered nurses on the East Coast. The state of Massachusetts also offers a high average salary for nurses that is around $89,000 per year.
When you're looking for the best place to be a nurse in the world, you may be surprised to find that Alaska offers interesting opportunities. The average income for a nurse in Anchorage and across the state is around $87,000 per year. The state offers new nurse residency programs that help young nurses gain experience that allows them to move into more specialized areas of nursing.
New York is an area with a high salary, but also a high cost of living. The average nurse in New York can expect to earn around $82,000 per year. Nurses who live in New York City can expect to earn around $88,000 per year. Due to the shortage of nurses in the state and city, nurses may have additional perks and benefits associated with their career and work.
While the average salary in different states gives you an idea of the places you want to consider for your career, you should keep in mind that your position and experience will impact your opportunities and salary. You can expect to make more if you have a higher level of education or you are skilled in a specialized area of nursing. You can also expect salaries to increase over time due to your experience.
Nursing in Chicago
Nursing In Houston
Nursing in New York City
Nursing in Syracuse
Nursing in Tallahassee
Nursing in the District of Columbia
Top 10 Cities for Jobs in Nursing
---
How Do Nurses Contribute to Public Health?
Public health nursing is an area of nursing that focuses on the role of a nurse in population health. Public health nursing jobs focus on promoting health and preventing disease or disabilities through education and research. The Association of Public Health Nurses points out that public health nursing roles may focus on schools, working with families, joining organizations, working in government roles, and assisting at work sites.
The public health nursing definition is the nursing practice of promoting health in populations. Public health nurse uses their knowledge of nursing, society, and public health science to encourage good health within a population and protect the health of the population. Their role in an organization or medical facility depends on the specific goals of the organization.
Public health nurse roles and responsibilities focus on research and initiatives that help populations within a community. Depending on the organization, you may be asked to issue formal statements about health-related topics. In some cases, a public health nurse may work in research roles and look into data to help identify risks to a community and start working on finding realistic solutions. When it comes to initiatives, you may act as an expert on a topic related to public health and inform officials about a situation to ensure they take proper precautions to address the risks.
A public health nurse takes on many different roles and responsibilities. The primary factor that sets a public health nurse apart from other roles in nursing is the focus on larger groups and populations. You are not focusing on a single patient. Instead, you focus on a community, a family, or even a large urban city. The goal of your career is addressing the problems that arise within a population.
10 Reasons to Become a Travel Nurse
10 Reasons to be a Midwife Nurse
Top 5 Forensic Nurse Career Paths
Top 10 Problems Related to Smoking
How Does RN Licensing Work from State to State?
Obtaining your nursing license is an important part of practicing as a nurse. Each state sets different registered nurse license requirements, so you want to make sure you follow the specific steps set by your state.
When you want to learn how to become a registered nurse, the first step is identifying the similarities between states. In every state, you are required to take the NCLEX-RN exam. The exam is a standard test that either passes or fails a student for their knowledge. The test is a standard that applies to each state and ensures that there is consistency between states in relation to nursing knowledge and education.
When you are ready to graduate or you have recently graduated, you will need to apply for licensure through your state's licensing agency. Each state has a licensing agency, but details about your options depend on your plans for your career. If you are planning to practice nursing in a state where you do not live, then you may need to apply for licensure through the other state's licensing agency.
While it is important to consider your career goals before you apply for your license, you may have questions about practicing in multiple states. Can you hold a nursing license in multiple states? A simple answer is that you can, but it depends on the state. If you plan to practice in a state that is not part of a nurse licensure compact, then you may need to obtain a license in the specific state to practice. Many states do work through the nurse licensure compact and allow you to obtain a license that applies in multiple states. If you plan to obtain a compact license, then you will need to apply for the license through your state's board.
The differences in obtaining your license as a registered nurse depends on your state. In some states, you may be asked to provide a copy of your transcripts as well as your test results from the NCLEX-RN exam. Other states may allow you to apply for your license before you graduate, but will not allow you to work as a nurse until you complete your degree and pass the exam. In some states, you may be issued a temporary permit that allows you to work under the supervision of a nurse while you are awaiting your exam results. The temporary permit will only allow you to work for a short time while you wait for results, so you will not obtain a license if you fail the exam.
In some states, you are not allowed to practice as a nurse until you complete your exam, pass the test, and obtain the RN license for your state. You will want to evaluate your state's specific rules before you look for a job opportunity, since it may take time to obtain your license.
Along with the standards related to your test and education, you will need to go through an appropriate background check by your state. Some states will ask for your fingerprints or biometric data as part of the process. In states that do not require your fingerprints, you will go through a criminal background check before you are able to practice as a nurse. The application for your license will ask about your professional history and will ask you to disclose any legal or professional issues that came up at any time in your past. Although a criminal record may not prevent you from working as a nurse in all situations, withholding information on your application may result in being denied a license. You will want to make sure you fill out the paperwork correctly and double-check your answers before you send in your application.
For nurses who are moving to a different state, you may be asked to provide license verification from your previous state. Keep in mind that if you obtained a license that is part of the Nurse Licensure Compact, then you may not be required to obtain a state-specific license to practice nursing in a new state. You will only need a new license if you are moving to a state that is not part of the compact.
RN Licensing Requirements by State
State by State Listing of Nursing Schools
Top 10 States for Jobs in Nursing
What States Have the Most Need for Nurses?
When you are looking into the statistics about the nursing shortage by state, you want to focus on the areas with the greatest need for nurses. There are specific factors that impact the nursing shortage in particular locations. By focusing your career goals on areas with a shortage, you have a higher chance of obtaining a job in nursing and starting on your career.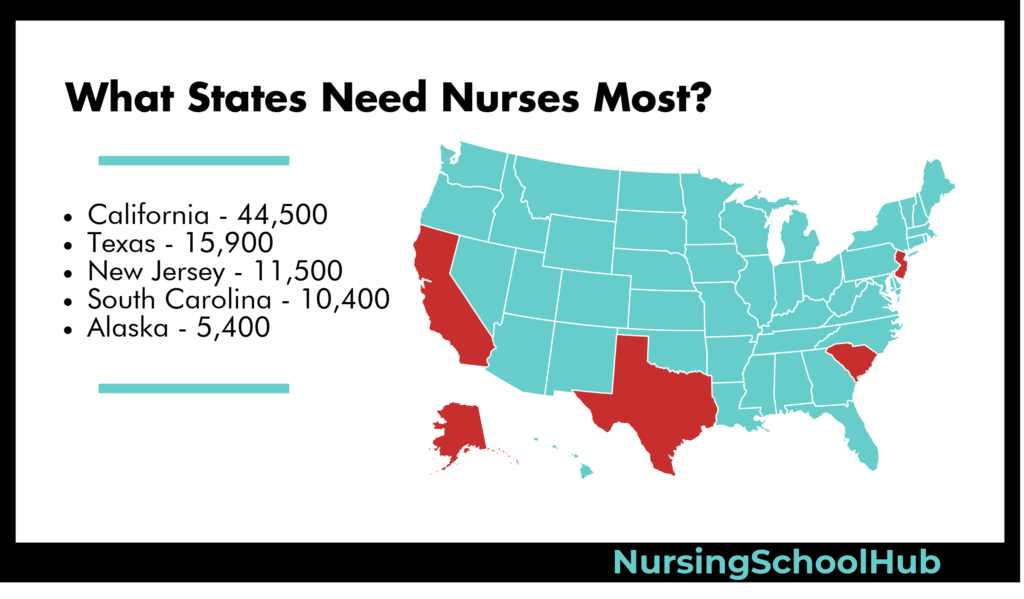 California is one of the states with the largest shortage of nurses. A key reason for the shortage is an aging population and the current challenges within the population. The state has around 650 registered nurses per 100,000 people, which is far short of the recommended 825 nurses per 100,000. The shortage in California is expected to grow in the area of geriatric care due to the aging population within the state. Although the state is taking measures to help address the nursing shortage by encouraging more students to study nursing, the shortage is expected to grow over time.
Nursing in Alabama
Nursing in Alaska
Nursing in American Samoa
Nursing in Arizona
Nursing in Arkansas
Nursing in California
Nursing in Colorado
Nursing in Connecticut
Nursing in Delaware
Nursing in Florida
Florida is the state with the largest population of Baby Boomers. That means they are expected to have a shortage of nurses as older nurses retire and more adults move to the state for retirement. Since the state also sets new standards for nursing students, the shortage is expected to grow over time. In an effort to address the shortage, hospitals and medical facilities in Florida are offering additional benefits for nurses, such as child care and gym memberships.
New York has a large population, and that means nurses are an important part of the medical industry. The state has a shortage of primary care nurses, which means nurses are needed in a variety of medical facilities and private practices, particularly in New York City. Due to the changes to the state's laws regarding education for registered nurses, the shortage is expected to grow as fewer nurses are able to practice without returning to school for a higher level of education. Medical facilities and hospitals are offering incentives to help address the shortage by giving nurses performance bonuses, tickets to Broadway shows, and related perks.
Nursing in Georgia
Nursing in Guam
Nursing in Hawaii
Nursing in Idaho
Nursing in Illinois
Nursing in Indiana
Nursing in Iowa
Nursing in Kansas
Nursing in Kentucky
Nursing in Louisiana
Nursing in Maine
Nursing in Maryland
Nursing in Massachusetts
Nursing in Michigan
Nursing in Minnesota
Nursing in Mississippi
Nursing in Missouri
Nursing in Montana
Nursing in Nebraska
Nursing in Nevada
Nursing in New Hampshire
Nursing in New Jersey
Nursing in New Mexico
Nursing in New York
Nursing in North Carolina
Nursing in North Dakota
Nursing in Ohio
In Ohio, the shortage of nurses is related to the age of the nurses in the state. The average age for a nurse in Ohio is 47 years old and a large portion of the nurses are expected to retire within a ten-year period. That means young nurses will have opportunities within the state as more positions become available. The medical facilities within Ohio are focusing on helping nurses with their education costs through tuition reimbursement programs and scholarships that may attract young professionals to the industry.
Texas is experiencing a shortage of nurses that continues to expand as older nurses retire and the population in the state continues to grow. Despite efforts to establish more programs for nurses, the state is having a challenge finding educators and lecturers for nursing students. Many of the professionals who qualify to teach are still working as registered nurses and are not willing to stop their current work to take on a position as a teacher and educator.
Nursing in Oklahoma
Nursing in Oregon
Nursing in Pennsylvania
Nursing in Puerto Rico
Nursing in Rhode Island
Nursing in South Carolina
Nursing in South Dakota
Nursing in Tennessee
Nursing in Texas
Nursing in Utah
Nursing in Vermont
Nursing in Virginia
Nursing in Washington
Nursing in West Virginia
Nursing in Wisconsin
Nursing in Wyoming