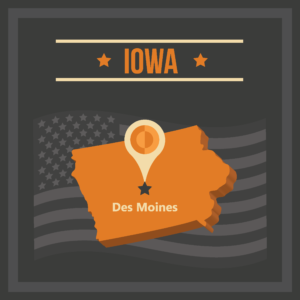 Iowa nursing includes educational, licensing, and career prospects for nurses in the Heartland state. The state officially became the 29th state of the United States in 1846. Its most populous city, Des Moines, is also the capital of the state. Iowa is known for its sizeable agricultural business and is one of the leading producers of corn in the nation.
However, in recent years Iowa has focused on transitioning from an agrarian economy to other growing sectors. As a result, Healthcare is now one of the leading employers in Iowa, making it a great place to be a nurse. If you are interested in pursuing a nursing career in Iowa, start with our list of the Best Nursing School in Iowa.
---
How Do You Become A Nurse In Iowa
Featured Programs
The Iowa Board of Nursing issues multi-state and single-state licenses to registered nurses, practical nurses, and advanced practice registered nurses. An Iowa nursing license is obtained by Exam or by Endorsement. The Iowa Board of Nursing website will always be the best source with the most up-to-date information on licensing.
Iowa Nursing License by Exam
After you graduate from an approved nursing program, you can obtain an Iowa nursing license by Exam. Candidates apply for a nursing license by submitting the following to the board of nursing in Iowa.
application with fees

a background check with fingerprints

school transcripts

passing NCLEX-RN exam results
Iowa Nursing License by Endorsement or Reciprocity
You can apply for an Iowa nursing license by reciprocity or Endorsement with all of the above items. In addition, you must provide verification of the original license from the state where you obtained it.
Iowa Is Part Of The Nurse Licensure Compact (NLC)
Iowa is a member of the Nursing Licensure Compact (NLC) Agreement. Nurses who meet the Compact's requirements and have a nursing license in Iowa can work in other NLC states. The NLC standards require nurses to pass the NCLEX-RN and submit a background check with fingerprints.
Helpful Links for Iowa Nurses
Iowa Board of Nursing
Nursing Licensure Compact (NLC)
---
Choosing the Right Nursing School In Iowa
Choosing one of the best colleges for nursing in Iowa may take some time and research. To begin, it is best to make a list of nursing schools and programs in Iowa that interest you. Then, make sure the nursing schools on your list are accredited. Schools use accreditation to show their academic quality.
When applying to schools in Iowa, make sure they have accreditation from the Higher Learning Commission (HLC). If your school is not accredited, you may not be able to get a job after graduating.
Many Community Colleges offer nursing programs for one and two years. These programs are usually less expensive than four-year schools but allow students to sit for the NCLEX after graduation. Then, after becoming a licensed nurse, you can enroll in another program and earn a higher degree.
---
Choosing the Right Nursing Program In Iowa
Now that you have looked at schools, the next step is to narrow down your choice by the type of nursing program you want to attend. It is an essential part of the decision process. For example, if finishing your degree quickly is essential, you should focus on an accelerated nursing program in Iowa. Or you may have to work while attending school and need to find a part-time or online nursing program in Iowa that meets your needs.
The program you attend should also have programmatic accreditation. The organizations to look for are below.
---
How Much Can Nurses Earn In Iowa
How much money do Nurses make in Iowa? According to the May 2020 information from the Bureau of Labor Statistics (BLS), nurses in Iowa earn an annual mean wage of $62,570, which is below the national mean of $80,010. However, the cost of living in Iowa is lower than the national average, which helps offset the lower wages. In addition, a nursing salary in Iowa can be higher if the nurse has an advanced degree or a nursing specialization.
---
Nursing Job Outlook In Iowa
As reported in the May 2020 BLS report, Iowa employs 33,610 nurses, around 22 nurses for every 1,000 workers. Even though Iowa has more nurses per capita than many places in the US, they still need nurses. The growing population, retiring professionals, and the Covid-19 pandemic have put pressure on the entire county. Nurses are needed everywhere, including in Iowa.
---
Iowa
STATE-BASED FINANCIAL AID
Iowa has many aid programs to help you pay for nursing school. Resources from need-based grants to scholarships are available for anyone thinking about entering a program. Students interested in need-based aid must fill out a FAFSA or Free Application for Federal Student Aid to determine eligibility.
The Iowa Nurses Foundation is the leading source when it comes to funding a college nursing education. However, there are time requirements based on how many hours the student has completed receiving the assistance. In addition, the Iowa Health Care Association offers scholarships to employees of the association. These awards are for students who intend to pursue a job in long-term care.
---
Related: