Working in Nursing Homes During a Pandemic: What Nurses Need to Know
As of April 25, 2020, the New York Times reported more than 10,500 nursing home deaths from coronavirus — and the number keeps growing. Coronavirus in nursing homes is a growing concern, due in part to state laws that force nursing homes to accept new admissions from hospitals even if the person has already tested positive for coronavirus. More than 5,200 nursing homes with coronavirus cases struggle to care for sick residents while protecting staff members. It is essential that nurses and other staff working in nursing homes understand the coronavirus pandemic.
---
Coronavirus in Elderly
Living in a nursing home or long-term care facility is an underlying health condition that puts residents at a higher risk. Some residents may have additional underlying conditions, including:
People 65 years and older
People in long-term care facilities
Chronic lung disease
Asthma
Diabetes
Heart conditions
Chronic kidney disease
Dialysis
Liver disease
Immunocompromised
Severe obesity
---
CDC Recommendations for Nursing Home COVID Cases
Featured Programs
The American Health Care Association offers a comprehensive guide for healthcare workers seeking information on combatting coronavirus. It's a great resource for employees and managers looking to beef up their nursing home pandemic plan.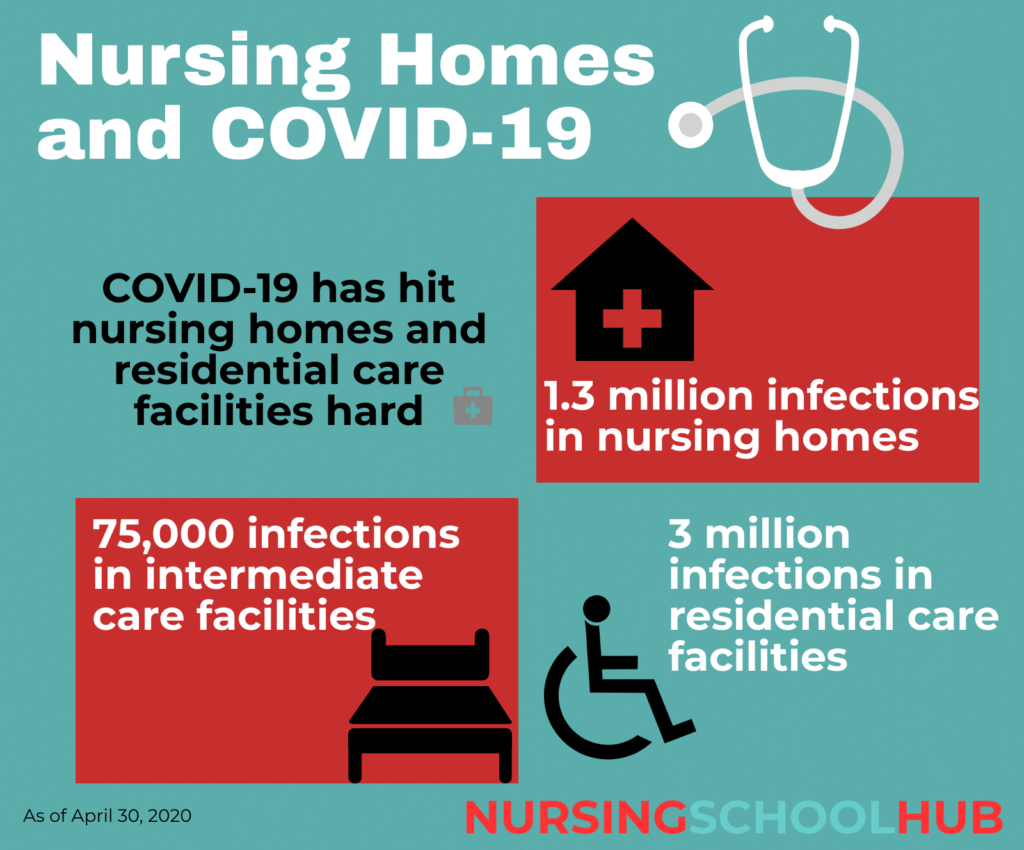 In order to reduce nursing home COVID deaths, facilities can refer to either the CDC or the AHCA. State and local public health departments often have their own guideline for nursing homes, which nurses and other staff can reference online or get from their employers.
---
Nursing Home Pandemic Plan
Nurses should review the infection prevention policies and procedures at their facility to avoid droplet cross-contamination involving staff and residents. Here are some suggestions for staff preparation:
Leadership should acknowledge the situation and share verified facts
Sick staff should not come to work as detailed in the CDC guidelines
Nurses and other staff members should practice safe hand hygiene and wear personal protective equipment while treating coronavirus in elderly residents
Housekeeping staff will need to take extra precautions while cleaning the areas with nursing home COVID cases
---
Nursing Homes with Coronavirus Restrict Visitors
To avoid nursing home COVID deaths inside and outside the facility, it's important to enforce visitor restrictions. Family members need to understand that visiting the facility puts them at great risk and endangers the health of anyone they come into contact with.
Nurses often have to explain the policy to residents and may have to field calls from family members worried about their loved ones. Some facilities send letters to contact addresses on file, but it can be an emotional time for those who don't know the fate of their parents, grandparents or spouses. You may wish to suggest putting a notice on the front doors if your nursing home hasn't already done so.
---
Screen Essential Visitors
All staff and non-staff people entering the building should be screened for potential COVID-19 symptoms. It's important for nurses to familiarize themselves with the appropriate precaution both for themselves and to relay to others seeking entrance to a facility
By restricting entry, administrators and managers can reduce exposure to coronavirus and prevent more nursing home COVID-19 deaths. Any individuals coming to the facility should be advised to wash their hands and use sanitizer throughout their time at the facility.
---
Impact on Group Activities
In normal times, residents participate in a number of group activities every day. With the threat of COVID-19, residents often have to stay in their rooms and cannot go outside the facility. Some facilities introduce new routines such as door bingo and other activities that allow residents to have a little fun despite the restrictions.
Communal dining is another means of socialization that nursing home residents can no longer take advantage of. When delivering meals, staff members can spend time chatting with residents from a safe distance and wearing the required personal protection equipment.
Because outside groups such as school bands and other entertainment can no longer come, playing music could give residents some form of comfort and entertainment.
---
Communication is Key
The World Health Organization's Communications Package has a lot of templates that nursing homes can use to communicate policies, COVID-19 updates, and other essential information to family members, residents, and staff members. If you feel that your facility could be more proactive in its communication strategy, you may wish to send the link to your administrators.
---
Alternate Communication Strategies
If it's safe to do so, staff can help residents find other means of communication. Videos, phone calls and online conference tools can help reassure residents and loved ones who can't talk face-to-face.
---
Safety Starts and Stops at Home
Learning about coronavirus in nursing homes can cause a lot of stress and worry for family members of front-line caregivers. In turn, nurses in nursing homes may worry about bringing COVID-19 home to loved ones. Here are some tips to help you stay safe and prevent you from exposing loved ones to COVID-19.
1. Leave Nonessential Items at Home
The World Health Organization lists two main COVID-19 transmission routes, respiratory and contact. Droplets land on surfaces and do not die — meaning they can transfer the infection upon contact. The fewer things you bring to work, the fewer opportunities COVID-19 has to attach to your ID, food and money. Leave your tote bag and nonessential belongings at home.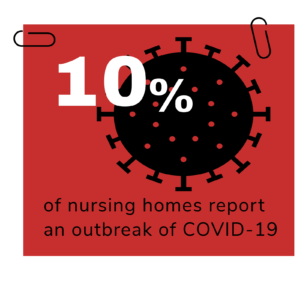 2. Take a Shower When You Get Home
Scrubbing down in a hot shower with lots of soap helps eliminate any virus particulates that remain on your body. Nurses should shower immediately after getting off a shift, especially if they care for COVID-19 victims.
3. If Possible, Consider Taking a Shower at Work
Showering at work and changing out of your clothes can help limit exposure to your family members. It's not a bad idea to change clothes and shower again once you get home. Furthermore, doing laundry immediately further reduces the risks at home.
4. Disinfect Everything You Took to Work
Evidence suggests the new coronavirus lasts for days on some surfaces. You should clean visibly dirty objects before disinfecting them. This includes pens, credit cards, phones, and other items. The CDC provides guidelines on cleaning soft, porous, and other surfaces. At home, you can use diluted bleach and water to clean the hard surfaces you come in contact with after work.
5. Change Your Clothes and Shoes Before Entering Your House
Your clothes and shoes can harbor COVID-19 and other germs. Take precautions to limit your exposure. Here's one possible routine that you can follow.
Wear scrubs to work and change into another set of scrubs for your shift.
When you finish, change into the scrubs you wore to work.
As soon as you get home, immediately remove the scrubs and wash both sets.
Take a hot shower before interacting with your family.
You may wonder if anything you do will be enough, but the more steps you take to protect your family, the better their chances are of staying safe.
6. Leave Your Work Shoes in a Designated Area Outside Your Home
Change your shoes prior to entering your vehicle. You can leave them in the trunk or store them overnight in the garage. Disinfect your work shoes at least once a week and, if possible, wash them often.
7. Hold Off on Hugs and Kisses
Young children often get excited when you come home from work. Have a conversation with your kids to establish some ground rules. Explain to them that you are saving up a big hug and kiss once you are clean.
Some nurses call home to give the family notice that they are on the way. This way everyone understands what's going on when you run straight to the bathroom without interacting with them first.
8. Follow the Expert Advice
As nursing home deaths from coronavirus rise, more and more misinformation is likely to spread. Try to ignore unofficial and false sources of information such as social media. Facebook and Pinterest are full of "life hacks" that claim to keep you safe from coronavirus and other illnesses. Unfortunately, the internet is full of misinformed people with good intentions.
As cited in this article, the CDC and WHO are great sources of information. Local news coverage may carry updates from public health officials and other trustworthy sources. Unless you're absolutely sure someone is a credible source, don't take their word at face value. Instead, research their theories against more credible sources.
If you want the latest information from people who should know, go to the CDC and WHO websites and share the links with friends.
9. Ask for Support
Ask for Support if you feel that you may have been exposed to the virus, ask your employer to recommend you for nursing home COVID testing. Health care workers often get priority when it comes to testing due to their critical role in fighting the disease.
The COVID-19 pandemic has caused stress, anxiety, and depression among nurses and other medical providers. Ensure that you give yourself the care you need before you return to work. If you find sources of inspiration that help you decompress, share them with your coworkers.
Don't be afraid to ask family members for a little extra support in these strange times. Just try to limit the amount of physical contact. Remind them that a few kind words would be most welcome and maintains social distancing criteria.
---
Nursing and COVID-19 Resources: