Nursing informatics is a career field that finds solutions to improve information communications and management in nursing. These solutions reduce costs, enhance patient care quality, and also improve efficiency.
Nursing Informatics: A Brief Overview
There are a plethora of personally and professionally rewarding vocations that an individual could pursue. However, opting for a career in nursing can bring with it unique advantages. This is the case for several reasons, including that there are opportunities for bonuses, raises, and promotions.
Featured Programs
Additionally, individuals who work in nursing play a primary role in improving the quality of life for other people. If you are interested in pursuing a career in nursing, the field of nursing informatics may be right for you. With some basic information about nursing informatics, you can decide if this career field would be right for you.
---
What are the 3 Components of Nursing Informatics?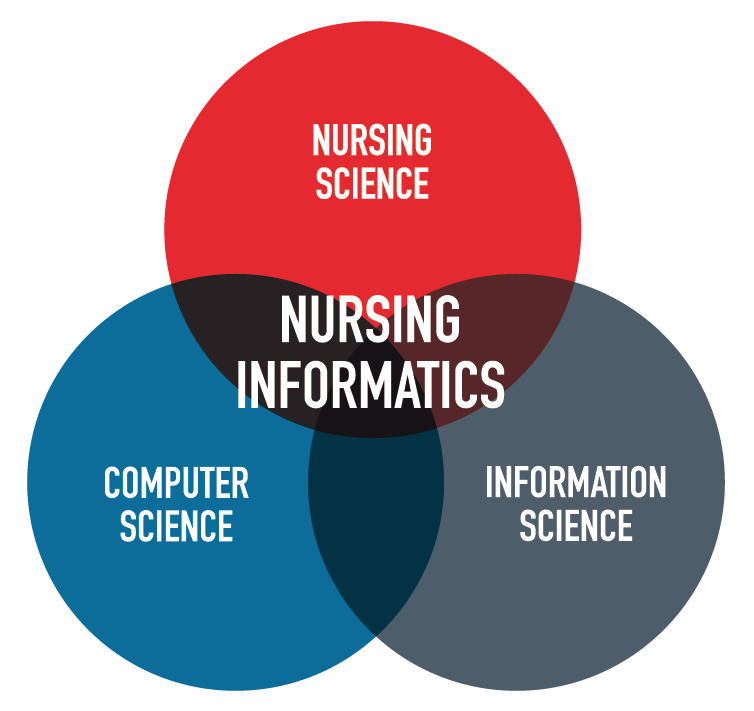 Although broadly defined, nursing informatics is a career field that places emphasis on devising solutions to improve information communications and management in nursing for the purposes of reducing costs, enhancing patient care quality, and improving efficiency.
---
What are the Principles of Nursing Informatics?
One of the most important aspects of the nursing informatics field is documentation. A great deal of primacy is based on documentation within this field as a result of the fact that the medical facility's ability to offer quality care is contingent upon the development and maintenance of effective communication between healthcare providers.
Because the primary method of communication for healthcare providers is in the notes they record on a patient's chart, the goal of the nurse informaticist is to constantly improve upon the speed, accuracy, and timeliness of patient charting. Once health workers gain access to complete, up-to-date patient notes, they will be equipped with the information necessary to make informed decisions regarding the type of care and services the patient will receive.
---
How Does Nursing Informatics Improve Patient Care?
In order to improve documentation practices, the field of nursing informatics explores methods that simplify and augment documentation. These methods use advanced information and computer technologies.
Rather than spending extensive time handwriting notes into a patient's chart during shifts, the field of nursing informatics can enable a nurse to record notes quicker and sooner through the use of handheld devices, computers, voice recognition, and a variety of other tools.
---
How Does Nursing Informatics Improve Workflow?
Thus the issue of documentation functions as a primary example of the sole purpose and goal of nurse informatics: to design and subsequently implement systems that can improve upon documentation accuracy, enable clinical data analysis, and eliminate the performance of unnecessary work-related activities.
---
Where Do Informatics Nurses Work?
Generally, nurse informaticists work within healthcare facilities, hospitals, consulting firms, universities, or corporations that are responsible for the development and marketing of healthcare information systems. Some of the nursing jobs available to individuals who operate within this sector include that of an informatics nurse specialist, clinical analyst, clinical informatics coordinator, or director of clinical informatics.
In most cases, nurse informaticists will not be held responsible for the performance of any patient care duties. Rather, individuals who hold these types of nursing jobs will place focus on the development, improvement, and testing or training of nurses to help them utilize emerging systems effectively. In recognizing the primary role that nurse informatics can play in improving the quality of care while also reducing costs, many hospital and health systems administrators are now creating employment opportunities for nurse informaticists.
---
Pursuing a Graduate Nursing Degree
Generally, an individual who wants to work within the field of nursing informatics will need to attain higher education in order to do so. Academic preparation will begin with a Master of Science in Nursing (M.S.N.). There are a plethora of graduate programs that offer specialty tracks for informatics, including traditional schooling, online classes, and hybrid programs. To prepare a nurse to work within his or her chosen field, the specialty track will help build the essential, foundational skills necessary to excel within the field.
---
Other Nursing Degree Options
Attaining a Master of Science in Nursing (M.S.N.) is not the only route that an individual can take in order to work within the field of nursing informatics. Another option is to earn a Bachelor of Science in Nursing (B.S.N.) in order to become a registered nurse. Once the B.S.N. program has been completed, individuals can take the National Council Licensure Examination (NCLEX) to begin practicing nursing in their local area. There will generally be a variety of nursing jobs available for individuals who go through this process, and those who start working in the field will typically be able to build a career that is specifically related to nursing informatics.
For example, an individual could develop knowledge and experience in a technologically-focused aspect of health care such as computerized documentation. In many cases, a nurse who is interested in informatics begins his or her career as a "superuser," a term referencing the unit-based support person. These individuals operate as managers of the main user account within the IT system of their department. After mastering the IT system, the superuser is often asked to become a part of the nursing informatics department.
---
What Skills Do You Need for Nursing Informatics?
If you are interested in nursing employment within the field of nursing informatics, you should know that there are specific skills that can help you excel within your chosen vocation. Firstly, individuals who aspire to be nurse informaticists should have strong critical thinking and analytical skills. Additionally, they should have substantive experience and education within the fields of information databases and systems.
Working knowledge of project management principles is also helpful. While you can attain all of these skills within a nursing program and while working as a registered nurse, attaining a basic understanding of the aforementioned skills can assist you in becoming a highly competitive candidate when you begin applying for jobs or nursing programs.
---
Your Career in Nursing Informatics
Individuals who are interested in nursing jobs should note that pursuing a career in the field can be a great way to build a personally and professionally rewarding career. By reading the information found above, you can make an informed decision regarding whether this vocational path would be appropriate and advantageous for you.
---
Related: