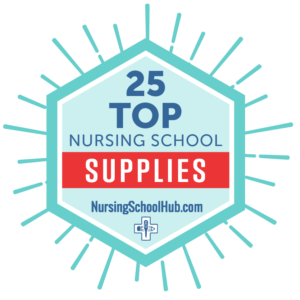 This 25 must-haves item nursing school supply list has all the items you need to start your nursing education prepared. Going to nursing school isn't just about education and training for a job. It's an initiation into a whole way of life – one that includes a lot of specialized gear. Every nurse has their tried-and-true supplies, their most trusted brands, and their secret tricks of the trade. And nursing school is one of the places where new nurses and nurses-to-be learn what they're going to need to succeed.
Nursing School Hub wants to give new and prospective nursing students a little jump start with our list of the most indispensable supplies every nursing student needs. We do not get any kickbacks or affiliate income from these products, and they've been vetted by real nurses who know from experience what works and what you can't do without. You may even be able to get them for free if you try hard enough.
---
1. Apps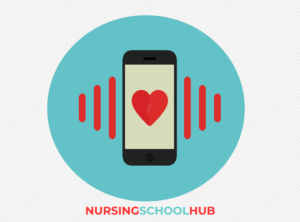 Featured Programs
Nursing students and nursing professionals are increasingly turning to mobile devices for easy access to information to help improve the care they offer patients and to stay on top of schoolwork and course schedules. These are the reasons why several smartphone apps are a must for nursing students completing their nursing school supplies list.
Check out these smartphone apps and school supplies for nursing students –
---
2. Backpack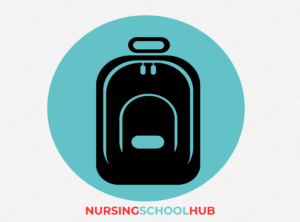 Nursing students spend time in clinical rotations and labs, but often need to carry around 20 – 30 lbs. (and maybe even more!) of supplies and books. This usually involves some form of commuting and the lugging of supplies for nursing school. Backpacks, fortunately, are now designed to be ultra-lightweight, while some backpacks are designed with rotating wheels and a double tube-telescoping handle for easy maneuverability.
Backpacks offer plenty of storage -usually with a variety of pockets and zippered pouches, compartments, and sections. When researching backpack options, nursing students should consider the backpack's size, carrying comfort (with easily adjustable carrying straps), wash-ability, durability, and design. Make a list and decide what supplies do I need for nursing school, before deciding upon the backpack that will meet your needs.
---
3. Badge Clip or Lanyard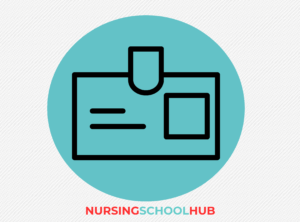 Nursing students generally wear a name badge to allow others to identify who they are while in school or while doing clinical rotations. Therefore, a badge clip or lanyard is generally included in one's nursing school supplies list.
Depending upon your personal style, there are many types of badge clips from which to choose. Nursing students can opt for the traditional PVC Straps with a non-rusting metal clip, a retractable badge clip with an ID holder, or a badge clip that is designed to be 'clothing friendly.' Retractable badges are popular and are offered with different retractable length cords. Check out the 'band-aid clip badge' designed for nurses and nursing students.
---
4. Blood Pressure Monitor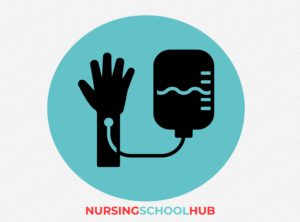 A blood pressure monitor is one of the two most often used diagnostic tools for each nurse and nursing student, the other being a stethoscope. When deciding upon which blood pressure monitor to choose to complete your supplies for nursing school, first determine if you want a digital or a manual blood pressure monitor.
Most non-nursing professionals choose a digital automatic reading pressure monitor for home use, which can measure pressure from an arm cuff, a finger cuff, or a wrist cuff. Conversely, a manual blood pressure cuff can only measure blood pressure with the use of a stethoscope, and with the use of a manual, not an electric pump. Buying tip – make sure you can read the gauge easily.
---
5. Compression Socks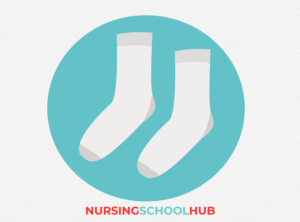 Compression socks or stockings are designed to help prevent (and slow the progression) of venous issues in the lower leg. Nursing students spend a lot of time on their feet, so they often choose to wear compression socks to prevent edema, varicose veins, phlebitis, lymphedema, and pregnancy, among others. Student nurses often include compression socks as must-have nursing school supplies for these reasons.
Fortunately, compression socks and stockings are offered in a variety of sizes (including extra-wide) so that everyone has an option to help get their blood circulating to relieve varicose veins. Compression socks are now available in many compression sock styles and fit for men and women.
---
6. Good Shoes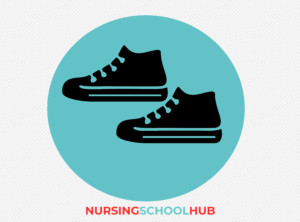 Nursing students work long hours, standing on their feet during labs, rotations, and commutation. This is the reason why it is critical for student nurses to select the proper shoes to wear during their school day and clinical rounds. Nursing students and professionals must include proper fitting and comfortable shoes when compiling the necessary school supplies for nurses.
First, consider which type of material you prefer – leather, mesh fabric, or synthetic materials. Those students who prefer a flexible mesh, a sneaker-like shoe, should check Skechers Sport Women's Loving Life. Students who prefer a more sturdy, leather shoe can check out the Dansko Professional Mule or Klogs USA – Naples.
---
7. Instant Pot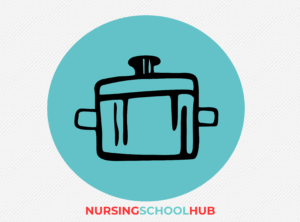 Busy nursing students have little time to cook or prepare food. However, many nursing students prefer to eat at home as this allows them to control their food intake, and, perhaps even more important, helps save money during what are often very lean college years. Instant Pots are a great addition to a busy student's life as one kitchen appliance offers a variety of cooking functions and is often included on a nursing school supplies list.
An instant pot is a versatile little machine that slow cooks, browns, cooks rice, pressure cooks, sautés, and keeps food warm. The instant pot quickly makes stews, soups, yogurt, broth, oatmeal, eggs, homemade applesauce, and braised meats, to name a few.
---
8. Insulated Coffee Cup or Tea Tumbler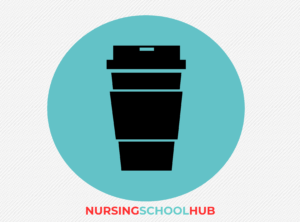 Busy students and working professionals are often sipping coffee or tea throughout the day. An insulated coffee cup is an excellent addition to anyone's nursing school supplies list. The travel mug marketplace has exploded recently with many unique and funky additions from which to select.
Tea Tumblers or insulated coffee cups are designed to help beverages stay cold or hot for many hours – often up to 6 hours for hot drinks and even a day for cold drinks! Insulated coffee cups are also a great idea for an environmentally conscious nursing student.
Check out the Juro Tumbler, the Yeti, or the beautiful concept design of S'well's steel water bottles. Many of these coffee cups include optional lids and stylized designs.
---
9. Medical Penlights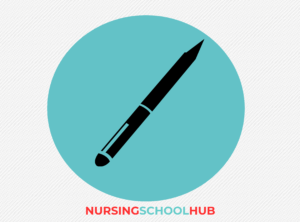 Medical professionals and nursing students depend heavily on penlights. A medical penlight is a small handheld flashlight, in the shape of a pen, and a must-have when compiling the best nursing school supplies list. When researching available medical penlights, remember it is essential that the penlight provides enough light without blinding a patient, is durable (if it is a reusable penlight), and portable.
Penlights are available in a multitude of colors, styles, and sizes. They are most often powered by AAA batteries and are lightweight and easy to use. Many are sold in a multipack, cost-effective package. Medical penlights offer many practical uses like night walking, camping, cycling, or night reading, to name just a few.
---
10. Medical Scissors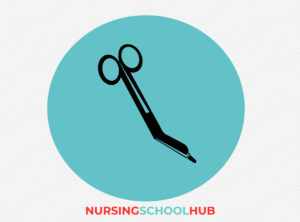 Medical scissors are designed to easily cut through clothing or bandages that may need to be removed during an examination. These shears are specifically designed to reduce the chances of nicking or cutting a patient as the bottom blade sits flush upon the skin. As such, it is noted that medical scissors are must-have nursing supplies needed for nursing school.
When shopping for medical scissors, nursing students should consider the quality of the scissors based on their precise control, and large offset handles to create necessary leverage if cutting through dense materials like leather or a seat belt. Additionally, medical scissors can be purchased with a blade made from steel, stainless steel, or titanium bonded materials. Top medical scissors companies include Grainger and Hopkins.
---
11. Medical Supply Bag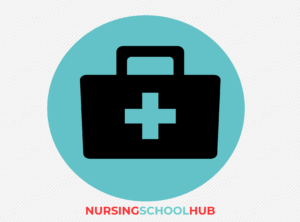 A medical supply bag is a portable bag that allows health and nursing professionals to carry medicine and supplies with them as needed. A medical supply bag is a must-have for those completing a nursing school supplies checklist. Medical equipment bags are essential tools for student nurses as the bag holds important equipment and medical supplies used by professionals during exams or on an accident scene. Medical bags are available in all sizes, shapes, and colors.
Student nurses can select from a variety of medical bags, including a large trauma bag, or fanny packs to keep medical supplies within reach at all times. Medical supply bags are also available as hard-shell case to protect and organize supplies.
---
12. NCLEX Study Guides – Quizlet Flashcards for Test Prep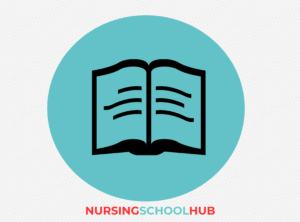 Nursing students are ultimately reaching for their Registered Nursing license by preparing for and passing the NCLEX-RN national examination. Because passing the NCLEX nursing exam is a critical part of becoming a nurse, NCLEX study guides and flashcards are important tools to add to a nursing school supply list.
Many study guides for NCLEX tests offer free resources; however, there are test preparation courses that provide intensive test preparation classes, video lessons with detailed explanations, practice tests, and thousands of NCLEX practice questions. Check some of the NCLEX test preparation resources from Study.com, Nursing.org, or Amazon.com.
---
13. Nurse's Pocket Guide Diagnoses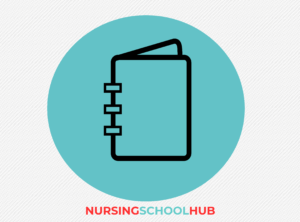 The Nurse's Pocket Guide Diagnoses is a must-have for nursing students and is considered one of the best supplies for nursing school. The Nurse's Pocket Guide Diagnoses, published by the American Nurses Association (ANA), includes all the typical NANDA (North American Nursing Diagnosis Association) diagnoses and a comprehensive list of helpful interventions beginning to tailor treatments for specific patients.
The book organizes the information in easy-to-reference chapters. The first two chapters offer brief discussions regarding the collection of data, the construction of a care plan, and the overall nursing process. The later chapters are categorized by diagnostic divisions, sample care plans, charts, examples, and mind maps. The guide is available online and in bookstores.
---
14. Nursing Bag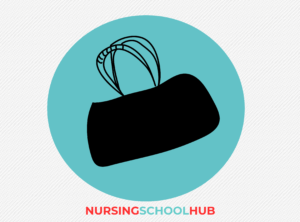 One of the most critical nursing school supplies for nursing students is a nursing bag. There are many varieties of nursing bags available, with the right nursing bag dependent upon the individual student nurse's need. Nursing students should consider the material and the size of the bag, as well as the cost.
Himawari offers a backpack that includes a USB charging port for less than $40, including shipping. Still, ADC offers options that include a heavy-duty nylon shoulder strap bag for those students lugging around more books than once thought humanly possible. Nursing students can also find nursing bags from Hopkins Medical Products that offer antimicrobial (Microban coated for protections), waterproof material, a padded laptop compartment, a lockable file section, a 40″ telescopic handle, and a flat wheelbase.
---
15. Pens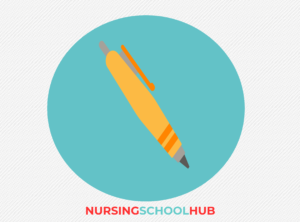 According to Grandview Research, the writing instrument marketplace (pens, pencils, coloring pens/highlighters, etc.) had total sales that exceeded $1.6 billion, with estimates to climb to $24 billion by 2025. As such, nursing students will find that there is a pen or pencil to meet each student nurse's needs. A nursing school supplies list should include a set of pens and/or pencils, plus a selection of highlighters that are helpful when studying.
In addition to a traditional ballpoint pen, nursing students can opt for Papermate Ink Gel Pens or Pilot Retractable Pens. If you prefer to write with a pencil, there are a variety of pencils – with different-sized points – for those students who prefer a sharp writing point.
---
16. Planner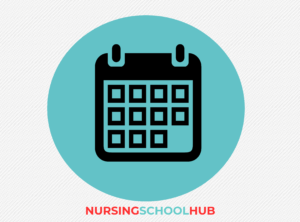 Nursing students lead busy lives as they traverse classroom work, labs, and clinical rotations. The most effective way to ensure a student nurse stays on schedule is to include a planner in the nursing school supply list. There are all sorts of planners for days, weeks, and even monthly planners. They come in all sizes, shapes, colors, and paper thicknesses.
Check out BooQool's academic weekly planner which provides a flexible cover, and acid-free paper for years of archival storage. Nursing students can also opt for a leather-bound planner from HM&LN that only requires refills each year at the start of each January. For those students who prefer digital planners, there are several quality planning apps like – Google Calendar for Android and IOS or ZenDay for Android or IOS.
---
17. Pocket Hand Sanitizer & Hand Lotion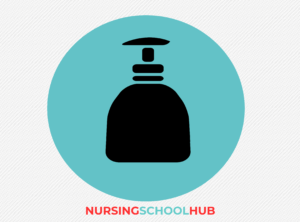 Long before the coronavirus manifested in January 2020, nursing professional nursing students were among the section of the population that understood the importance of keeping hands sanitized and clean to maintain a sterile environment for patients. It is, for this reason, that pocket hand sanitizer – and the hand lotion needed to keep hands from getting dry – are important components of nursing school supply kits for student nurses.
Hand sanitizers that are available for personal use come in a variety of sizes, aromas, and even multipacks. The most important part of purchasing hand sanitizer is to choose a sanitizer that kills 99.99% and to use it often. Many hand sanitizers include moisturizing lotion, like Aloe Vera.
---
18. Laptop or Tablet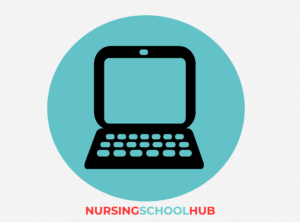 Every nursing student requires a reliable laptop computer for a variety of reasons, which is why it is always included in a nursing school supplies list. Laptop computers now offer voice commands, plus all the other important facets of laptops like the amount of RAM, the processor's speed, the screen size, and WIFI, to name a few. Because nursing students are tasked with carrying their laptops, it is essential to consider the weight of the laptop purchased.
Nursing students should also decide if they wish to purchase an Apple laptop product (with an IOS operating system) or a windows-based machine. Finally, when purchasing a laptop, it is important to consider researching the type of battery used to keep the laptop powered throughout the day without the need to recharge the machine.
---
19. S'nough Sticks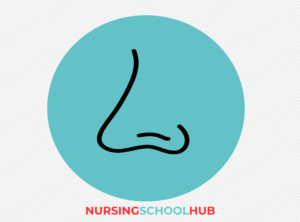 Every student nurse has the ability to share stories of the many unpleasant odors present in nursing homes, hospitals, and clinics, to name a few. The S'nough Stick from Uberdoco is a uniquely designed product that helps mask foul or unpleasant odors quickly and easily, which makes S'nough Stick a must-have for each nursing student's nursing school supplies kits. It comes in travel, pocket-sizes, and is discreet in its use.
Also, this stick quickly eliminates unpleasant odors simply by swiping the wax-based product along with the piece of skin between each nostril. These quick-acting odor-eliminating sticks are available in three fragrances, Sweet Joe (think freshly brewed coffee), Basil-Lime, and Peppermint Eucalyptus.
---
20. Scrubs or Lab Coat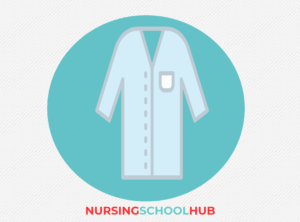 Most medical professionals wear professional garb during the workday to keep their own clothes clean and to distinguish them as working medical personnel. Most nursing students wear scrubs when working in lab courses or attending clinical rotations. Fortunately, scrubs are available in large varieties of colors, patterns, and sizes (XS to 3X+). Many scrub patterns are themed to allow nurses working with children to wear child-themed scrubs – with clowns or rainbows, for example.
Lab Coats are also available in many styles and materials. It is smart to purchase a lab coat that is comfortable to wear and machine washable. It is important to recognize the length of the lab coat that would be best for your height.
---
21. Stethoscope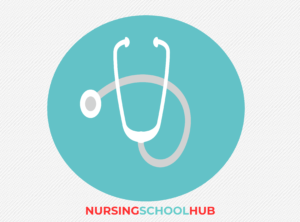 Nursing students and medical professionals likely consider the stethoscope one of the most (if not the most) important portable medical devices including nursing school supply kits. Nursing students use a stethoscope often when listening to a patient's lungs, heart, intestines, and of course, when taking a patient's blood pressure manually.
There are many different brands, weights, sizes, and colors of stethoscopes available in the marketplace. Remember to select a stethoscope that offers different-sized ear tips to accommodate your particular size ear. Stethoscopes are also available made from a number of materials, like gold, rose gold, and stainless steel, to name a few. To be safe, choose a stethoscope with a reasonable warranty.
---
22. Sticky Notes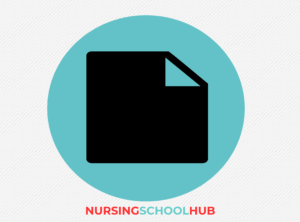 Busy nursing students depend on their digital calendars, and voice reminders to stay on schedule; however, most nursing students find that sticky notes pick up where their digital counterparts leave off. Sticky notes are safely applied to any surface, which makes them must-have school supplies for nursing school. They leave no residue when removed.
Additionally, these notes reached their 40th birthday a few years back and remain a considerable marketplace with many sizes – often bright neon colors to help the sticky note be noticed easily – colors and even shapes to meet every nursing students' preference. Post-It notes are the original made by 3M; however, there are many other off-brands at reduced prices, comparatively speaking.
---
23. Sturdy Clipboard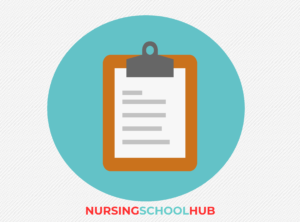 Nursing professionals and their student counterparts often carry a clipboard to help organize their work throughout the day, which is why it is considered a required nursing school supply component. Many clipboards are made out of eco-friendly materials and are ideal for an environmentally-conscious student nurse.
Note that many clipboards are not made to endure the hectic, chaotic lives of nursing students and professionals. Therefore, it is important to select a clipboard that comes with a generous warranty – like a lifetime warranty. Whitecoat is a company that designs quality clipboards that come in a variety of colors, like green, purple, red, gray, dark gray, burgundy, and black, among other colors. There are even clipboards for nursing professionals that include quick reference materials.
---
24. Watch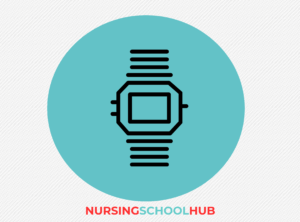 Every nursing student should be keenly aware of the time to ensure they stay on schedule and complete their assignments on time. For those student nurses who want a simple watch, be sure to select a watch with an easily readable dial. However, there are many watches with many features that help nursing students calculate the number of steps taken during the day or keep a record of the number of calories burned throughout the day.
For the nursing student who wants their watch to double as a phone, walkie-talkie, stopwatch, and newspaper, there is always the Apple Watch. The most recent version of the Apple Watch includes a fall detector, compass, and ECG app, among other health-related features.
---
25. Water bottle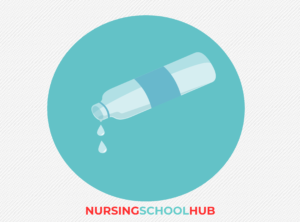 Most nursing students spend their day on the go, running from class to labs to clinical rotations, which is the primary reason they should always have a water bottle nearby to remain hydrated when needed. Therefore, water bottles are must-have nursing school supplies.
The water bottle marketplace has exploded over the past decade, offering nursing students a plethora of options from which to select. Check the S'well, the Iron Flask, or Simple Modern's version of the newfangled water bottles of the 21st century.
---
Related: