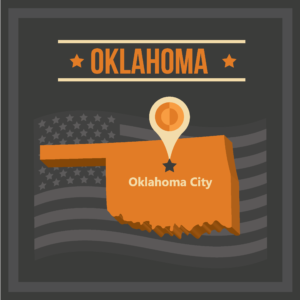 Oklahoma nursing outlines the educational, licensing, and career prospects for nurses in the state. This beautiful state has terrain that stretches as far as the eye can see. Oklahoma has a rich Native American history, with five major tribes recognized in the state. This rich heritage is reflected in the culture. Temperatures in Oklahoma can be pretty hot in the summer, averaging in the low nineties. However, winters can be cold in Oklahoma, and if you like snow, you are likely to get some from time to time during winter.
There is something for everyone in Oklahoma. Excellent museums and cultural activities are abundant. For those that enjoy an authentic Southwest experience, there are rodeos that the whole family can enjoy. Southwestern food is a staple in Oklahoma. The rich multi-cultural heritage is reflected in the variety of foods offered in some genuinely superb restaurants. So if you want to start a nursing career in this state, the best nursing programs in Oklahoma can get you started.
---
How Do You Become A Nurse In Oklahoma
Featured Programs
The Oklahoma Board of Nursing issues nursing licenses for Registered Nurses (RN's). A license is obtained by Exam for new nurses or by Endorsement for candidates from other states.
Oklahoma Nursing License by Exam
To obtain a nursing license in Oklahoma by Exam, new nurses need to:
complete an accredited nursing school program

pass the NCLEX-RN

provide a criminal background check

provide fingerprint cards

pay the application fee

Submit your complete application with your official school transcripts to the Oklahoma Board of Nursing
Oklahoma Nursing License by Endorsement or Reciprocity
For licensure by Endorsement or reciprocity, candidates must fulfill the exam requirements above. In addition, you need to submit license verification from the state of issuance.
Oklahoma Is Part Of The Nurse Licensure Compact (NLC)
Oklahoma is a member of the Nursing Licensure Compact (NLC). Therefore, licensed nurses in Oklahoma can work in most states if they meet the NLC requirements. The NLC standards require proof of passing the NCLEX, fingerprints, and a background check.
Helpful Links for Oklahoma Nurses
Oklahoma Board of Nursing
Nursing Licensure Compact
Oklahoma Nurses Association
American Nurses Association
National Student Nurses Association
Oklahoma Nursing Student Association
National League for Nursing
---
Choosing the Right Nursing School In Oklahoma
The right nursing school in Oklahoma will be the school that is right for you. So, only you can figure out which one will be the best fit. We recommend you start by making a list of schools that interest you. Next, you will need to narrow down your list. Try using our list of the best nursing programs in Oklahoma to start your search.
To narrow your list further, think about the schools you can afford and where you will be accepted. Make sure all the schools on your list have accreditation from the Higher Learning Commission (HLC). You want to make sure you can get a job after all that hard work you put in to get through nursing school.
---
Choosing the Right Nursing Program In Oklahoma
The Oklahoma nursing program you attend should also have accreditation from one of the nursing program accreditation organizations below.
Now you should focus on what you need from a nursing program. If you need to finish school quickly, you should focus on accelerated nursing programs in Oklahoma. If you need more flexibility in attending classes, have a look at online nursing programs in Oklahoma.
---
How Much Can Nurses Earn In Oklahoma
How much can you make as a nurse in Oklahoma? According to the May 2020 information from the Bureau of Labor Statistics (BLS), Oklahoma nurses earn an annual mean wage of $66,600, which is below the national mean of $80,010. However, the cost of living in Oklahoma is also lower than the national average and can balance out the lower wage. In addition, Oklahoma nurses with an advanced degree or hold a nursing specialization can earn a higher salary.
---
Nursing Job Outlook In Oklahoma
Oklahoma employs around 21 nurses for every 1,000 workers with a location quotient of 0.98. Thus, there are slightly fewer nurses employed in Oklahoma than in the rest of the nation.
According to the latest 2020 Census, the population of Oklahoma is approximately 4 million. As the population continues to grow, so will its need for nurses. In addition, the population of older individuals in need of care is also increasing, creating additional demand for nurses. As a result, there will be nursing jobs available in many medical facilities.
---
State-Based Financial Aid For Oklahoma Nursing Programs
College costs are rising every year, and not everyone can pay for nursing education. However, if you dream of a career in the nursing profession, a lack of funds does not have to close the door to your nursing future. Federal grants and loans are available to ease the burden of college. Students interested in need-based aid must fill out a FAFSA or Free Application for Federal Student Aid to determine eligibility.
In addition, there are also scholarships available on local, state, and national levels for need-based aid. For example, the Oklahoma Nursing Student Assistance Program provides scholarships to Oklahoma nursing students pursuing LPN, ADN, BSN, MSN, DNP, and PhD degrees. Furthermore, the National Student Nurses Association Scholarship covers undergraduate nursing education costs for qualified NSNAS members. 
Other Oklahoma nursing scholarships include the Gladys and James Lepley Scholarship, which is for Oklahoma residents. In addition, the Charlene Dopson Scholarship is for junior Oklahoma nursing students with financial needs.
---
Your Nursing Career in Oklahoma
Oklahoma offers a great quality of life and cost of living. Furthermore, the state needs nurses. If you are interested in a nursing career in this state, now is a great time to enroll in one of the best nursing programs in Oklahoma!
---
Related: