Few people really understand the diverse world of nursing. For example, one of the most complex sectors is that of ambulatory care nursing. This nursing specialization involves caring for patients in environments outside of the hospital. Individuals in the field must have a comprehensive understanding of nursing, health sciences, and patient care.
---
What Is Ambulatory Care Nursing?
Ambulatory care nursing, also called outpatient nursing, is a nursing specialization that involves the treatment of patients outside of a hospital. In other words, nurses provide care on an outpatient basis. The setting for these services can vary widely, including locations such as the patient's home to hospital-based clinics.
Featured Programs
Because ambulatory nurses care for patients on a case-by-case basis outside of an inpatient stay, these nurses have relatively brief contact with patients. Additionally, the nature of these services often requires that nurses see many patients a day. The high volume of visits requires stamina, organization, and specialized nursing skills. Nurses in this setting need excellent assessment skills.
Ambulatory care nurses are not only responsible for making intelligent decisions and effectively supporting patients. They also must provide several additional services and characteristic functions to those they treat. As ambulatory care services are provided on such a widespread basis, these individuals must be able to make astute clinical judgments to expedite care and treatment. Likewise, these nurses must have superior critical reasoning skills to identify complex health concerns and treat potentially life-threatening conditions.
---
What Is The Role of An Ambulatory Care Nursing?
It is the goal of the ambulatory care nurse to ensure a patient's safety and uphold high-quality nursing care when meeting with patients. As such, an ambulatory care nurse focuses on identifying the patient's specific needs and providing appropriate procedures. In addition, they conduct health education, coordinate nursing care, promote patient advocacy, and help the patient understand and navigate the health system. It is also important that nurses take an accurate evaluation of patient outcomes.
Ambulatory care nurses must also be relatively flexible in their willingness to work with varied patients. These registered nurses provide care to individuals, families, and caregivers across the life span of the patients. Ambulatory nurses may even treat groups and communities of people.
An ambulatory nurse's ability to establish a lasting relationship with a patient is also vital. These nurses interact with patients in a variety of manners, including face-to-face encounters and telecommunication opportunities. These unique situations require that the patient trust their nurse even if they aren't in the same room as the patient.
---
Where Do Ambulatory Care Nurses Work?
Because ambulatory care nursing is so diverse, ambulatory care nursing jobs are in many different locations. The one requirement to qualify as ambulatory nursing care is that treatment is provided in a location other than the hospital. Nonetheless, services are often administered in a variety of settings.
Common types of ambulatory care facilities include hospital-based clinics and medical practices. Other places these nurses work include ambulatory surgery and diagnostic procedure centers, telehealth, community health clinics, VA centers, and rural clinics.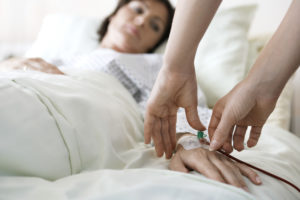 ---
How do you Become an Ambulatory Care Nurse?
With the vast opportunities offered in this field, it is an excellent opportunity for many individuals. This type of position allows you to choose the environment you prefer to work in and can be particularly rewarding. Like most other nursing positions, though, ambulatory care nursing requires several steps or preparation before one can secure a career in the field.
To begin on the path toward ambulatory care, you need a degree in nursing. While some states and locations accept an associate degree in nursing, a bachelor's or even a master's opens up even more opportunities for practicing as a registered nurse.
Once you have completed your degree, you will have to pass your state's licensure exam called the National Council Licensure Examination (NCLEX-RN). The Board of Nursing in each state administers the exam to its residents. Passing this test is the key to getting and maintaining your license as a registered nurse in your state.
Once you have successfully passed the NCLEX-RN, you'll need to meet a few additional criteria to become an ambulatory nurse. The most common criteria expected include:
be a licensed registered nurse (RN)

two years of experience as an RN

have 2,000 hours of ambulatory care experience

complete 30 hours of continued education in ambulatory care
After you have met the additional criteria, you are eligible to obtain an Ambulatory Care Nurse Certification. This ambulatory nursing certification opens up a whole world of possibilities for you as a nursing professional.
---
What Do Nurses Do In Ambulatory Care?
As an ambulatory care nurse, you'll have a wide range of responsibilities included in the ambulatory nurse job description. Generally speaking, you are responsible for providing care for the patients in the setting you have chosen. Additionally, it is your responsibility to:
Apply appropriate nursing interventions

Create effective patient treatment plans

Assess the needs of patients to establish preventative plans

Educate patients and their families in self-managing their health choices

Guide patients through various health-related activities

Maintain patient wellness through appropriate care

Research appropriate care techniques

Manage quality care

Support effective and appropriate clinical activities
---
What Are the Careers in Ambulatory Care Nursing?
Most individuals in this field work at private offices and clinics. However, the careers available in the field today are pretty diverse. There are even opportunities opening up in telehealth, where nurses provide care through various forms of telecommunication.
If you are interested in the field of nursing, you may want to explore ambulatory care. While the responsibilities are great in this field, you may be able to secure a job with more regular hours and during which you'll face fewer medical emergencies. In any case, though, the field is rewarding.
---
Related: