For many, a career in nursing consists of being an RN, working at a hospital or private practice, and simply helping people in need. There are, however, a number of specialized occupations within the nursing field itself. One of the fastest growing occupations in this field is that of the Nurse Paralegal.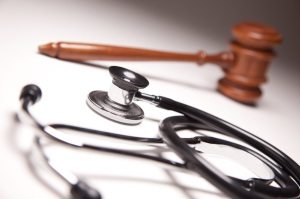 What Exactly is a Nurse Paralegal?
A nurse paralegal is someone who combines their acquired medical knowledge with that of their acquired legal knowledge. A nurse paralegal is a person who normally has worked a number of years at a nursing job as well as having completed an accredited paralegal certification course and, as a result of their experience, is able to understand and explain certain areas in both the medical and legal fields. This is a much needed and sought after skill as the technical jargon of both fields can sometimes be difficult to understand for those not familiar with the aspects of each field. This specialized occupation also comes in very handy when having to work with those who have no experience whatsoever with the legal or medical professions, and what they may entail, at all (i.e. private citizens who may be involved in a workman's compensation claim).
What Does a Nurse Paralegal Do?
A nurse paralegal has a number of responsibilities. For instance, nurse paralegal's can be called in as expert witnesses in legal cases pertaining to the medical field. In cases such as workman's compensation claims, malpractice suits, or those involving injuries to one or more persons through accidents or negligence, the nurse paralegal is beneficial in these situations because not only can he or she adequately answer medical questions, they can do it in such a way that the judge and/or legal teams involved can better understand the information as it can be explained to them by way of the legal terms they have become accustomed to. Another example of a nurse paralegal's responsibilities would include being present during legal and medical negotiations to conduct research and explain data in a way that all parties can comprehend. This helps to ensure that everyone involved on the negotiations fully understand all the terms involved. Yet another example would include a consultant type role in the development of medical journals. The nurse paralegal's role here would be to advise during the creation and editing of the journal's articles in order to ensure the accuracy of the information being presented. To best summarize the duties of a nurse paralegal, it can be said that they are responsible for the thorough and accurate research of medical data and to translate that data into legal and easily understood terms to those who require the information.
How Does Someone Become a Nurse Paralegal?
The ideal candidate for a nurse paralegal is someone who possesses a Bachelor's degree in nursing, has about five years or more of hands on nursing experience, and who has successfully completed a paralegal certification program, preferably one approved by the American Bar Association or ABA. Possessing these credentials can almost guarantee a successful career path for those looking to transition from the nursing field to becoming a nurse paralegal. However, these are not the mandatory requirements for becoming a nurse paralegal. The minimum requirements would include an Associate's degree in nursing, at least two years of experience in nursing, and successful completion of a paralegal certification program. In both cases, those pursuing a career as a nurse paralegal are going to want to get certified with the NALA (National Association of Legal Assistants), as well. It should also be noted here, that those possessing the minimum requirements may have a tougher time finding a position within the nurse paralegal field, especially when competing for these jobs with those who have a Bachelor's degree and more hands on experience in the nursing field. Employers of nurse paralegal's can be either law firms who require a nurse paralegal as part of their legal team, health maintenance organizations (HMO's), insurance companies, hospitals, or private practices. All of these potential employers will almost always go with the candidate possessing more experience as there can often be a lot at stake when dealing in matters involving both the legal and medical fields.
What is the Job Outlook/Growth for the Nurse Paralegal Profession?
The nursing field alone has shown continued growth over the years and is projected to grow by nineteen percent over the next eight years. The paralegal field has also shown steady growth over the years and its projected growth is around seventeen percent within the next eight years. The projected growth percentage of these two fields shows that they are among the highest and fastest growing occupations in the country. Combining these two fields into the one specialized nurse paralegal occupation means that it too will continue to grow at a higher and faster rate (around twenty-six percent over the next eight years) than other occupations in the country. As this field continues to grow, employment position projections could be in the hundreds of thousands. The average salary for registered nurses and paralegals is around $65,000 and $46,000 respectively. The average salary for a nurse paralegal will vary on the type of industry (i.e. law firm, hospital, HMO, etc.) but would usually average from $35,000 to $51,000. These figures can be dependent on a number of factors which may include length of time in the nursing profession, as well as the length of time spent in the paralegal field. Another large factor in the average salary amount would include the aforementioned type of industry, as some companies may pay more than the national average due to their specific function within the legal or medical fields.
It is easy to see that becoming a nurse paralegal has a number of benefits. From helping others to competitive pay to continued job growth, the nurse paralegal field shows no signs of slowing down as it continues to prove itself as a much needed, highly sought after, and rewarding occupation. Those planning to pursue a career as a nurse paralegal will find that they have no shortage of options as this field is not specific to certain areas, but is much needed throughout the country.
Check out our Top Online Nursing Programs
Back to How Do I Become…
FAQ
Home
Rankings
Features
Resources
About Us
Contact Us