Nursing in the 21st Century infographic summarizes the current state and future of nursing jobs, salaries, and education.
---

Share this graphic on your site!
---
Nursing in the 21st Century
The health care industry can never seem to fill its need for nurses. What does the future hold for nursing jobs, salaries, and education?
---
Nurses by Numbers
2.8 million – Number of registered nurses in the U.S.
8 out of 10 – Number of registered nurses actually practicing nursing
There are four times more nurses in the U.S. than there are physicians.
---
Nurses by Education
Associate degree: 40%
Bachelor's degree: 32.3%
Master's degree: 7.3%
Doctorates: 0.6%
581,500 – Number of new RN jobs created
17% – Expected increase in hospital jobs
36% – Rise in demand for RNs in hospitals
---
Income Increase
Featured Programs
Current average annual incomes
Licensed practical/vocational nurses: $41,540
Registered nurses: $65,470
Nurse practitioners: $89,960
Clinical nurse specialists: $94,487
Certified nurse anesthetists: $148,160
9.2% – Increase in RN wages over the past three years
---
Nursing Education is Changing
Bachelor's Degree in Nursing
By 2030, it is the hope of many in the health care profession that a B.S. in nursing will be held by at least 80% of all nurses.
A four-year degree may eventually become the minimum degree needed for a job in nursing.
Of the still-licensed RNs in the country, 1 in 5 hold a hospital-based nursing degree. It is not a two- or four-year degree, but on-site training education. It is expected that this method of training nurses will be phased out over the next 10 years.
An associate degree in nursing, owned by 40% of current nurses, is a two-year to three-year program typically given at a community college. This degree will also be phased out soon, as hospitals prefer four-year degrees.
Master's Degree
Only 7.3% of nurses currently hold a master's degree in nursing. These typically include nurse practitioners, nurse anesthetists, clinical nurse specialists and midwives.
The master's degree allows nurses to enter leadership roles and, in some states, have prescribing power.
Doctoral Degree
Many Ph.D. programs in nursing are fairly new. But many believe that in order to advance nursing as a career, more doctoral nurses are needed to work in private practices and to engage in academic research.
Many in the health care industry are hopeful that the number of doctoral nurses will double by 2020. Eventually, all nursing university professors will need their Ph.D. to practice and teach.
---
The Future Need for Nurses
As the industry grows, nursing jobs will always be available. Why?
Because people are living longer. Greater life expectancies and advances in modern medicine mean that people will need care longer. By 2020, it is estimated that more than 20% of the population will be 65 and older.
Because of globalization. With the linking of health care for individuals around the world and the option to travel to different countries to work, the demand will eventually outweigh the supply of nurses.
Because we need more specialists. More and more nurses are migrating from the hospitals to other facets of health care, like complementary care, specialist care, physical therapy, long-term care and hospice care.
Because outpatient care is expanding. Insurance issues often pressure hospital to release patients earlier. Also, newer minimally invasive surgeries allow patients to leave sooner with required outpatient care.
Because home care service providers will be needed. Home health care jobs are expected to grow by 33% by 2018.
---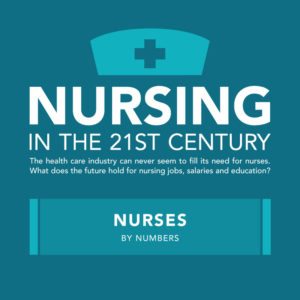 ---
Related: