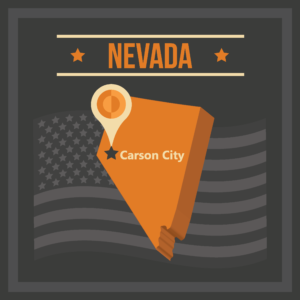 Nevada nursing outlines the educational, licensing, and career prospects for nurses. The state is one of the driest in the country. It was also once a large trading area for pioneers. There are mines in the state that are known for the amount of gold, silver, and other precious gems that they produce.
Las Vegas, one of the largest gambling cities in the country, is located in Nevada. The state was the first to legalize gambling and divorce. As a result, there are more divorces in Nevada than in any other state. There are also more marriages in the state because of the relaxed laws on the union.
Featured Programs
If you want to work as a nurse in Nevada, one of Nevada's best nursing programs will prepare you for a successful career in nursing.
---
HOW DO I BECOME A NURSE IN NEVADA?
Nevada is not a part of the Nursing Licensure Compact (NLC). However, becoming a Registered Nurse in Nevada is relatively easy, and the process is similar to other states. You can become a nurse by Exam or by Endorsement. Both applications can be submitted online to the Nevada State Board of Nursing.
---
NEVADA NURSING LICENSE REQUIREMENTS BY EXAM
To become a licensed nurse in Nevada by Exam, you will need to:
Earn a nursing degree from a nursing education program that meets Nevada's legal requirements

Take and pass the NCLEX-RN.

Submit electronic fingerprints.

Pass a criminal background check.

Pay an application fee.

Submit your application online to the

Nevada State Board of Nursing

.
NEVADA NURSING LICENSE REQUIREMENTS BY ENDORSEMENT
To become a licensed nurse in Nevada by Endorsement, you will need to:
Complete and submit the Nevada State Board of Nursing Endorsement Form online.

Pay the application fee.

Provide evidence of graduation from an accredited nursing program in the United States. You can use your diploma or a copy of an official transcript for this requirement. The document must indicate a nursing degree or certificate and also have the date of graduation.

Provide official verification from your original state of licensure by examination.

Submit electronic fingerprints.

Pass a criminal background check.
---
HOW DO I CHOOSE A NURSING SCHOOL IN NEVADA?
The most important consideration is to make sure the college or university has regional accreditation. In Nevada, the regionally accrediting institution is the Northwest Commission on Colleges and Universities. You also need to make sure the nursing program is accredited.
Other items to consider in your decision to choose a nursing school in Nevada are:
tuition cost

the cost of living on-campus or in the area

the financial aid, grants, and scholarships available at the school

the nursing program acceptance rate

the Nursing Program NCLEX pass rate
---
Outlook
FOR NURSING JOBS IN NEVADA
Nevada could be the leading state when it comes to the job outlook for nurses. Nevada has one of the lowest RNs per population ratios in the nation which means nurses are in demand. Hospitals and clinics will be the places where nurses should apply. Home health will also be a large employer in the coming years.
---
STATE-BASED

Financial Assistance IN NEVADA

The Dan Mordecai Educational Foundation awards $1,000 to three students each year. A list of organizations is required to apply. Students who graduated from a Nevada high school can apply for a Nevada State Elks scholarship. Students must maintain a GPA of 2.5. In addition, each college has private financial aid money that students can apply for.

In addition, the Nevada Nurses Foundation has some Scholarships available for nursing students. AfterCollege has scholarships for students seeking bachelor's, master's, or doctoral nursing degrees. The AORN Foundation Scholarship program supports students enrolled in nursing schools and perioperative nurses pursuing bachelor's, master's, or doctoral degrees. And, the March of Dimes Graduate Nursing Scholarship has annual $5,000 scholarships for registered nurses enrolled in certain graduate programs.

Many other scholarships are available on a state and national level. Check out our The Essential Guide To Nursing Scholarships and Top 30 National Nursing Scholarships for more resources. In addition, your nursing program will be an excellent resource for scholarships specific to your school.
---
HOW MUCH CAN I EARN AS A NURSE IN NEVADA?
Nursing salaries in Nevada average above the national pay average for nurses. According to the Bureau of Labor Statistics (BLS), nurses in Nevada earned an annual mean wage of $89,750 in 2020. Nurses in Nevada receive excellent pay and work in both rural and urban areas.
---
Related: