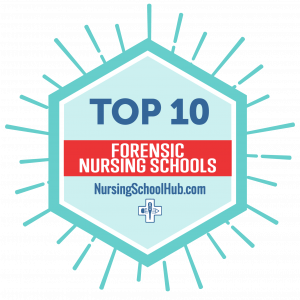 The top forensic nursing schools prepare nurses for careers as advanced practice nurses with highly specialized training. in forensics. One of the newest and most emerging areas in the area of healthcare professions at nursing colleges is forensic nursing. This unique field of study sits squarely at the intersections of nursing practice and forensic science.
Forensic nurses are skilled at providing medical assistance just as any other nurse. Additionally, they are also trained to work with patients that have experienced emotional trauma and are prepared through their education to understand the law and assist the criminal justice system.
Featured Programs
Nurses who specialize in this field will work with both victims and perpetrators in providing medical care and collecting evidence in support of the judicial system. They are often called on to give expert testimonies, work with the court system, and assist legal authorities.
---
What Are The Best Degree and Certificate Programs in Forensic Nursing?
The following list contains nursing colleges listed as the top schools in the field according to the recent ranking of the US News and World Report, as well as general nursing schools that are leading authorities in their field. The Top-Rated Schools in the United States Offering Degree and Certificate Programs in Forensic Nursing are:
---
1. Johns Hopkins University
Forensic Clinical Nurse Specialist/ Post Bachelor's Forensic Program
The graduate nursing program at Johns Hopkins is not only one of the three top-rated nursing degrees in the United States, but it also offers an online Master's training in forensic clinical nurse specialization. This is a program designed for students already holding a bachelor's degree, who are looking to expand their expertise with additional coursework and training. Students access the twelve credit hours curriculum online, and they can use eight of these credits towards their online Master's degree.
---
2. Penn State
Undergraduate Certificate in Forensic Nursing
Penn is the second nursing program that is tied for the number one position. The Ivy League school offers education on all levels from bachelor's to doctoral degrees and beyond. The Forensic Science Minor is a part of a Master's nursing degree with a four-course unit requirement. Three of these courses focus on classroom learning while the fourth is a directed clinical study.
---
3. Boston College
Forensic Nursing
The nursing program at Boston College was among the top 25th nursing degrees. Currently, it offers a specialized Forensic Nursing specialty for interested Master's students. This is a hands-on one-year post-Master's program with ten credit hours and 250 hours of clinical practicum.
---
4. University of Illinois at Chicago
Advanced Practice Forensic Nursing Certificate Program
UIC's nursing program was number 11 on the US News and World Report's list, and the Forensic Nursing Certificate was a four courses long, twelve-credit-hour program offered exclusively online.
School site
---
5. University of Pittsburgh
Certificate in Forensic Nursing and Legal Nurse Consulting
The University of Pittsburg's School of Nursing was among the top ten programs in the country. It offers one classroom-based and a practicum-based course in various fields of forensic nursing as part of its general nursing curriculum.
School site
---
6. University of Colorado
Beth-El College of Nursing –Forensic Nursing Certificate Program
The Beth-El College Forensic Nursing Certificate is available both on an undergraduate and a graduate-level containing a total of 12 credit hours of study. Moreover, they offer their own SANE education program as well as training options for Advanced Forensic Nurse Examiners.
---
7. Duquesne University
Online Forensic Nursing MSN

Duquesne University has a 36 credit master's degree in nursing with a focus on forensics. This graduate degree teaches students to identify new forensic methods. The university's program started in 2002 and is one of the first in the nation. Additionally, the curriculum prepares students to work collaboratively in forensic teams.
---
8. Xavier University
MSN Forensic Nursing Track
Students learn to work as forensic nurses with the Xavier MSN. Graduates take roles as forensic psychiatric nurses, and legal nurses, and also conduct death investigations. Additionally, students can earn this MSN jointly with a criminal justice master's degree.
---
9. University of Tennessee
post-graduate Advanced Practice Forensic Nursing (APFN) Certificate
The UT forensic nursing certificate is for licensed advanced practice nurses with a master's degree or higher. The program teaches the skills needed to holistically care for pediatric, adolescent, and adult assault survivors. Additionally, students learn culturally competent and evidence-based forensic nursing.
---
10. Stevenson University
MSN with a concentration in Forensic Nursing
The master's degree with a concentration in forensic nursing at Stevenson University trains nurses to bridge the legal system, patients, and also law enforcement.
---
Is Forensic Nursing a Good Career?
While it can be a rewarding and highly sought-after career choice, forensic nursing takes a high degree of dedication and compassion. Interestingly, forensic nursing, as it pertains to criminal justice, has evolved only in the past two decades. For this reason, it is difficult to evaluate salary expectations and job outlooks specifically for forensic nurses.
While there is a great demand for nurses with forensic training, their positions are often assessed within the general area of a certified nurse. Nevertheless, forensic nursing is a collective designation for several interrelated fields of study.
---
What is SANE training?
SANE training prepares students to work mostly in emergency rooms and clinics as sexual assault nurse examiners. These nurses can further specialize to work within a pediatric focus or an adult and adolescent focus. Correctional nurses work with inmates to complete incoming screenings and chronic care. Forensic nurses trained in death investigation can work as coroners in some of states. In others, they can provide specialized support combining medical and social expertise in death investigations.
Perhaps the most versatile forensic nurses are those with a focus on interpersonal violence. They can work with the elderly investigating abuse, provide preventative education on domestic abuse, or help with assessments in child abuse and neglect cases.
---
How do you become a forensic nurse?
Whichever fields of specialization forensic nurses decide on; first, they must complete a nursing degree to become a registered nurse. For this reason, the best approach to forensic nursing is to find a suitable four-year program at a nursing college. Afterward, nurses have the option of completing specific training certificates within the forensic field or opting for continuing their education through a Master's degree or Ph.D. in forensic nursing.
It is important to keep in mind that there are state-specific requirements for nurses who wish to work in the forensic field that may be significantly different from the certification they receive at their nursing college. For instance, the International Association of Forensic Nurses provides online SANE training courses and a Board Certification program, which are different from specific qualifications required by state and federal regulations. Therefore, it is highly advisable to carefully look through and evaluate all nursing degree options before proceeding to the forensic field.
---
Related: