Nurse paralegals are nurses that have worked in the nursing profession and have legal training and schooling in health-care law, malpractice suits, and several other subjects that pertain to the law in the nursing profession. They study and analyze documents, assess patients treatments and prepare medical summaries for attorney's, insurance companies and hospitals. Some may testify in courts on various claims or lawsuits. The nursing profession, is one of the fastest growing professions in the country. The Bureau of Labor Statistics reports that nursing jobs are expected to grow approximately 26 percent by the year 2020, and should add up to 712,000 nursing jobs within a 10 year span across the United States. Many people are unaware of the different career aspects of nursing. Becoming a nurse paralegal is one of the aspects that you can choose. This profession is becoming a highly desirable and rewarding career.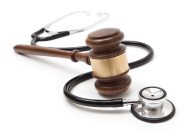 What Does A Nurse Paralegal Do?
Nurse Paralegals handle the legal aspects of nursing jobs. HMO's, insurance company's, hospitals, government agency's, management groups, and law firms are seeking qualified personnel trained in medicine and law. They are also known as nurse consultants. The nurse paralegal reviews all aspects of nursing practice and makes sure they are being implemented according to law and that no one is stepping outside their rights as it pertains to the profession. They will work under an attorney as a member of any law practicing team.
What to Consider If You Pursue a Career as a Nurse Paralegal
Think about how much the nursing profession is going to grow in the next 10 years or so, and with the increase in nursing professional's, which stem from an increase in specialty health care, there is bound to be an increase in lawsuits. That is where your skills as a nurse paralegal will come into play. While there can be no guarantees related to the growth or job outlook for the nurse paralegal it only stands to reason that nurse paralegals will be in higher demand with the growth of nursing jobs.
Salary As A Nurse Paralegal
In 2013 the average annual salary for a nurse paralegal was $68,000 according to the job site "Indeed". However, average salaries for nurse paralegals varied the most in the south region of the country. Mississippi had the lowest salary of $53,000 and Washington D.C. Had the highest salary of $107,000. The Midwest made $53,000 to $72,000. Maine and Massachusetts came in at $61,000 to $82,000 which were the lowest and highest earnings in the Northeast. Montana and most of California came in at $54,000 to $77,000 in the West. The U.S. Labor Statistics predicts a 26 percent increase in employment for nurses and predicts an 18 percent increase for nurse paralegals by 2020. The reason, because they will save companies money by performing some of the same functions as lawyers as in investigating and research and writing reports for trials.
Education Requirements
If you are already an RN you either have a 4 year bachelor's degree in nursing or a 2 year associates degree in nursing from an accredited RN program or university. To become a nurse paralegal the qualifications are some what different. If you are already an RN and working in the nursing profession, but only have an associates degree you can still qualify to enroll in a nursing paralegal program. The nursing paralegal course typically last 1 year. The US Bureau of Labor and Statistics (BLS) report that most firms that hire nursing paralegals do not require a certification, however,certification may give the applicant an edge at landing a great job. Organizations that offer professional certification for nurse paralegals are, National Association of Legal Assistants (NALA) and the National Federation of Paralegal Association (NFPA). These organizations will look very appealing to any employer that is reviewing your application and is considering you for a position. To be eligible to take the certification exam, candidates need paralegal experience, paralegal education or general college education. The certifying organization may specify that the applicant has completed a paralegal program that has been approved by the American Bar Association, or was taught in a school that has accreditation from a specified agency or association.
After you have successfully completed the classes, you will then be qualified to work under an attorney as a nurse paralegal, you must have nursing experience to do so, most schools require 2 years working in the nursing profession, before you can qualify to take the nurse paralegal course.
Nurse Paralegal Schools
There are all kinds of paralegal schools out there, take your pick, you can either go to school on campus or go online and do all your school work from home the choice is yours. If you are going to go through the time and effort to becoming a nursing paralegal you will want to take into consideration all types of schools. Do you want to go to a school that is American Bar Association certified, or will that matter to you. When it comes to paralegal education the ABA approved paralegal programs report that they can give graduates advantage over others. If you decide to attend an ABA approved program, either online or on campus they are considered to be top notch when it comes to education as well certification. All their classes must be taught by licensed attorneys who are in good standing with that state's bar association. As a result, students get the most up to date training as possible. If that is not really a factor to you, there are other good schools that you can apply to as well. The most important thing to you, do your homework, decide what school would best fit your needs and choose your school well informed. Here are a few of the classes that you may be taking to become a nurse paralegal.
Introduction to Law and Legal Studies
Legal Research and Writing
Torts
Advanced Legal Research and Writing
Administrative Law
Litigation Procedures
Medical Legal Ethics
Law of Contracts
Medical and Legal Malpractice
Moral and Ethical Issues in Healthcare
Workers Compensation
When you are planning to become a nurse paralegal it is important that you have access to all the information you need to make the right choice for you. Below is a list of the top 10 schools for paralegal studies.
1) Rasmussen College offers two degrees, a paralegal certificate and an Associate degree if you are looking to go into law or paralegal studies you can not go wrong with this school.
2) Post University offers a certificate in paralegal studies. At Post University you will receive the skills and knowledge necessary to succeed. You will get the opportunity to learn from faculty who have spend a great deal of time in the paralegal profession.
3) Liberty University offers offers a certificate, Associate and a Bachelor's in paralegal studies. This school offers three degrees in paralegal studies that are worth looking into.
4) Kaplan University is one of the largest university's in the online education venue. This university offers Associate and Bachelor Degrees in paralegal studies, as well as a Postbaccalaureate Certificate (Pathway to Paralegal), studies and does offer financial aid.
5) Virginia College offers both an Associates and Bachelor's degree in paralegal studies.
6) Keiser University offers an online Bachelor of Arts program and an Associates of Arts degree for legal studies that is an excellent program for people wanting to get a paralegal education.
7) Liberty College offers an incredible Associate degree in paralegal studies.
8) The George Washington University offers a masters program in paralegal studies.
9) Penn Foster Career School is an accredited institution recognized for their success rate in quality education, catering to the traditional and non traditional education for its flexible options. They offer a Certificate in paralegal studies as well as a Legal Secretary Certificate.
10) Penn Foster College this school has an incredible Paralegal program and offers an associates degree in Paralegal studies. Students give this program a thumbs up for affordability and curriculum.
This list of colleges was put together by analyzing paralegal programs with high student satisfaction and strong academic reputations.
The Cost To Become A Nurse Paralegal
The actual cost of course work to become a certified Nurse Paralegal varies from state to state and depends on your needs. Do you already have a bachelors degree or associate degree in nursing? Have you been working in your profession for at least two years? If so, it could cost as little as $849.00 to $7,000. It all depends what type of program you will need. If you have an associates in nursing and have been working as an RN for a couple of years, then you are well on your way. All you really need to do is decide what school offers what you need as far as cost and curriculum to become a nurse paralegal. The choice is yours.
Check out our Top Online Nursing Programs
Back to FAQ
Home
Rankings
Features
Resources
About Us
Contact Us