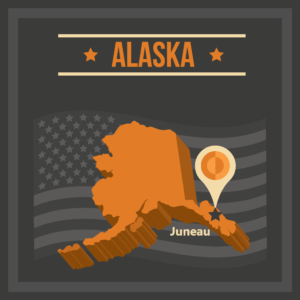 Alaska nursing is full of opportunities since the state has a huge demand for qualified medical professionals. Alaska is the largest State in the United States by area and the fourth-least populous. At least half of its residents live in Anchorage's metropolitan area. It was once considered part of the Russian empire until March 30, 1867, when the United States purchased it for $7.2 million dollars.
Nursing Salary in Alaska
Nurses can find a variety of opportunities and very competitive average salaries (reported at $82,000 by the Bureau of Labor Statistics) if they do not mind the peculiarities of the state. Finding a job in Alaska could require prospective employees to consider taking jobs serving the underserved rural population of the state. Employers pay top dollar to compensate for the higher cost of living and trouble incurred by working in those areas.
---
Job Outlook for Nurses in Alaska
Featured Programs
As for demand, qualified nurses have a good chance to get a job if they are open-minded. The largest private employer in Alaska is actually Providence Health & Services, employing over 4,000 health professionals.
Every prospective employee should be ready to deal with the Alaska weather. In this state, the winters are dark and can depress you. Additionally, only the urban areas have easy access to grocery stores and other daily conveniences. So, nurses used to convenience should look for a job in Anchorage or Fairbanks, two of the most developed cities in Alaska. Those who do not mind working in the rural parts of Alaska can seek up to a 60% loan repayment provided by the State for two years of employment in a critical shortage facility.
---
Your Nursing Career in Alaska
For those willing to compromise, nature will surely reward them with some of the most spectacular views that the United States has to offer. From Mount McKinley, the highest mountain peak in the United States with a summit elevation of 20,320 feet, to the majestic Yukon River, flowing gracefully through Alaska.
Clearly, there is a compromise for a nurse to make it work in Alaska and make a career there. Inevitably, however, the opportunity is there for those who are willing to take on an unconventional journey. But, there is lots of adventure and excitement with a move to Alaska.
---
Related: