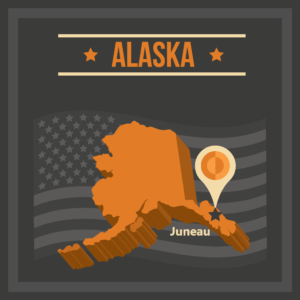 Alaska is the largest State in the United States by area and the fourth least populous. At least half of its residents live in Anchorage's metropolitan area. It was once considered part of the Russian empire until March 30, 1867, when the United States purchased it for $7.2 million dollars.
Nurses can find a variety of opportunities and very competitive average salaries (reported at $82,000 by the Bureau of Labor Statistics) if they do not mind the peculiarities of the state. Finding a job in Alaska could require prospective employees to consider taking jobs serving the underserved rural population of the state. Employers are very motivated to pay top dollar to compensate for the higher cost of living and trouble incurred by working in those areas.
As far as demand, a qualified nurse has a very good chance of landing a job as long as they are open-minded. The largest private employer in Alaska is actually Providence Health & Services, employing over 4,000 health professionals.
Every prospective employee should be ready to deal with the peculiar weather Alaska has to offer and the dark winters that come with living there. Additionally, those used to easy access to grocery stores and other daily conveniences might be best served to look for a job in Anchorage or Fairbanks, two of the most developed cities in Alaska. For those who do not mind working in the rural parts of Alaska, they can seek up to a 60% loan repayment provided by the State for two years of employment in a critical shortage facility.
For those willing to compromise, nature will surely reward them with some of the most spectacular views that the United States has to offer. From Mount McKinley, the highest mountain peak in the United States with a summit elevation of 20,320 feet, to the majestic Yukon River, flowing gracefully through Alaska.
Clearly, there will have to be some compromise for a nurse to make it work in Alaska and make a career there. Inevitably however, the opportunity is there for those who are willing to take on an unconventional journey and don't mind the adventure and excitement that comes with a move to Alaska.
Alaska Vocational Technical Center
Located in rural Seward and in Anchorage, the Alaska Vocational Technical Center is a small, public school admitting primarily residents of Alaska; non-residents may attend, space permitting. The post-secondary school is a technical and vocational training center with a low 15:1 student teacher ratio.
Nursing
An eight week nursing assistant program is offered in Anchorage, along with a program for nursing assistants from other states who wish to take the certification exam to work in the State of Alaska.
The Alaska Vocational Technical Center offers a 176 day practical nurse program to current nursing assistants who who also hold a Basic Life Support certificate. Practical nurse training is done in the the Anchorage area.
A registered nurse training program is also offered in the Anchorage area only to LPNs that hold a State of Alaska license and who have at least 24 credits from another accredited college or university, not the Alaska Vocational Technical Center. Applicants must also be able to lift 50 pounds. The applied science in nursing program consists of 84 credit hours.
Accreditation
The Alaska Vocational Technical Center is accredited by the Commission of the Council on Occupational Education, the body that accredits career and technical schools.
Programs
Certificate – <1 year
Certificate – 1+ year
University of Alaska Anchorage
The University of Alaska Anchorage is a public, four-year research university residing in Anchorage, Alaska. The university is the largest institution of higher learning in Alaska. It traces its history to 1950 when Dr. Terris Moore, who was the president of the University of Alaska in Fairbanks, sought to bring higher education opportunities to other areas in the state. The University of Alaska began offering courses in Anchorage in 1961. The university encompasses eight academic divisions including the colleges of Education, Arts and Sciences, Health, Business and Public Policy; and School of Engineering; School of Nursing; School of Social Work; and Graduate School. The divisions offer associate, bachelor's, and master's degree programs and vocational and professional certificates in over 150 major fields, such as arts, business, science, human services, and education. While specific faculty to student ratios vary by division and program, the general ratio is 20 students per one faculty member.
Nursing
For aspiring nursing professionals, the University of Alaska Anchorage's School of Nursing strives to prepare students for current and future health care professionals in Alaska. It strives to meet the exceptional health care needs of the state. It offers Associate of Applied Science, Bachelor of Science, and Master of Science degrees in nursing. The associate degree program prepares students to provide direct nursing care to a variety of patients in both inpatient and outpatient facilities. The program takes about two years of full-time enrollment and students learn about nursing theory and complete clinical experiences in hospitals, clinics, and nursing homes. The bachelor's degree program provides more in-depth study of nursing to pursue more advanced nursing roles in health care. Students can select from two options: the basic student option or registered nurse option. The master's degree option provides instruction on advanced professional nursing practice, research, and theory and students can select from three specialty concentrations: nursing education, family nurse practitioner, and psychiatric-mental health nurse practitioner for family.
Accreditation
The Northwest Commission on Colleges and Universities fully accredits the University of Alaska Anchorage. Also, various colleges and programs receive individual accreditation from professional organizations in their respective fields. For example, the National League accredits the bachelor's and master's degree in nursing for Nursing Accreditation Commission.
Programs
Certificate – <1 year
Certificate – 1+ year
Associate's Degree
Bachelor's Degree
Post-Baccalaureate Certificate
Master's degree
Post-Master's Certificate
University of Alaska Southeast
The University of Alaska Southeast rose from the merging of Islands Community College, Ketchikan Community College and the University of Alaska Juneau on July 1, 1987. Today, it is a public four-year education institution and part of the University of Alaska System. Its campuses are at the sites where the former institutions were located; the main campus is in Juneau, while the extended campuses are in Ketchikan and Sitka. The University of Alaska Southeast is also known as Alaska Southeast, UA Southeast or UAS.
Nursing
UAS is made up of four Schools, which are named Arts and Sciences, Career Education, Education, and Management. These are where the school offers its assortment of undergraduate and Master's degrees, as well as graduate certificates. Although it has a variety of degree programs, UAS is mainly dedicated to providing a solid liberal arts education.
Alaska offers an Associate of Applied Science in Nursing through its School of Career Education through its partnership with the University of Alaska Anchorage's School of Nursing. Students take classes at the three campuses and fulfill their clinical requirements at hospitals in the area. They go to Anchorage during their third and fourth semester of the AAS program to get more clinical experience, particularly in pediatrics, psychiatry, obstetrics and surgical nursing.
AAS students are required to complete a minimum of 70 credit hours. General education requirements comprise a substantial number of those credits, with subject areas that include public speaking, human anatomy and physiology, microbiology, written communication and lifespan development.
Admission and Accreditation
As of 2013, the University of Alaska Southeast has more than 3,700 students. The school has a gender ratio of 36 percent male and 64 percent female, and 30 percent of the students are full-timers. Classes are relatively small, with a student-to-faculty ratio of 13 to 1. UAS is accredited by the Northwest Commission on Colleges and Universities.
Programs
Certificate – <1 year
Certificate – 1+ year
Associate's Degree
Bachelor's Degree
Post-Baccalaureate Certificate
Master's degree
Back to Nursing Schools by State
Nursing Degree Program Information
Back to How Do I Become…
NSHub Specials
Career Guide
Top 10s
Home
FAQ