Many Job Opportunities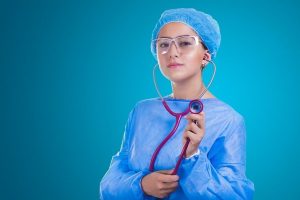 Anyone interested in a medical career should investigate becoming a registered nurse. Due to the aging population, there are more job opportunities for knowledgeable nurses in hospitals, rehabilitation centers, and assisted living facilities. This career choice has several levels of training that make it an easy occupation to begin working in while also making it simple to progress to higher levels.
Jobs in this career category pay individuals higher than average wages while also providing additional benefits such as paid vacations and retirement pensions. A large majority of individuals begin working after short educational programs as certified nursing assistants providing care to infirm senior citizens. This gives an individual a chance to learn if a nursing occupation is the correct lifelong career choice.
---
Planning While in High School
Featured Programs
Many certified nursing assistants eventually receive scholarship offers from an employer to attend college to study in associate or bachelor's nursing degree programs. After graduating, the new registered nurse (RN) is required to work for a nursing home or hospital for a certain amount of time to pay back the scholarship. While working for the facility, the nurse receives a lucrative salary and benefits package.
An individual should begin thinking about a health care career while in high school by enrolling in courses such as mathematics, biology, and chemistry. This is because many nursing programs will only admit students who have a basic understanding of scientific concepts. In addition, seeking volunteer opportunities in medical facilities is an excellent way to learn more about this career while meeting other health care professionals.
---
Seek Financial Assistance
Most students also need financial assistance while in college to pay for tuition, books, and living expenses. Receiving the best grades possible is a good way to impress university officials who provide scholarships and grants. At the same time, pursuing financial assistance such as grants and loans through government agencies and private lenders is necessary.
Individuals should seek information concerning several nursing degree programs available at community colleges or universities. There are nursing educational opportunities available locally or far away that last different length of time. A student might be interested in a short-term two-year program to become an associate degree registered nurse that allows a faster chance to begin working.
---
Types of Coursework
However, most individuals are interested in four-year programs that lead to a bachelor's degree and a higher income. Because medical care has become more complex, many universities only offer bachelor's degree in nursing (BSN) programs to ensure students have complete training before beginning careers. BSN programs at a university are strenuous because many science courses such as anatomy and physiology also require laboratory experience.
Science laboratory experiences typically include dissections of animal and human cadavers. Anyone studying to become a nurse must have practical training working directly with patients in physician's offices, assisted living facilities, and hospitals.
---
Maintain Excellent Grades
Faculty, physicians and experienced registered nurses supervise students closely during practical training experiences. A student studying nursing at a university also attends other types of classes such as mathematics, history, and communication. An individual will attend lectures while taking notes to understand information on tests and quizzes.
Each student receives an evaluation every semester for appropriate grade levels in coursework. Many universities remove students from nursing degree programs because of low scores on tests or poor attendance. Students who have other responsibilities such as families or jobs should seek nursing educational programs that permit part-time classes.
---
Pass a Licensing Examination
After graduating from a nursing degree program, an individual must pass the NCLEX licensing examination. Each geographic region has its own requirements for legally working as a registered nurse. In addition to passing a regional examination with an adequate score, the licensing board conducts criminal background checks at the local, state, and federal level.
Individuals with records of physical or substance abuse are often not permitted to receive or maintain licensure as registered nurses. This legal criterion is in place to protect medical facilities and patients from the actions of an unprofessional member of a health care team.
---
Continuing Nursing Education
Individuals with registered nursing degrees and licenses are in great demand in a variety of health care settings. Many nurses enjoy working with particular ages of patients such as the elderly or children. There are also numerous subspecialty areas of nursing including working in burn units, trauma centers, or cancer treatment centers. Medical facilities often offer free training to registered nurses in specialty areas such as geriatrics or neonatal care.
Many individuals working in nursing careers decide to return to a brick-and-mortar or online university to take graduate coursework. An individual with a master's degree in nursing earns a higher salary while often managing other nurses in a facility. A master's degree in registered nursing may allow an individual to specialize in areas including midwifery, forensics, or immunology.
---
Related: