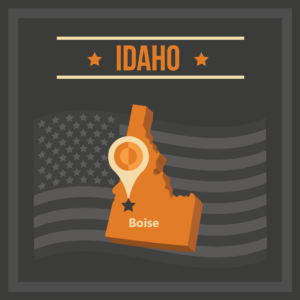 Idaho Nursing includes information on nursing schools, careers, and job and salary information for nurses in Idaho. Idaho is a northwestern state in the United States. Its northern border is with Canada. Idaho's terrain is mostly mountainous. Idaho is nicknamed the Gem State because nearly every known gemstone has been found within the state. The largest city is Boise. The total population of the state is 1.6 million. The state is also known for its famous crop of potatoes. Along with agriculture, lumber and wood processing are also large components of the economy.
---
Choosing the Best Nursing School in Idaho
The first step in learning how to become a nurse in Idaho is finding the right nursing school. Look for a school that will meet your needs when it comes to scheduling and providing you with high-quality coursework. The best nursing schools in Idaho offer various course options that will allow you to tailor your education to your specific needs. They will also provide you the resources you will need to complete your education and set out on your career path.
Featured Programs
The best nursing schools in Idaho offer many resources. For example, Idaho registered nurse license prep courses, interview building skills, job placement programs, and continuing education courses are needed once you have received your LPN or RN license. Utilizing these resources will give you the best possible chance at laying the foundation for a successful career. In addition, your academic advisor will be able to help you find the resources you need to achieve all of your educational and career-oriented goals.
To choose the best nursing school in Idaho, you will need to know what type of educational environment you want. Even if you decide to enroll in an online nursing degree program, it is still good to visit the campus and know a bit about the school. It would help if you met the faculty and staff and ask for a tour so you can see how well the school functions. If you weren't taking your classes online, would you still consider attending on campus? Then, find a school that fits you and your individual needs.
---
HOW DO I BECOME A NURSE IN IDAHO?
Becoming a registered nurse in Idaho starts with getting a quality education. As you get closer to graduation, you will want to start studying for your nursing exam. In Idaho, this is the NCLEX-RN exam. To sit for the test, you will have to pay an application fee and the examination fee of $200. Once you have passed the test, you will be able to apply for LPN or RN positions. It is essential to note when your license will expire, so you have an opportunity to meet the requirements for keeping it in good standing.
To renew your state licensure, you will have to complete continuing education hours every cycle. There will also be a renewal fee. Make sure to meet all of the renewal requirements before the expiration of your license to prevent you from having to repeat the entire process.
Idaho is a member of the Nursing Licensure Compact (NLC) which is a nursing licensure agreement between most states adopted in 2001. An Idaho nursing license works in any other state that is a member of the Compact.
Licensing in Idaho
To become a licensed nurse in Idaho you need to:
Graduate from a state board-approved nursing program.

Take and pass the NCLEX-RN.

Submit electronic fingerprints.

Pass a criminal background check.

Pay an application fee.

Complete an online application with the

State of Idaho Board of Nursing

.
Helpful Links

for Idaho Nurses:
---
Idaho Nursing Jobs Outlook
In recent years, nursing jobs in Idaho have been a hot market. Demands for nurses are expected to continue. The state has taken the initiative to increase the number of Idahoans joining the workforce as nurses. If nursing education and training programs continue to expand, the supply of Idaho RNs could meet the expected demand.
---
Idaho State-Based Financial Aid for Education
The following financial aid programs are available to residents of the state of Idaho: Governor's Cup Scholarships, Robert R. Lee Promise Category A Scholarship, Robert R. Lee Promise Category B Scholarship, Opportunity Scholarship, Robert C. Byrd Scholarship and Minority At-Risk Programs.
There are also scholarship programs designed specifically for nursing students, such as the Idaho Legion Auxiliary Nurses Scholarship. It provides financial aid to Idaho veterans and their children who are interested in studying nursing. In addition, the Lazy K-Five Ranch Scholarship targets engineering and nursing students. Finally, the Kay Stone Memorial Scholarship was established to provide financial aid to students in education or nursing. Contact your nursing school for additional information on scholarships and federal assistance programs.
---
HOW MUCH CAN I EARN AS A NURSE IN IDAHO?
According to the Bureau of Labor Statistics (BLS), nurses in Idaho earn an annual mean wage of $71,640, which is under the national average. However, living in Idaho is lower than the national average, which offsets the lower average salaries. As a result, nurses can find higher wages in certain regions where they are needed. Therefore, where you live and work in Idaho can significantly influence your potential wages.
Idaho is also on par with the national average for employing RNs. However, more nurses are always needed, especially as seasoned nurses begin to retire or transition into other roles. With a low cost of living and competitive wages, Idaho is a great place to start a career in nursing. And, once you earn your nursing license in Idaho, you can work as a nurse in any Nursing Compact State.
---
Your Location and How It Will Affect Your Earnings
Just as in any career field, your location will directly impact your earning potential. For example, nurses who work in a very rural area may work for a facility with fewer financial resources. In these situations, the rewards of being a part of a smaller, more inviting environment may outweigh the higher pay of a fast-paced, sometimes impersonal atmosphere of a larger facility. Where you work will also have a lot to do with how much you enjoy your job. Some nurses love the hectic pace found in larger cities, while others may prefer a more laid-back environment.
When it comes to being a nurse, you will find that your earnings will increase as you gain experience. This is especially true if you have a specialization that allows you to focus on a specific area of medicine, such as pediatrics, emergency/trauma care, or orthopedics. With some specializations, you may have the option to travel as part of your job. For example, flight nurses travel with patients who may have to be transported over long distances. This is a very lucrative position if you thrive in this type of environment.
---
Do You Want to Specialize?
Becoming a nurse is a gratifying and fulfilling achievement. If you want to take your career to the next level, choose a specialization that will allow you to take your skills to the next level. Specializations take patient care to the next level. You will learn special skills and abilities that will enable you to work in a highly focused environment. For example, trauma care and surgical specializations put you in the thick of things regarding intensity and highly detailed work. If you love children, you may want to pursue a degree in pediatric nursing. If you enjoy the business aspect of nursing, explore an administrative degree.
Specializing allows you to take the skills you already have and direct them toward a career in one specialized field. Having a specialization to rely on will let you take on new challenges. Along with the unique challenges, you may find more chances for advancement and the possibility of a much higher wage. Specializations are a great way to broaden your horizons and build on your existing skill sets.
---
Related: