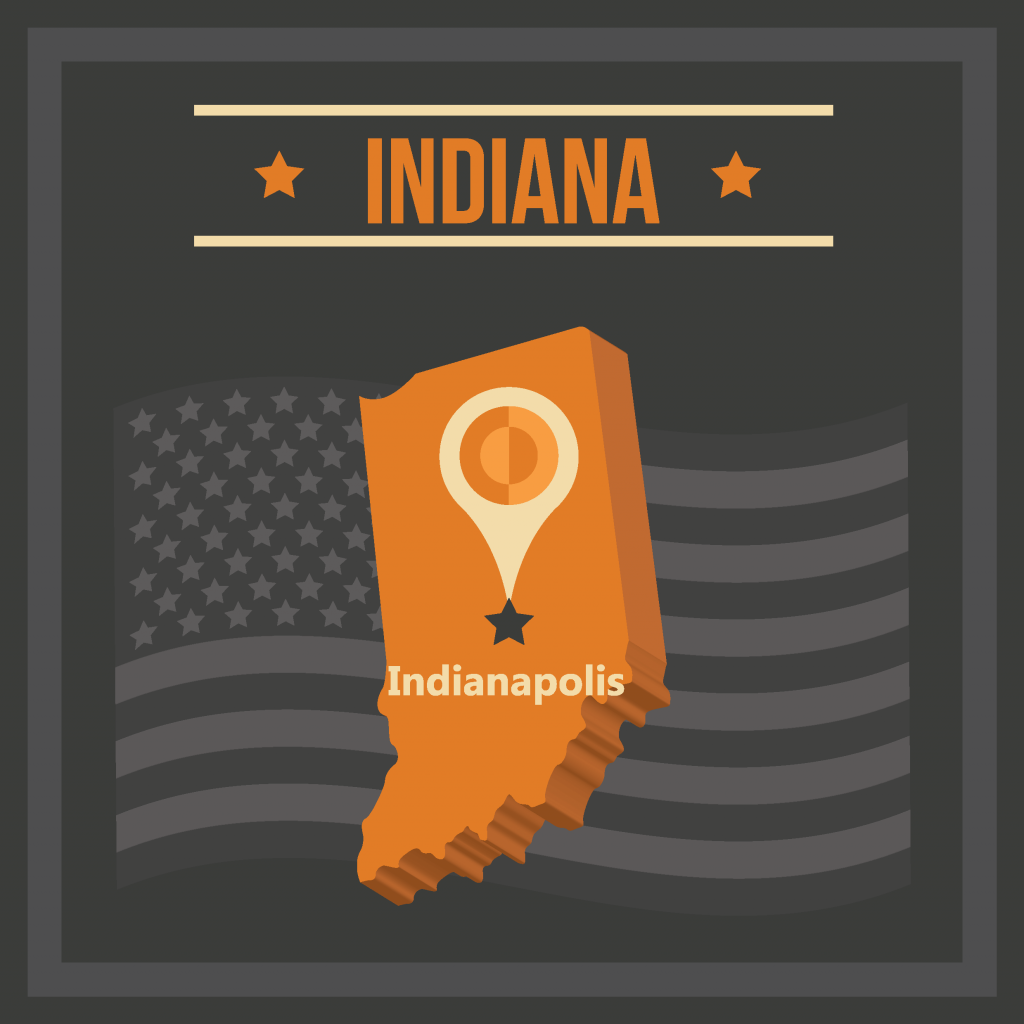 Indiana Nursing includes information on nursing schools, careers, and job and salary information for nurses. This Midwestern state with over 6.7 million residents borders Lake Michigan to the northwest and the Ohio River to the south. Its capital, and by far the most significant city, is Indianapolis. Indiana is famous for the Indianapolis 500, a car race held every year in Speedway, Indiana. In addition, it is known for its farmland, country roads, and "ope" – don't forget basketball!
Indiana has many excellent colleges and universities. In addition, there are numerous accredited nursing programs with degrees for nurses just beginning a career and degree programs for nurses advancing their careers. The Hoosier State has a lot to offer and is a great place to start a career in nursing! One of the best nursing programs in Indiana is a great place to find the nursing degree to fit your life.
---
Choosing The Best Nursing School In Indiana
Featured Programs
The first step to becoming a nurse in Indiana is finding the right nursing school to attend. So, look for a school that will meet your needs for location, size, and resources. Moreover, any school you attend should have accreditation. Additionally, Indiana schools should have accreditation from the Higher Learning Commission.
---
Choosing The Right Nursing Program In Indiana
The nursing program you attend in Indiana should also be accredited. The two nursing program accreditation organizations to look for are below.
---
How Do You Become A Nurse In Indiana?
After graduating from an accredited nursing program with NCLEX eligibility, becoming a licensed nurse in Indiana only requires a few additional steps. The Indiana Board of Nursing grants nursing licenses by Exam and by Endorsement or reciprocity. But, more detailed Indiana nursing license information is online.
Indiana Nursing License by Exam
You can also find the complete application details on the Indiana Board of Nursing website. To obtain an Indiana nursing license by Exam, applicants need to submit two types of applications. Before you receive eligibility to sit for the NCLEX exam, you must submit the NCLEX application and the Indiana state licensure application.
complete the state application on the Indiana Board of Nursing website with the required fees

Submit the NCLEX application and exam registration with fees

S

end

official transcripts from the nursing school attended

Submit a criminal background check

Take and pass the NCLEX-RN
Indiana Nursing License by Endorsement or Reciprocity
Indiana RN nursing license by endorsement applicants will need to submit the following to the state's Board of Nursing. You can find the complete application details on the website.
complete the endorsement application on the

Indiana Board of Nursing website

Pay the fees with the application

Submit proof of education

Verification of nursing license

C

riminal background check
Indiana Is Part Of The Nurse Licensure Compact (NLC)
On July 1, 2020, Indiana fully implemented the Nurse Licensure Compact (NLC). As a result, nurses are now able to apply for their compact license in Indiana. The NLC allows LPNs and also RNs to practice in other member states with a multi-state license. All compact licenses are in the primary state of residence. Furthermore, there is no difference between a multi-state license and a compact license.
Helpful Links for Indiana Nurses
Association of School Nurses
---
Indiana Nursing Jobs Outlook
The demand for trained nurses in Indiana is expected to grow through the decade. The US BLS estimate of RN growth is 9% from 2020 to 2030, and Indiana also estimates a 12% increase in jobs from 2018 to 2028. So, this job growth means the job outlook for nurses in Indiana is good.
Additionally, Indiana is now a member of the Nurse Licensing Compact. As a result, licensed nurses can now easily apply for a multi-state license and work in member states.
---
How Much Can I Make As A Nurse In Indiana?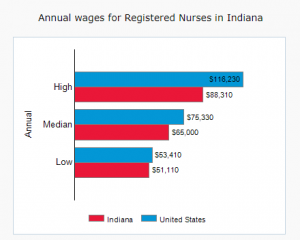 The Bureau of Labor Statistics (BLS) reported that registered nurses in Indiana earned an annual mean salary of $67,490.00 in 2020. Thus, nurses in Indiana make less than the national salary average, which was $80,010 in 2020. However, Indiana has a cost of living below the national. Therefore, because it is less expensive to live in Indiana, it can offset the lower wages.
Furthermore, nurses in Indiana with advanced degrees can expect to earn a higher income. For example, the 2020 average salary for Nurse Practitioners in Indiana was $109,940, just under the national average of $ 111,680.
---
State-Based Financial Aid For A Nursing Degree Indiana
Indiana has a few grant programs that provide need-based aid to Indiana residents. In addition, each school has opportunities for financial assistance, and numerous federal programs offer financial assistance to nursing students.
This program can pay for all of your first year of nursing education! However, the Jobs Workforce Grant is for students in Indiana to earn a certificate in an in-demand field. The grant pays tuition and fees. Furthermore, the Practical Nursing (PN) program offered by Ivy Tech Community College qualifies for this grant. So, students starting in nursing should consider a one-year program that prepares them to sit for the NCLEX-PN and become Licensed Practical Nurses (LPN).
The Frank O'Bannon Grant is also a need-based State of Indiana program to help Indiana residents pay tuition and fees. However, students must be enrolled full-time. The Indiana Adult Student Grant is a renewable need-based $2,000 grant to assist Indiana adult students in starting or completing an associate, bachelor's, or also certificate program. Additionally, USI and Indiana Nursing Scholarships lists are available on the University of Southern Indiana nursing school website. Indiana University has Nursing Scholarships for undergrads and also graduate students.
---
Related: