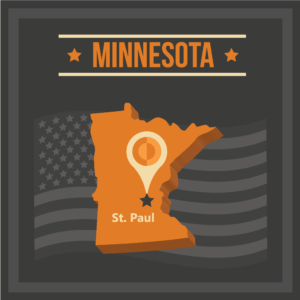 Minnesota nursing outlines the educational, licensing, and career prospects for nurses in the state. The process to become a nurse in Minnesota is similar to other states. Aspiring nurses need to successfully complete accredited nursing programs. The application process for a Minnesota nursing license is somewhat different from other states, though. The Minnesota Board of Nursing lists forms and requirements to obtain a healthcare credential.
Aspiring nurses can either apply for a Minnesota nursing license by endorsement or exam. Either way, they must obtain a license through the Minnesota Board of Nursing. Nurses from nearby states — the Dakotas, Iowa, and Wisconsin — can practice with their state license, provided they don't work in a non-healthcare setting, such as a correctional facility or a school.
---
How Do I Choose a Nursing Program in Minnesota?
Featured Programs
First, make sure the program is accredited. Accredited schools have to meet strict requirements for curriculum quality, teacher training, day-to-day operations, and other factors. The Minnesota Board of Nursing provides resources on accredited educational programs and other professional development opportunities.
Another factor to keep in mind is the type of nursing degree to pursue. Nurses who are new to the field usually take an associate degree in nursing (ADN) course or a BSN (bachelor of science in nursing). For those who are already in the field and want to advance, RN to BSN programs in Minnesota are also available. Accelerated nursing programs in MN are sometimes a wise choice for students who fit this profile, too.
---
Online vs On-campus Program
Think about whether you'd like to complete a nursing program online or in person. Additionally, consider whether an accelerated program or one that follows a traditional academic calendar is right for you. Minnesota online nursing programs typically take up to four years to complete. Advanced nursing courses can take 2-3 to finish. These Minnesota online nursing programs are a great option for people who want to remain in their current employment while attending school.
Accelerated nursing programs provide the opportunity for healthcare professionals to fast-track their careers. Accelerated nursing programs are most frequently offered online. For students who have limited time to devote to coursework, part-time nursing programs are also available. Online programs offer added flexibility, as the school schedule is somewhat more relaxed than in a brick-and-mortar setting.
---
Student Services
It's important that the school or program you're considering provides helpful student services, such as academic advising. This is especially critical at higher levels, when nurses may want to specialize in a particular area. The program should also offer career counseling and job placement assistance. Students looking at accelerated nursing programs MN and Minnesota online nursing programs can really benefit from these services, as they may not have as many opportunities to network and interact with faculty through remote learning as they would have at an on-site location.
---
What's Covered in Minnesota Nursing Programs?
Once students find the course of study that's right for them, they can pursue their nursing degree. In accelerated nursing programs and traditional nursing programs alike, students typically take courses in anatomy, statistics, microbiology, and physiology.
Like traditional nursing programs, accelerated nursing programs MN and Minnesota online nursing programs offer coursework on both the theoretical and practical sides of healthcare. As students might expect, online programs provide the same types of "textbook knowledge" that traditional programs do. Courses cover topics such as community health and nursing, pharmacology in nursing, and health assessments.
Online programs also provide hands-on learning through interactive activities and clinical placements, which allow students to put their newfound skills and knowledge into practice in a healthcare setting while completing their coursework.
---
How Long Are Most Nursing Programs in Minnesota?
Licensed practical nurses (LPNs) must complete a diploma program, which typically lasts a year. Registered nurses (RNs) have the option to enroll in either an associate degree program or a bachelor's degree program. Either a master's or a doctorate is required for nurse practitioners (NPs). A master's degree in nursing usually takes a year or two, while a doctoral program could last as long as three or four.
---
After Completing the Program, What's Next?
After successfully completing a nursing program, the next step is to pass the NCLEX-RN exam, which is offered nationwide. Up-and-coming nurses can then apply for a license through the Minnesota Board of Nursing. Students who sit for the exam have six hours to take it, with two short breaks included. Test-takers also watch a tutorial at the beginning to ensure they know how to submit their responses to test questions properly.
According to the Minnesota Nursing Board, there are different licensing requirements for nurses at different levels — LPN, RN, NP. Instead of a license, nursing assistants apply for placement on a registry.
---
Related: