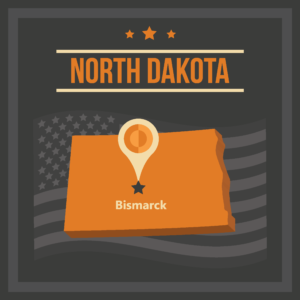 North Dakota nursing outlines the educational, licensing, and career prospects for nurses in the state. Many will remember North Dakota's largest city of Fargo by the movie of the same name. What they won't recognize are the cultural and shopping areas coexisting with the myriad of hunting, fishing, and other activities for the outdoor enthusiasts ensconced within the state.
Bordered by Minnesota to the east, Montana to the right, and Canada to the north, the state was the northern half of Dakota Territory until statehood in 1889. As if the natural beauty of North Dakota is not enough to attract nursing candidates, North Dakota is a state to be reckoned with on the future economic front.
Featured Programs
Choosing a career in nursing is a meaningful decision and a wise career move. Nursing is a profession dedicated to the caring for, supporting, and aide of others. Nurses get the joy of doing a job that matters, the recognition and prestige that comes with being a nurse in North Dakota, and comparably excellent compensation. To find the right path for your career in nursing, begin with the best North Dakota nursing programs.
---
HOW DO I BECOME A NURSE IN NORTH DAKOTA?
Anyone who wants to begin a career in nursing will inevitably have questions. Many of these questions are very common, and they include questions about the process of becoming a nurse, the requirements needed to earn a North Dakota nursing license, and even questions like how or where to begin. There are two ways to qualify for an RN or LPN nursing license in North Dakota – by Exam or by Endorsement.
---
NORTH DAKOTA LICENSE REQUIREMENTS FOR LPNS & RNS – BY EXAM
To qualify for a license by exam in the state of North Dakota, nurses must have completed a board-approved in-state nursing education program. Or, they can complete a program in another state that is approved by the nursing board in that state. In addition, applicants must have a social security number and pass an FBI background check. After passing the nursing exam, you will need to submit the following to the North Dakota Board of Nursing:
your Passing Results from NCLEX

Official Transcripts for the school you attended

the approved criminal background check

the nursing license application

the application fee
When approved, the license will be issued in about three business days. All licenses are online and students can view them.
---
NORTH DAKOTA LICENSE REQUIREMENTS FOR LPNS & RNS – BY ENDORSEMENT
The License by Endorsement process is for individuals who have never been licensed in the state of North Dakota. In addition, they must have completed a nursing board-approved nursing degree program in the last four years. Or provide proof that they have worked 400 hours of licensed nursing practice in the previous four years. Individuals must also provide proof of initial licensure by examination and a social security number. To receive a full nursing license submit all of the following documents to the North Dakota Nursing Board Office.
The online Initial RN/LPN Endorsement Application

The application fee

Verification of licensure

Official transcripts

An approved criminal background check
When approved, the license will be issued in about seven business days. All licenses are posted and can be verified online.
---
NORTH DAKOTA IS NOW A PART OF THE NURSE LICENSURE COMPACT (NLC)
North Dakota is part of the Nurse Licensure Compact (NLC). A Nurse Licensure Compact NLC license allows a nurse to have one license and to practice in all NLC compact states. There is no difference between a multistate license and a compact license. You are not eligible for licensure in North Dakota if your primary state of residence is another state in the compact. All compact licenses are issued in the primary state of residence.
---
HOW DO I CHOOSE A NURSING SCHOOL IN NORTH DAKOTA?
Becoming a nurse in North Dakota and joining this honored and respected profession begins by finding answers to those questions mentioned above. The answer to the question of how and where to start is at a good nursing program. That also leads to the question, how to choose one of the best nursing programs in North Dakota?
Students must attend an accredited and approved school to earn a North Dakota nursing license. Additionally, they earn either a certificate or degree based on the program and type of nursing track. Those seeking to become a Licensed Practical Nurse (LPN) will generally seek a technical or trade school or community college for the appropriate licensure programs. The track to earning an RN (Registered Nurse) typically involves an in-hospital diploma program combined with a nursing degree from an accredited university or four-year college.
For both the LPN and RN degrees, these tracks should prepare students to take the NCLEX® examination. The National Council of State Boards of Nursing develops and administers this exam. It is the basic competency test for nurses. Additionally, it is a type of litmus test for nursing. Prospective nursing students should inquire about how well these programs prepare nursing students for the exam. Are there particular courses, tutoring offered, practice tests, or other aides?
---
HOW TO CHOOSE A NURSING PROGRAM
Both types of nursing degrees require students to also meet the state license expectations. Yet, the schooling programs for each will vary considerably. There are also a few things to consider when choosing the right school or program that don't necessarily involve the school or program. A few of those other considerations concern those nursing applicants, and that means you.
Do you require some evening classes? Would remote learning options or online courses make a difference? And, of course, there will always be the question of tuition and expenses. You will want to consider all of these things when choosing the right school as part of your plan to earn a North Dakota nursing license.
---
Outlook for Nursing Jobs in North Dakota
The Bureau of Labor Statistics Occupational Outlook Handbook reports a 7% estimated increase for registered nurses from 2019 to 2029. North Dakota maintains two unique services on its state's website to aid potential employees in finding a position for which they are qualified. Personal assistance is available for relocation and for job searching via the Experience North Dakota link. Another site to search for available jobs qualifies as North Dakota's largest job bank, Job Service North Dakota. Such factors, along with the 52 hospitals located in the state, make North Dakota an attractive proposition for a nursing career.
---
State Based Financial Aid in North Dakota
State grants ranging from $2200 – $2932 are approved each year by The North Dakota State Student Incentive Grant Program. These grants are non-repayable for the North Dakota residents that receive these grants each year. Recipients must attend be undergraduates attending a North Dakota public, private or tribal college. The university system also offers Academic Scholarships, Career and Technical Education Scholarships, and a North Dakota Scholarship.
---
HOW MUCH CAN I EARN AS A NURSE IN NORTH DAKOTA?
According to the North Dakota Department of Career and Technical Education, first-year nurses earn an annual entry-level average of $54,320. And the job outlook for nurses in North Dakota is even stronger than their current above-average earnings versus other professions.
The road to becoming a nurse in North Dakota will require schooling, preparation, perseverance, and passing that infamous NCLEX exam. Although that road isn't necessarily short or easy, the destination is worth the trip when you finally hold that North Dakota nursing license. Nurses are well-compensated and highly respected. Furthermore, they work in an excellent job market filled with opportunities, and they get the joy of making a difference in the lives of so many.
Becoming a nurse is an admirable goal. There is help, guidance, and support to assist those with hopes of a career in nursing. Few who earn the title of nurse get there alone, so don't hesitate to reach out for help, information, and support along the way. Good luck in all your future endeavors and your nursing pursuits.
---
Related: