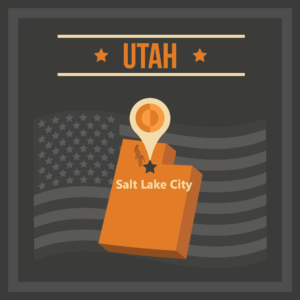 Utah boasts some of the most spectacular natural beauty of any of the 50 states. There is something for everybody to do in Utah. If you enjoy ski resorts, there are gorgeous ski slopes that rival some of the best in the U.S. Those that enjoy outdoor sports and activities will feel right at home in this beautiful state. Utah offers rugged beauty that is a generous slice of the old west. Arches National Park and Canyonlands National Park are two of the most beautiful parks in the United States.
Salt Lake City is the capital of Utah, and the population is close to 3 million. Those that enjoy films will absolutely adore the Sundance Film Festival. This festival attracts people from all over the world each year. If you enjoy city life, Utah has a wonderful combination of restaurants, movie theaters, concert halls, museums, and much more. If you are interested in becoming a nurse in this beautiful state, you can easily find one of the Best Nursing Programs in Utah.
HOW DO YOU BECOME A NURSE IN UTAH?
The Utah Department of Commerce Division of Occupational and Professional Licensing issues all nursing licenses for Registered Nurses (RN's). A license can be obtained by exam for new nurses or by endorsement for candidates from other states. After earning a degree, you will have to take continuing education (CE) classes every year to maintain your nursing license.
Utah Nursing License By Exam:
For licensure by exam in Utah, you'll need to:
Utah Nursing License By Endorsement:
For licensure by endorsement, you must fulfill the exam requirements and submit license verification from the state of issuance. So whatever state issued your license has to send official proof to the Utah Board of Nursing. 
Utah Is Now A Part Of  The Nurse Licensure Compact (NLC)
Utah is part of the Nursing Licensure Compact (NLC). This means RNs in Utah are automatically eligible to work in most states if they meet the NLC requirements. The NLC standards require submitting fingerprints, a background check, and taking and passing the NCLEX-RN. 
Helpful Links for Utah Nurses
CHOOSING THE RIGHT NURSING SCHOOL IN UTAH
If Utah is the place to earn your nursing degree, then it's time to move forward and apply to one of the best nursing schools in Utah. Unfortunately, many nursing programs are competitive. If you want to increase your chances of getting into a nursing program, you should apply to two or more schools.
Once you've picked a few schools, check with the admissions office if you have any questions. Before you spend time filling out nursing school application paperwork, check and make sure you meet the requirements for the nursing school. In larger schools, the nursing school is under the umbrella of the university. There are often requirements for university admission and separate requirements for specific programs or schools within the university. 
When comparing nursing schools, only apply to accredited schools. It would be best to consider the cost, including tuition, the cost of living, financial aid, scholarships, and grants offered. The acceptance rate for the school and the nursing program will be good indicators of your chances of getting in. You don't want to get waitlisted for a year when you could be earning a nursing degree at another school. 
Next, you will submit your application. Most schools will also ask you to send in your high school transcripts, test scores from SAT or ACT, letters of recommendation, and possibly an essay. So, again, get prepared ahead of time so you don't miss the application deadlines. 
CHOOSING THE RIGHT NURSING PROGRAM IN UTAH
It is not a good idea to apply to a nursing school if the school is not accredited. You may have trouble finding work as a nurse after graduation if your degree is not from an accredited school and program. You may also not be able to get financial aid if the school is not accredited. Accreditation is a tool that schools use to demonstrate the academic quality of the programs to the accrediting bodies. Schools must show that their academics meet each accrediting body's standards. Regionally accreditation standards are more strict than nationally accredited standards. Two important nursing accreditation organizations are the Commission on Collegiate Nursing Education (CCNE) and the Accreditation Commission for Education in Nursing (ACEN)
When comparing nursing programs, only apply to accredited nursing programs. You should also review the type of program, the length of the program, and any unique features of a particular program. If you are taking clinicals, you should check where the hospitals are in relation to the school. How long will the commute for clinicals take? Do you have transportation?
Job Outlook in the Nursing Profession in Utah
More people are discovering the untapped beauty of Utah, and as a result, the population is steadily growing. The growth of this wonderful state creates more jobs in all industries. The medical industry is experiencing substantial growth. The need for highly qualified nurses is growing, and the job outlook for nurses continues to grow. Graduates of nursing programs can expect the job market to be good.
Financing a Nursing Degree in Utah
A career as a nurse can be quite fulfilling professionally and financially. Getting that all-important nursing degree takes considerable cash flow. Not everyone has a college fund waiting for them, so there are other options to finance your nursing education.
Scholarships are offered by employers, private charitable organizations, and many more organizations. Some scholarships are state-sponsored. There are different requirements for each financial award, so it is a good idea to have a stellar academic record.
The federal government encourages Americans to pursue higher education in nursing and other professions. Those that have financial need may qualify for some type of grant or other form of financial assistance that does not require repayment upon graduation.
A Nursing Career in the Beautiful State of Utah
Utah has some nationally recognized colleges with excellent BSN programs and a few innovative and non-traditional programs. In addition, once you become licensed in Utah, your license will work in most states because of the NLC partnerships. So if you are interested in a career in nursing in Utah, take the next step and find the nursing program in Utah that is right for you!
Related:
10 Best Nursing Programs in Utah for 2021
Top 25 Hispanic-Serving Nursing Schools For 2020
10 Accelerated Associate Degree In Nursing (ADN) Programs For 2021
Top 25 Online Nursing Educator MSN Programs For 2021