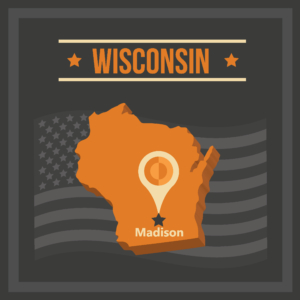 Wisconsin nursing outlines the educational, licensing, and career prospects for nurses in the state. If you are interested in becoming a nurse in Wisconsin, there are plenty of things to consider. In particular, you will need to take plenty of steps to ensure that you are doing things properly, like choosing one of the best nursing programs in Wisconsin. Here is a list of the steps you need to take to ensure you can earn Wisconsin nurse licensure.
Featured Programs
---
How Do You Become a Nurse in Wisconsin?
Take College Prep Courses: No matter, if you are still in high school or have already graduated, taking college prep courses can be one of the best ways to attain Wisconsin nurse licensure. This is because learning in college is vastly different from learning in collegiate spaces. Not only do these courses prepare you to learn on a higher level, but they also prepare you to take courses related to nursing, in particular. These courses can also help you take care of your prerequisites, which can save you time and money in terms of pursuing your college degree.
Choose a School: Next, you will need to figure out which school you want to attend. There are plenty of nursing schools in the Wisconsin area. Therefore, making this decision may be difficult. In order to decide which school you will be attending, you need to consider things such as the costs, the distance from your home, whether you plan to stay on or off-campus, the specialties offered, and more. Either way, be sure to choose a college that you can afford and that you feel can help you achieve your goals.
Apply for Financial Aid: Next, you will need to apply for financial aid. Unless you can afford to pay for school out of pocket, you need to make sure that you are taking advantage of all financial aid available to you. Depending on factors such as your socioeconomic status, your chosen specialty, etc., you may be afforded more or less aid. Additionally, you should also take the time to explore all potential scholarships you may be eligible for. There are scholarships available for nurses, of different races and ethnicities, various hardships, veterans, and more. Take the time to search for any available scholarships. Be sure that you pay special attention to the rules for submissions, as well as the deadlines, as these are very important.
Complete all Required Courses and Training Hours: In order to be eligible to become a nurse, you need to pass the majority of your college courses and ensure that you have completed all lab/training hours. Otherwise, you will not be able to move forward in the process.
Take the NCLEX Exam: In order to be eligible to take the NCLEX exam, you need to make sure that you have completed all requirements. This involves getting an Authorization to Test (ATT), which requires you to first apply to your Nursing Regulatory Body. You must then register with the Pearson VUE. You must also pay a fee. Given that this process can be rather lengthy, be sure to take these steps well in advance. In order to ensure you are prepared to take the exam, you should take the time to review the NCLEX Candidate Bulletined to familiarize yourself with the format of the test. You should also take the time to locate the nearest test site. This is imperative as many areas have only one or just a few locations that may be stationed far away from your home. You may need to plan ahead for this trip if this is the case.
Apply for Licensure: Lastly, you will need to apply for licensure in the state of Wisconsin. This requires the submission of an application with the Nursing Regulatory Body.
---
What are the Benefits of Becoming an RN in Wisconsin?
If you are interested in acquiring a Wisconsin registered nurse licensure, you can look forward to the following benefits:
High Salaries
Excellent Benefits
Great Job Stability
Lots of Overtime
The Ability to Make a Difference in the Lives of Your Patience
Upward Mobility Potential
The Ability to Choose from an Array of Working Environments
An Exciting, Varied Workload
A High Level of Job Satisfaction
Career Mobility/ Opportunities to Relocate
In other words, there is a nursing shortage at the moment. This had led to nurses receiving better pay and benefits than ever before. Not only can nurses look forward to great pay and benefits, but they are also able to take their pick of a wide variety of work environments. This includes the possibility of relocating or acquiring higher-level positions.
---
State-Based Financial Aid in Wisconsin
Wisconsin offers a number of state-based tuition assistance programs. Two that nursing students could take advantage of are: The Nursing Student Loan Program- this program provides loans to residents who are enrolled at least half-time. Undergraduates or graduate students may apply for an annual maximum award of $3,000. For any student who participates, an agreement to work in Wisconsin must be made. The student who participates in this program must agree to be employed as a licensed nurse in Wisconsin.
The second program, The Wisconsin Higher Education Grant (WHEG) Program is a tuition assistance program for residents enrolled at least half-time at the University of Wisconsin, Wisconsin Technical College, and Tribal institutions. Other opportunities for assistance include Minority Undergraduate Retention Grant and Academic Excellence Scholarship programs.
---
Related: