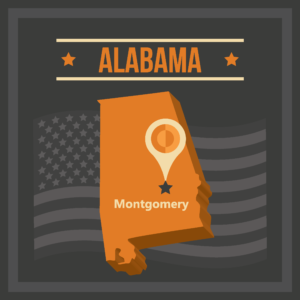 Alabama Nursing is for those interested in becoming a licensed nurse in Alabama or advancing their professional nursing career. Do you have career aspirations that include learning how to become a nurse in Alabama? Or, maybe you have loftier career goals and would like to know how to become a nurse practitioner in Alabama? Are you choosing a nursing school, or just getting out and ready to start your career?
For those interested in becoming a licensed nurse in Alabama, the first step is to decide which type of nurse professional is of most interest. So, according to the Alabama Nursing Licensure Board (ABN), there are two nursing entry points in the state.
A Practical Nursing License (LPN).
A Registered Nursing License (RN).
---
Alabama Nursing Licensure Board
Featured Programs
The Alabama Nursing Licensure Board is the government agency tasked with creating and enforcing relevant laws regarding nursing licensing, discipline, and alsothe Alabama nursing school requirements.
The Alabama Board of Nursing (ABN) has issued nearly 100,000 RN and LPN licenses to professionals in the state. Each nursing license expires in two years. Furthermore, all LPN licenses expire every ODD year and RN licenses expire every EVEN year.
Registered Nurses (RNs) and Licensed Practical Nurses (LPNs) must complete four mandatory classes before the first renewal date, following an initial issuance of a license. Each renewal period requires licensed nurses in Alabama to complete 24 continuing education hours from an ABN-approved or recognized continuing education provider. The purpose of this required continuing education is to ensure professional nurses –
Remain current with knowledge and competencies.
Maintain their nursing license.
Develop a set of specialized skills, among others.
Also, the Alabama Nursing Boar offers free videos online that help explain the steps to becoming a nurse in Alabama.
---
Alabama Nursing License Requirements for LPNs & RNs – By Exam
For students interested in obtaining their practical nursing license, there are a few simple steps to complete.
Enroll in an accredited and approved education program required for each specific nurse license – the ABN offers a list of LPN programs, ADN programs, and BSN programs.
When a student completes the nursing education program, they are then required to submit the following to the Alabama Nursing Licensure Board to begin the process-

An online licensing application. Note that a nursing license in Alabama cannot be issued without the applicant providing a valid social security number.
The Alabama Board of Nursing offers nurse licensing candidates a checklist to help ensure applications are complete when submitted.
The related fees for nurse licensing include –

Application Fee of $100.
Transaction Fee of $ 3.50.
Temporary Permit Fee of $50.

Request that your transcripts from the nursing program be submitted to the Alabama Board of Nursing in a sealed envelope. Also Note: The ABN will not accept fax copies of transcripts.

Register with Pearson Vue, the approved company that will administer the national nurse licensing exam.
When the National Regulatory Board confirms a test-taker's eligibility, they will issue an Authorization to Test (ATT). Note that the ATT is typically valid for 90 days, during which time the nursing student must take their national nursing license exam.
Schedule your exam with Pearson Vue through their online system.
Pass the NCLEX – PN exam for Licensed Practical Nurses, or
Pass the NCLEX – RN exam for Registered Nurses, whichever is applicable to the potential nurse's situation.
Additionally, nursing program graduates interested in learning more from the NCSBN will find additional information in the Candidate Bulletin and Information.
---
Alabama is Now a Part of the Nurse Licensure Compact (NLC)
The NLC increases access to available nurse professionals for member states of the NLC. However, the NLC is only available in participating states listed on the Nurse Licensure Compact website.
Beginning on January 1, 2020, Alabama is now a party to the multi-state Nurse Licensure Compact. Therefore, Alabama is now issuing multi-state licenses to nurse professionals. Also, Alabama can now recognize nursing licenses issued by other NLC states for nurses to practice in Alabama. However, note that nurses must comply with the state's laws where they are licensed when practicing.
---
Obtaining a Nursing License by Endorsement
Those who currently hold a valid RN license in the United States can also apply for a license through an endorsement. Those interested should submit the following items.
Application and also appropriate fees.
Transcripts
License Verification
Evidence of the completed continuing education
Currently, licensed RNs can request a temporary permit to use until the state issues the endorsement.
---
Advancement Opportunities for Nurses in Alabama
Nurse professionals who wish to further their education will find that nursing professionals with graduate degrees are in high demand. Furthermore, advanced nurses tend to specialize in one primary area like midwifery or as a nurse anesthetist.
---
Related: