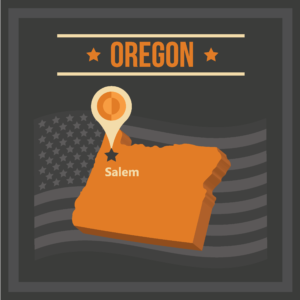 Oregon nursing outlines the educational, licensing, and career prospects for nurses in the state. In order to become a nurse in Oregon, you have to enter into an educational track that enables you to gain nursing licensure in the state of Oregon. Nursing is a career field with multiple levels of qualification and degree options. It's understandable that you might become confused when looking into how to become a nurse in Oregon as a result.
---
How Do You Become a Nurse in Oregon?
Featured Programs
The first step to take is to decide on your career goals. Are you interested in getting into the field as quickly as possible? Or do you want to take your time to earn a bachelor of science in nursing (BSN) and start employment with more education under your belt? If your goal is to get working quickly, you can start in as little as a year by earning a licensed practical nurse (LPN).
However, income for an LPN is lower than the average salary for a registered nurse. Many students find it's worth the effort to earn an associate's degree in nursing and take the NCLEX-RN test to become a registered nurse. One advantage to becoming an RN is the ability to earn a BSN in less time than a traditional bachelor's degree program. Many nursing schools in Oregon offer an accelerated RN-to-BSN program that can be completed in as little as 12 to 18 months. 
---
Which Nursing Degree Should I Get to Work as a Nurse in Oregon?
The field of nursing is one that has seemingly endless degree tracks and specialties. Earning an associate degree in nursing to take the NCLEX-RN exam is just the beginning for those who want to enter into nursing as a career in Oregon. The next step after the RN is to earn a BSN and open up more job opportunities along with exploring nursing specialties through various electives.
A nurse who has found themselves enjoying a specific niche of healthcare can opt to return to school and earn their MSN with a focus on that area of healthcare. Nurses can earn their doctorate in nursing or become nurse practitioners if they want to enter the upper levels of nursing. Nurses with doctorates often find themselves in teaching roles, while a nurse practitioner can fulfill many of the duties of a physician and work in a variety of healthcare settings. 
---
What's the Job Market Like for Nurses in Oregon?
Oregon is dealing with a nursing shortage along with the rest of the United States, but the state faces a unique challenge due to the fact the state has a large rural population. This has resulted in medically underserved areas that are in dire need of qualified nurses. Students who are looking at their future employment prospects will find that Oregon offers them an excellent opportunity to begin their career and grow it over the course of their prime working years.
Rural populations experience the same kind of health care issues as larger, more urban populations, but in fewer numbers. They still need quality health care to help improve their outcomes regardless of their health issue. As a result, employers in Oregon are always seeking nurses to fulfill various nursing roles, and the demand is not expected to ease up for a long time to come.
---
How Much Can I Earn as a Nurse in Oregon?
The ongoing shortage of nurses in Oregon has resulted in a higher-than-average salary for nurses of all types. Employers are seeking nurses to come to Oregon for work and are offering higher wages as a result. In fact, the average salary for nurses in Oregon is equivalent to states on the East Coast that have a higher cost of living. According to the BLS, the median pay for nurses with a BSN in 2020 was $75,330 per year. When thinking about how to become a registered nurse in Oregon, the salary is definitely worth considering as part of one's own career deliberations. 
Normally location and population density are factors in the average nursing salary. The higher the population, the higher the demand for qualified nurses and commensurate salaries. In Oregon's case, the state has more rural populations than it does urban. A registered nurse in Oregon can expect to earn an excellent salary upon starting their career, but nurses who opt to live in less densely populated areas are poised to earn almost or the same as their urban counterparts. A nursing student who continues to gain experience and add to their education can expect to earn an excellent income over the course of their career while working in Oregon.
---
Financial Aid for Nursing Students in Oregon
The Oregon Nurses Association is one of the places where you can look for scholarship information. Several private scholarships are offered. The Ona Smith Education Scholarship is something annual that awards $1,000 to recipients. In order to apply, you must be in a bachelor's or graduate program. The Bertha P. Singer Scholarship is awarded at several times during the year. Students must keep a 3.0 GPA and live in one of the designated counties.
---
Related: