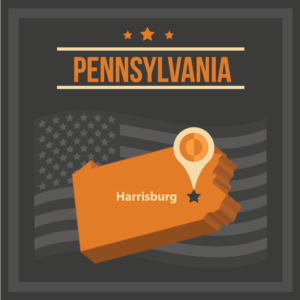 Pennsylvania nursing outlines the educational, licensing, and career prospects for nurses in the state of PA. If you're thinking of choosing one of the many nursing schools in Pennsylvania, it's important to think ahead to the rest of the steps necessary to earn your RN license and begin working in the Commonwealth.
Becoming a nurse in Pennsylvania can be quite rewarding. This is because you are making a difference, and you can enjoy great job security. However, given that we are now experiencing a nursing shortage, this means that you will have to deal with very demanding hours, staff and patients that may be disgruntled, and much more.
---
How Do You Become a Nurse in Pennsylvania?
Featured Programs
If you want to become a nurse in Pennsylvania, there are steps you need to take. They are as follows:
1. Earn a High School Diploma
The first thing you want to do in order to pursue a Pennsylvania registered nurse license is to earn a high school diploma. This is the first step you need to take in order to pursue a college degree of any kind. Alternatively, you can earn a GED. This may not be held at the same level as a high school diploma, however, you will still be able to pursue a career in nursing with one.
2. Apply for College
Once you have earned your high school diploma, you will need to apply for college. This will require you to take the time to search for all the colleges that offer nursing programs in your area. Once you find the one(s) you are interested in, you will need to apply. Keep in mind that you are not guaranteed to gain entry into any given college, so, it is wise to apply to multiple programs. Either way, most colleges require you to fill out an application to apply. This often comes with fees. Moreover, they may also request that you submit things such as your student transcript, interview with faculty members, and more.
3. Get Your Degree
The next step is to earn your degree in registered nursing. This will require a mixture of earning classroom credits and hands-on learning, which will prepare you to work in the field. Moreover, you should also make sure that you are enrolled in an accredited institution. This is the only way to make sure that you are truly prepared to work as an RN in the state of Pennsylvania.
4. Obtaining a Nursing License
Once you have graduated from an approved RN education program, you will be eligible to obtain a nursing license. Approved nursing programs automatically send education verification to the State Board of Nursing. Moreover, you must submit a nonrefundable fee of $35. Given that nurses are considered mandatory reporters, all who are interested in pursuing an RN degree in Pennsylvania must three hours of child abuse recognition training from a source approved by the Department of Human Services.
Also, approximately 90 days before applying for your license, you must obtain and submit your criminal records from each state you have worked, lived, or studied. This can be done by contacting the state police or an alternative police agency. Also, you must take and pass the NCLEX-RN exam. This exam must be taken within a year of graduation. If you do not pass, you can continue to take the exam as many times as you need to in order to pass. The fee for this exam is $200.
5. Maintain Certification and Renew as Necessary
If you want to be a registered nurse in Pennsylvania, you will need to maintain your certification and renew it as necessary. In the state of Pennsylvania, you are required to renew your license every two years. In order to ensure that you are aware and have enough time to renew your license, The State Board of Nursing sends renewal notices before the expiration date of your nursing license.
Additionally, in order to be eligible to renew your license, you must be completing a minimum of 30 hours of continuing education over the course of two years. Additionally, those who want to continue work as an RN in Pennsylvania must complete 2-hours of continuing education in child abuse reporting and recognition.
---
What are the Rewards and Challenges of Being an RN in Pennsylvania?
So, if you are considering becoming an RN, you need to weigh out the pros and cons before applying. This is not a decision that should be taken lightly as you are literally in charge of others' lives. If you are wondering about the challenges of being an RN in Pennsylvania, some of them are:
Challenges:
Long works hours
Can be overly physically demanding
Workplace hazards
Bullying and Harassment
Nursing Shortages
New Technology
Mandatory overtime
Rewards:
Plenty of job security
Great pay
Great benefits
Overtime pay
Making a difference
Lots of flexibility
---
State-Based Financial Aid
Financial assistance is available to residents of Pennsylvania through the Pennsylvania State Grant Program. The Pennsylvania legislature determines higher education grant allotments each year in its budget; therefore, grant amounts may vary by year. Pittsburgh Public Schools award Pittsburgh Promise Scholarships to graduating seniors who will attend colleges in Pennsylvania.
The American Association of Colleges of Nursing (AACN) has state and federal grants available. These are only a few suggestions of the aid available to ease the expected demand for future nurses. The potential shortage caused by increased demand has created many opportunities for grants and scholarships to help students realize an exciting career in nursing.
---
Related: