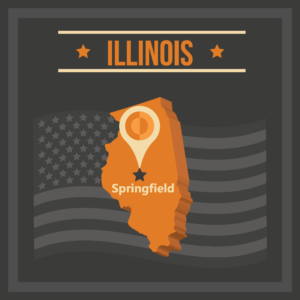 When looking at how to become a nurse in Illinois, the prospective healthcare worker should first explore the different educational paths available. The first step is choosing the type of nursing program to enroll in. The two main types for entry-level nurses are associate degree programs and bachelor degree programs. A two-year associate degree is typically the first step in becoming a nurse in Illinois. After earning an associate degree, the graduate can sit for the NCLEX-RN examination. Another option to qualify for a nursing license in Illinois is to attend a four-year Bachelor of Science in Nursing program. Four-year BSN programs increase the nurse's knowledge base and better positions him or her to secure a nursing job following graduation.
How to Become a Nurse Practitioner in Illinois
How to become a nurse practitioner in Illinois involves different educational requirements. An advanced practice registered nurse can order diagnostic testing, treat acute conditions, and prescribe medications. After graduating with an undergraduate degree, the prospective advanced practice registered nurse applies to a graduate-level program. The Nurse Practice Act of Illinois requires a graduate-level curriculum for nurses include subjects such as nursing assessments, patient advocacy, advanced counseling, palliative care, diagnostic testing, and advanced pharmacology. Both Master of Science degrees and Doctor of Nursing Practice degrees qualify a nurse to become an advanced practice registered nurse in Illinois.
How Do You Get a Nursing License in Illinois?
The Board of Nursing in Illinois manages the licensure of both registered nurses and licensed practical nurses in the state. For licensed practical nurses, the applicant must submit proof of graduation from a state-accredited licensed practical nurse education program. Verification of fingerprinting must also be sent in to the Board of Nursing. After paying the license fees, the licensed practical nurse can take the state's LPN examination. If the applicant passes, a LPN license is issued for practice in the State of Illinois.
To get a registered nursing license in Illinois, additional requirements are needed for application processing. To apply for a license, the applicant must submit proof of graduation from a registered nurse education program. The Board of Nursing accepts both two-year and four-year nursing degree programs. The Illinois Nursing Workforce Center provides a comprehensive listing of nursing degree programs accepted by the state. The listing includes pre-licensure nursing education programs at the associate, bachelor, and even master level. Out-of-state educational programs may be accepted by the Board of Nursing, but the degree must satisfy all the curriculum requirements mandated by the state. If there are extenuating circumstances regarding the nurse's pre-licensure education, like transferred credits, an explanation is required on the application. To apply for a RN license, fingerprinting and background checks are required. An exam fee must be paid prior to the nurse sitting for the state's NCLEX-RN exam. A passing score of -0.21 logits is needed for the NCLEX-RN.
Are there Continuing Education Requirements for Nurses in Illinois?
Licenses in Illinois for registered nurses are good for two-year cycles. For license renewals, there are CEU requirements for nurses in Illinois. The current continuing education requirements for nurses in Illinois is 20 credit hours. This requirement applies to both licensed practical nurses and registered nurses. The RN can search for free continuing education for nurses in Illinois to meet these requirements. These options are typically self-study and can be done online when the nurse is not on shift.
When it comes time for renewal, the nurse must show proof of prior Illinois licensure and a copy of the completed CEU credits earned over the past two years. For advanced nurse practitioners, the CEU requirements for nurses in Illinois are increased. Over a two-year period, 50 credit hours are needed. Out of the 50, 10 of the continuing education credits must be in the field of pharmacology. Topics for continuing education units for nurses include suicide prevention, sanitation practices, PTSD prevention, spinal care injury management, and many, many more.
Illinois Job Outlook For Careers In Nursing
The interesting mix of metropolitan commerce amidst spacious farmland is characteristic of the Midwestern state of Illinois. The state's largest urban area Chicago supports key financial and manufacturing activities for the nation, and the city gets many of its raw materials from the abundant fields of the surrounding agricultural areas. Although the "prairie state" is known for its flat farmland, Illinois is also home to some notable lakes and rivers that give the state some of its natural scenic beauty and recreational spots.
During the economic sluggishness of the 2000s, Illinois was one of the hardest-hit areas, and the state's unemployment rate was an entire percentage point higher than the national average. However, the employment numbers appear more positive in regional pockets, and a recent Chicago Tribune article noted that certain sectors like health care are projected to experience job growth.
According to industry reports, there are job vacancies within the health care sector that remain unfilled because of a lack of skilled professionals. These job vacancies are typically found within the nursing career field. For example, a Manpower Group survey found that registered nurse jobs had some of the highest occupational vacancy rates in the state. The whole industry is undergoing reform, and some job functions that used to belong solely with physicians are now being reallocated to other qualified individuals. The key to maintaining gainful employment within this growing industry is to understand the impacts of healthcare reform changes and to identify industry skill gaps exacerbated by the reforms. Those able to do these things successfully usually seek training that will help them successfully fill needed positions.
State Financial Aid For Nursing Programs
Illinois is committed to helping fill the skills gap in nursing for their state which is evidenced by the state-sponsored grant that gives qualified nursing schools funding to create better clinical programs, modernize facilities, and establish student retention programs. The state also offers financial aid and special scholarships for nursing students in addition to federal financial aid packages the students would normally receive. The Illinois Nurse Educator Scholarships are just one example of the funds available to nursing school students who wish to fill an identified skills gap within nursing education.
Related Rankings:
Best Nursing Schools in Chicago
Top 10 Cities for Jobs in Nursing