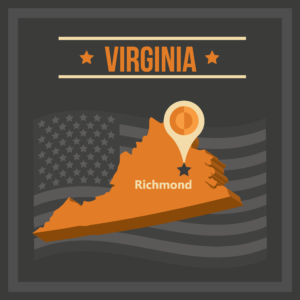 Virginia nursing outlines the educational, licensing, and career prospects for nurses in the state. People think of a registered nurse when thinking of nursing, but there are some other options as far as how to become a nurse in Virginia. There are many schools in the state where you can get the proper education, and then you have to be licensed in the state. Educational courses are transferable to other states, and the Virginia nurse licensure is transferable to many states.
---
What Kinds of Nurses are There in Virginia?
Featured Programs
The entry-level, or lowest rung on the ladder, is the nurse's assistant, or CNA, which can often be earned in a year at a junior college.
An LPN usually takes two years and is another step. There are a lot more educational requirements for an LPN. The levels build on each other, or you may start the RN program immediately after high school without any other licensing.
The standard for nurses is the Registered Nurse, and each of these can be built upon to get to the next level. A nurse can go beyond a registered nurse by becoming a licensed practitioner. Virginia nursing license requirements are set by the state board of nursing for all levels in this field. Upon completion of your classwork, you must pass a state nursing exam to become a licensed nurse.
As of 2019, there were 95,000 people with active nursing licenses in the state of Virginia. There were also 28,000 LPNs certified in the state. That may seem like a lot, but there is expected to be continued growth in the medical field, and even more jobs to be created.
---
What are the Education Requirements?
There are several schools for all levels of nursing, and like most states, there is a great need for nursing. Even so, everyone who applies is not accepted. There is still some competition for spots.
To become a CNA, or nursing assistant, one must have a high school education and complete 75 hours of training in a state-approved institution. The state requires 16 of those hours to be completed in a classroom. There is also an advanced CNA program that requires more experience. Nursing assistance help nurses, as the name implies, but there are limits on what they can do.
LPNs have a higher level of responsibility. The state board requires 400 hours of training in a state-approved program. Once that is finished they must pass the state board exam to show their proficiency and knowledge.
---
How to Become a Registered Nurse in Virginia?
To become a registered nurse in Virginia one must complete a professional nursing program at a state-approved institution. This involves about 400 hours of instruction and will take about four years. Once this is completed a state board exam must be passed. During the education, the nurse student will take a lot of medical classes, and have a time of internship under the supervision of other nurses.
There are also RN programs for people who already have a college degree. This program will not take as long as many of the required courses will already have been taken.
---
How to Become a Nurse Practitioner in Virginia
With the growing need for medical care, there is a need for nurse practitioners. These professionals are a step higher than an RN but are still below that of a regular medical doctor. They may do many of the same things doctors do.
One must be a registered nurse or complete the training to become one, to qualify to enter the training to become a licensed practitioner. The education for this is somewhat like graduate school. Registered nurses need a college degree, and a licensed practitioner has that and takes more years of education.
During training, students will choose their specialty, which can be things like adult care, family nursing, pediatrics, geriatrics, or anesthetist. There are other specialties and that can depend on the program or school one attends.
---
How Does Virginia Nurse Licensure Work?
Virginia has agreements with other states, called compacts, which allow you to transfer your nursing license without a lot of difficulties. If you have been out of nursing a few years you might have to take the test again, but if you are an active nurse you will not likely have to. For nurse practitioners, there is also nationwide licensure available. For the nurse practitioner, our nationwide license would be in your specialty.
Nursing requirements in Virginia require the license to be renewed every two years, which is just paying a fee and doing some paperwork if you are an actively employed nurse. There may be fines if you allow your license to expire, and it can take some effort to get reinstated if you let it expire. In some cases, you may have to show continued competency to obtain a license if you have been inactive.
---
Related: