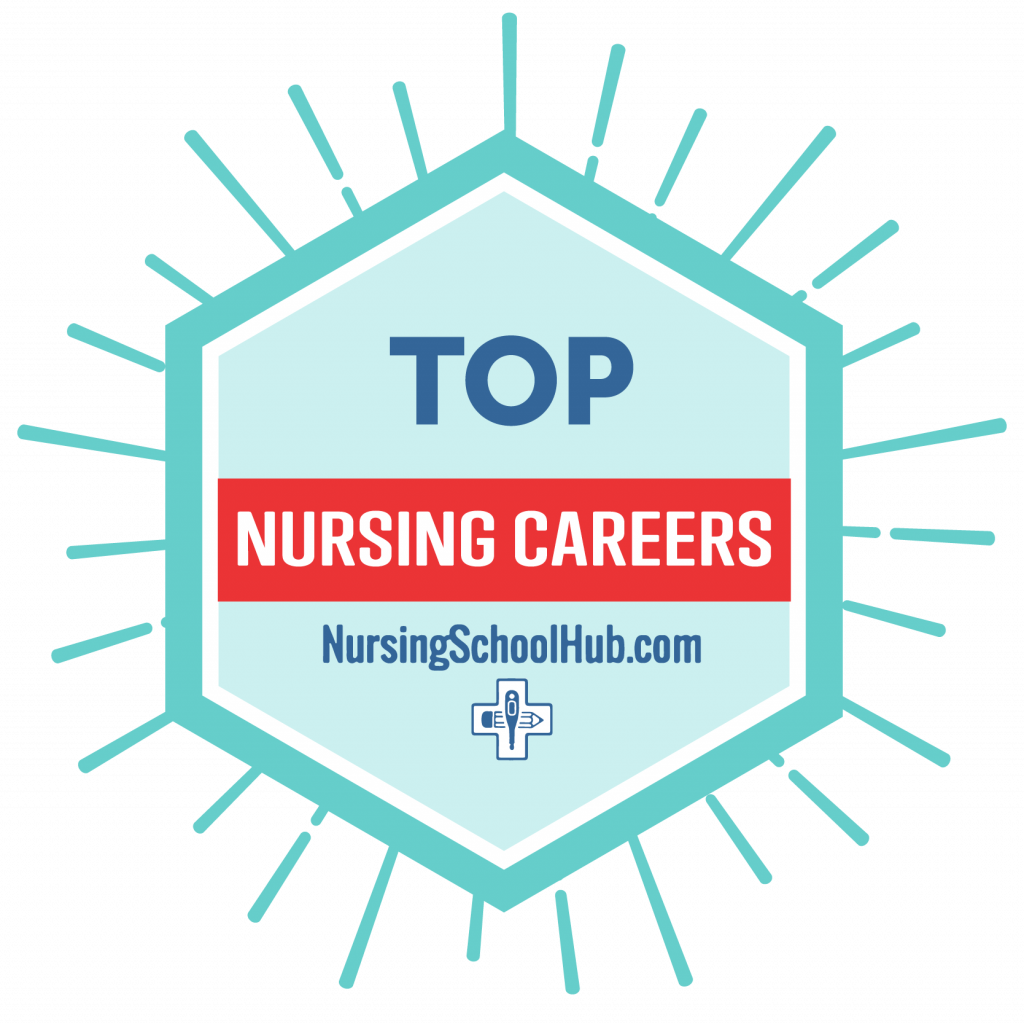 The top nursing careers include nursing roles and specializations that are in demand and also have high salaries. After finishing school or a training program, nurses are often amazed at the wide range of health care occupations that are available in nursing. The field provides tremendous job security and flexibility, more than any other in health care.
With so many specialties and career path options, it is often difficult for nurses to choose which one. Although all nursing career choices are rewarding and fulfilling emotionally, some are the best of the best in terms of employment outlook, earning potential, versatility, and job satisfaction. In order to assist with finding the right nursing career, read on to learn more about the top 10 nursing careers and what makes them stand out among the crowd.
---
1. Certified Registered Nurse Anesthetist (CRNA)
Featured Programs
Certified Registered Nurse Anesthetists (CRNAs) are advanced practice nurses who are responsible for administering and maintaining anesthesia. They perform a physical assessment, prepare patients for anesthesia, administer anesthesia pain-free, maintain the sedated state, and supervise the recovery period. Therefore, they work with other health care professionals, including surgeons, anesthesiologists, dentists, and various physicians. Nurse anesthetists find employment in hospital operating rooms, clinics, physicians' offices, ambulatory surgery centers, and private practices.
CRNAs are required to pursue a bachelor's degree in a related field, and then a master's degree with a specialization in nurse anesthesia. After finishing the graduate program successfully, they also must pass a national certification examination to practice legally. Positions for Certified Registered Nurse Anesthetists are among the highest-paid medical jobs. According to the American Association of Nurse Anesthetists, the average annual salary for CRNAs is $160,000. In fact, they can earn considerably more than some primary care physicians, at just a fraction of the education and training.
---
2. Nurse Practitioner
Nurse Practitioners (NPs) are also advanced practice nurses who offer direct patient care throughout their lifespan, from newborns to the elderly. NPs perform comprehensive physical examinations, diagnose and treat various medical conditions, order and interpret laboratory or diagnostic testing, and teach patients about living a healthy lifestyle. In all states, Nurse Practitioners also have the right to prescribe medications and controlled substances, while half of the nation also allows NPs to practice independently. These nurses are often found in clinics, private physician practices, hospitals, health centers, college campuses, and government agencies.
To qualify for this top nursing career, individuals need to possess a valid RN license and at least a Master of Science in Nursing (MSN) degree. Although this requires between six to eight years in school, graduates are welcomed into a high-demand nursing career with an excellent job outlook. In addition, the BLS 2020 information reports that these nurses earn an impressive average full-time salary of $118,040.
---
3. Nurse Researcher
Becoming a nurse researcher is among the top choices for nurses who are looking for an advanced non-clinical career in the industry. Nurse researchers are actually scientists who spend their days studying different aspects of human anatomy, illnesses, and general health care. They identify research questions, design scientific students, analyze data, and report their findings to improve health care services.
Nurse researchers are employed at hospitals, universities, research organizations, laboratories, and nonprofit organizations. Some nurses with a BSN are eligible for entry-level positions, but those with an MSN or doctoral degree have the best chances of landing a nurse researcher position. Nurse researchers earn a mean annual salary of $95,000 but have the capability of reaching six-figure salaries with experience.
---
4. Certified Nurse Midwife
Certified Nurse-Midwives (CNMs) are advanced practice nurses who specialize in providing prenatal, gynecological, and labor care for the birthing of children. Midwives perform physician examinations, prescribe medications or contraception, order laboratory diagnostic tests, and educate women and their families about healthy lifestyle choices at all ages. CNMs work in various settings, including hospitals, clinics, birth centers, private practices, and also home health services.
Registered nurses interested in a career as a Certified Nurse Midwife must attend a graduate program. After earning an MSN degree, candidates can take the certification examination. Even though salaries vary widely based on geographic location, experience level, and position, the average annual salary for a CNM is $91,070.
---
5. Nurse Educator
Nurse Educators have a rare opportunity to combine a love of teaching with clinical nursing career expertise to educate the newest aspiring nurses in the field. These nurses are responsible for developing lesson plans, teaching courses, evaluating student performance, supervising student hands-on clinical experience, and serving as role models for students. Some nurse educators teach general courses in nursing or biology, while others center on their specialization, such as pediatrics, geriatrics, or informatics.
Many Nurse Educators work on a nine-month academic calendar at community colleges, colleges, universities, teaching hospitals, technical schools, or non-profit organizations. Since the United States is experiencing a shortage of nurses and nurse educators, the job outlook for this career is extremely promising. Nurse educators must have advanced clinical training in a specific health care specialty. In addition, they must have an MSN or doctoral degree. Nurse educators report a high level of job satisfaction from their work, flexible schedules, and average earning potential of $71,297.
---
6. Pediatric Endocrinology Nurse
Pediatric Endocrinology Nurses help treat children of all ages from birth to young adults who are suffering from various endocrine diseases. These specialized nurses provide direct care to patients with diseases, such as hypoglycemia, diabetes, thyroid disease, and other gland disorders. They also play a vital role in educating children and their families about how to cope with the impact of the diseases and make healthy choices.
To become a Pediatric Endocrinology Nurse, nurses need to receive at least an ASN or BSN and pass the National Council Licensure Examination for pediatric endocrinology. Pediatric Endocrinology Nurses earn an annual salary of $81,000 in hospitals, clinics, children's health care facilities, or private pediatrician offices.
---
7. Nurse Informatics Analyst
Nurse Informatics Analysts are responsible for managing healthcare data for patients, nurses, doctors, and other healthcare professionals. Since quality care highly depends on effective communication among providers, Nurse Informatics Analysts strive to find new ways to enhance documentation and computer technologies for seamless access to crucial patient records. Certification for Nurse Informatics Analysts requires at least a bachelor's degree, but many employers prefer applicants with a master's degree in health care informatics or management.
Nurse Informatics Analysts often work in hospitals, universities, consulting firms, health care facilities, and also corporations that develop new information systems. Among the medical jobs without direct patient care duties, the average annual salary for a nurse informaticist is still quite pleasing at $83,675. Since more and more organizations are seeking experts in informatics to decrease documentation errors, the job outlook for Nurse Informatics Analysts is going to continue to be very promising.
---
8. Certified Legal Nurse Consultant
Certified Legal Nurse Consultants (CLNCs) utilize their broad knowledge of the complex health care system to consult with attorneys about medical-related lawsuits. CLNCs often perform medical research, identify health care standards, review client medical records, prepare reports on findings, and locate expert witnesses to assist attorneys in court cases.
As valuable members of the legal team, legal nurse consultants work in law firms, insurance companies, government agencies, hospitals, and other consulting firms. According to the American Association of Legal Nurse Consultants, CLNCs earn a mean annual salary of $62,100. Although most have no legal background, Clinical Legal Nurse Consultants must have an ASN and possess a valid RN license.
---
9. Clinical Nurse Specialist
Clinical Nurse Specialists (CNS) are advanced practice nurses (APNs) who specialize in a specific field of nursing. They also hold a master's or doctoral degree in the practice area. A CNS may have expertise in pediatrics, geriatrics, gynecological health, critical care, oncology, psychiatrists, rehabilitation, or many other specialties.
Beyond the duties of traditional registered nurses, Clinical Specialists are responsible for diagnosing and treating certain illnesses, injuries, or conditions in the specialized field across various health care settings. Since the current demand for CNSs already exceeds the supply, there are ample opportunities in the career to earn an average salary of $78,000.
---
10. Certified Dialysis Nurse
Certified Dialysis Nurses are also called nephrology or renal nurses. These nurses help patients whose kidneys are no longer functioning properly and rely on dialysis equipment to eliminate waste. Dialysis nurses are responsible for conducting this life-saving process for patients in acute or chronic kidney failure so that the toxins do not build up within their bodies. To be certified, nurses need an RN license and at least 2,000 hours of dialysis experience. Certified Dialysis Nurses earn an annual average salary of $63,500 in this high-demand profession. Most of these specialized nurses work in dialysis clinics and hospital dialysis units.
According to the Bureau of Labor Statistics, there is a continued high demand for nurses to fill the current shortage. Those interested in an in-demand career in the fascinating and rewarding field should consider these top nursing career specialties. A specialization will provide a larger paycheck. Additionally, they also offer unique opportunities to work in vital careers that suit individual interests.
---
Related: